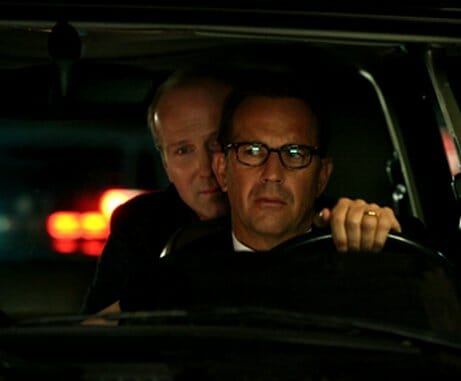 Director: Bruce A. Evans
Writers: Bruce A. Evans, Raynold Gideon
Cinematographer: John Lindley
Starring: Kevin Costner, William Hurt, Demi Moore, Marg Helgenberger, Danielle Panabaker
Studio/Running Time: MGM Studios, 120 mins.
"He'd kill ten thousand people
With a sleight of his hand
Running far, running fast to the dead"
-Sufjan Stevens "John Wayne Gacy, Jr."
It would be easy to write off Kevin Costner's villainous performance in Mr. Brooks simply as a response to some recent cinematic missteps after an impressive run of success in the late '80s and early '90s (highlighted by the Oscar-winning Dances with Wolves). Perhaps unfairly, Costner has oftentimes been remembered more for his epic failures (Waterworld, The Postman). But if his current role as a serial killer is a reinvention, here's hoping he becomes the next Edison.
Ostensibly, Earl Brooks (Costner) is a model citizen—a successful businessman, a devoted husband and father who has just been named Man of the Year. He also attends AA meetings. Not to avoid drinking, but rather to curtail his penchant for killing people. However, his partner-in-crime, the imaginary alter-ego Marshall (brilliantly played by William Hurt) doesn't want him to quit this "night job." And neither does a Peeping Tom (Dane Cook) who witnesses one of Brooks' homicides and asks only that he be allowed to accompany him on the next murderous endeavor.
In what may be the performance of his career, Costner demands attention in much the same way Anthony Hopkins did in Silence of the Lambs. He seamlessly and convincingly slips back and forth between Brooks' two worlds even while a determined detective (Demi Moore) remains hot on his trail. An unexpected wrinkle pushes Brooks to the point of losing everything (including his mind), and Costner brings us along on a thrilling and suspenseful journey to a completely-surprising end.