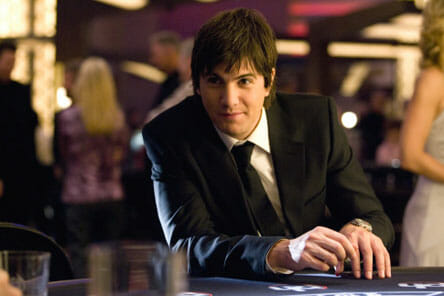 Release Date: March 28
Director: Robert Luketic
Writers: Peter Steinfeld and Allan Loeb (screenplay), Ben Mezrich (book)
Cinematographer: Russell Carpenter
Starring: Jim Sturgess, Kevin Spacey, Kate Bosworth, Laurence Fishburne
Studio/Running Time: Columbia Pictures, 123 mins.
"Just one thing for sure
Way of life is one big gamble
It can cut you like a knife
Hit me just once more, Jesus
With the black jack game of lies"
-The Hives "Black Jack"
Loosely based on Ben Mezrich's bestseller, Bringing Down the House, 21 follows M.l.T. student Ben Campbell (Jim Sturgess) as he discovers a way to finance his expensive college education. Math teacher Micky Rosa (Kevin Spacey) enlists Campbell to be a part of his personally trained team of whiz kids who win big at the blackjack tables of Las Vegas by counting cards and avoiding casino security. The system works until egos interfere and Campbell and his teammates decide to ditch Rosa and go it alone. When a casino enforcer (Laurence Fishburne) takes an interest in the players, "hit me" takes on a new meaning.
Sturgess, who has shined in the past year with roles in The Other Boleyn Girl and Across the Universe, gives another notable performance here. But 21 is a fairly predictable film in that the little guy wins big, gets a big head, loses big, gets a big beating and tries to get the big revenge. There are some unique twists in the vein of The Sting and Oceans Eleven, though, and the back story of Campbell's abandoned, nerdy friends helps ground the film with some wonderfully goofy moments. But unfortunately, much like in Vegas, whatever happened in the book and made it so marvelous stayed in the book.