The Original King Kong Will Screen Nationwide for the First Time in 64 Years this March
Movies
News
king kong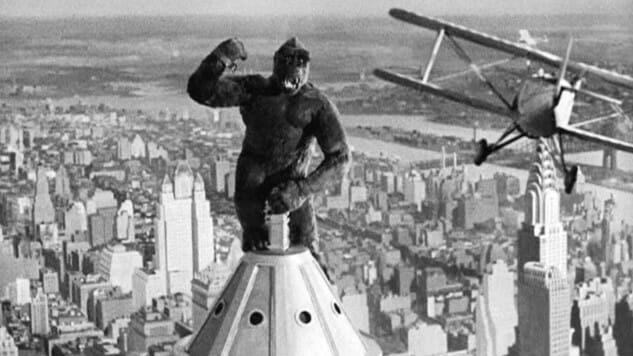 Classic film fans will have something unique to celebrate this March, which will see the return of the original King Kong to theaters for a nationwide, one-day engagement for the first time since 1956. The 1933 film will screen at more than 600 theaters nationwide on Sunday, March 15 via Fathom Events, with tickets available now, as part of Turner Classic Movies' Big Screen Classics series.
The press release for the screening points out that the last time King Kong was re-released, back in 1956, "Dwight D. Eisenhower was President, the average movie ticket cost 59 cents, and not a single man-made item was orbiting the Earth." My how times change, right?
The 1933 film, directed by Merian C. Cooper and Ernest B. Schoedsack, features cutting-edge stop-motion special effects work from the pioneering Willis O'Brien, the stop-motion wiz who would also serve as the mentor for FX maestro Ray Harryhausen, who kept the stop-motion flag flying into the 1970s and 1980s. The film was an obvious pick for the best horror/monster movie of 1933 in our Century of Terror series last year, and stood as a filmmaking achievement that on many fronts wasn't surpassed for decades afterward. Certainly, no film that was reliant on FX could avoid comparison to King Kong for the next 20 years, much as films released after 1977 couldn't avoid comparison to the likes of Star Wars.
"The original theatrical version of King Kong is back to dazzle the digital era with it's all-analog marvels," reads the TCM/Fathom press release. "Adding to this rare cinematic event, TCM Primetime Host Ben Mankiewicz will offer all-new insight and commentary on one of the most well-known, influential (and still thrilling) films of all time. The dazzling adventure features groundbreaking stop-motion animation by Willis O'Brien—visual effects that remain astonishing even in spite of the computer-generated advances made since the original release of King Kong nearly 90 years ago. The film stars Fay Wray, Robert Armstrong, Bruce Cabot, and features a lush score by legendary composer Max Steiner."
The modern King Kong reboot universe, meanwhile, is next headed toward Godzilla vs. Kong, a loose remake of 1962's Japanese King Kong vs. Godzilla, which saw its release date pushed back to this November after the somewhat disappointing box office of Godzilla: King of the Monsters. The Adam Wingard-directed Godzilla vs. Kong is currently scheduled for a Nov. 20, 2020 release.