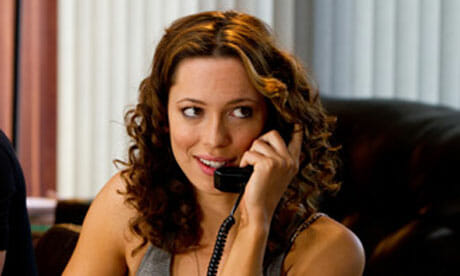 Poor Rebecca Hall. If someone had told her there was no hope for Lay the Favorite, she could have saved some energy. Everyone else on set apparently realized that nothing could be done to save the film, yet she pushed on, single-handedly trying to give it some charm, some urgency, some compelling reason to exist. Alas, it was a lost cause.
While intended to be a light, comedic true-crime romp about sports gambling gone awry, the film fails to bring out any observations or laughs from the lifestyle it depicts. Where it needs to be sharp, merciless and maybe a little nasty, it attempts to be mildly pleasant. (And it doesn't even succeed in that.)
Hall plays Beth Raymer, a real-life cocktail waitress turned numbers wizard who wrote the memoir on which the film is based. At the start of the film, she's working as a stripper in Florida and decides she should go to Vegas to fulfill her dream of waitressing in a fancy casino. She shares the plan with her supportive father, and he cheerfully approves.
Beth's commitment to such an absurdly unimpressive goal has an endearing appeal. Hall plays Beth with a level excitement that suggests she's on the brink of a life-changing adventure. The problem is that no matter what crops up in her life, the screenplay never gives the character more to think and feel. She experiences a whole new world, but her personality never departs from its single note.
Shortly after arriving in Vegas, Beth abandons the cocktail waitress business to work for Dink (Bruce Willis), a lower-tier big-shot pro gambler who runs numbers on sports in a dull strip-mall office. He has two lackeys who work the phones for him as he rapidly lays huge bets with the urgency of a day-trading stock broker. Willis plays the part with his trademark reticence. In countless past films, he has proven able to convey so much with so little, but here he's out of sorts, unable to gel with his co-stars, especially Vince Vaughn. Vaughn plays a shady gambling associate who begins to work with Beth in the second half of the film.
Beth starts out placing bets at casinos to alter the odds for Dink, but soon discovers a knack for keeping track of numbers and becomes an important part of the operation. Dink's jealous wife (Catherine Zeta-Jones), however, doesn't take kindly to Beth's presence and starts working against her.
Even when such tension between characters rises, Lay the Favorite never moves organically from one part to the next. Scenarios shift simply because it's a convenient time to do so.
Gambling is a volatile business, marked by winning big and losing big. Even someone who's good at it can't win every time. It's a profession built on drama, and yet the film never really captures the suspense, frustration or desperation of it. Instead, there's a lot of dialogue explaining the intricacies of the process, none of which leads to a payoff of humor or insight.
Director Stephen Frears has always worked at a prolific pace. It's no surprise that all his work doesn't live up to the best of his filmography, which ranges from landmarks of '80s British cinema like The Hit and My Beautiful Laundrette to '90s classics like High Fidelity and The Grifters to prestige pictures like The Queen. Yet even when his films falter, most have some redeeming qualities. Lay the Favorite, however, shows a lack of attention to performances, an inexact eye and an inability to rectify a disjointed, unfocused script. But hey, Frears has been in this business a long time. Perhaps, unlike his unfortunate young star, he knew when to give up on a lost cause.
Director: Stephen Frears
Writer: D.V. DeVincentis (based on the book by Beth Raymer)
Starring: Rebecca Hall, Bruce Willis, Vince Vaughn, Catherine Zeta-Jones, Joshua Jackson
Release Date: Dec. 7, 2012