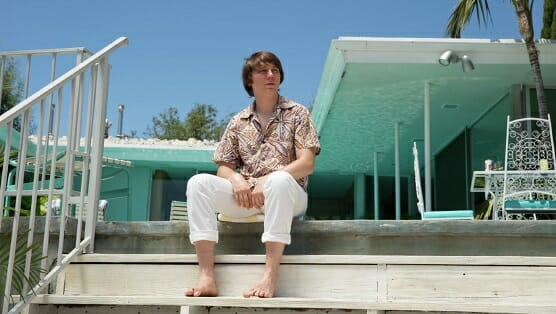 Biopics, especially music ones, are always a dicey proposition. Along with basic veracity, go too broad, too many years, and you risk a watered-down swath—a "greatest hits" survey course. Go too targeted, and politics, among other things, come into play. Veer into authorized vs. unauthorized territory (of which so often happens) and things get even gnarlier. Point being: To get a biopic "right" is dubious at best. For its flaws, the Brian Wilson portrait Love & Mercy strides the line remarkably well.
From its first moments, the film cops to its biopic tropes and yet tweaks them. There are flashbacks and forwards, a disjointed rhythm that doesn't quite make sense… yet. Atticus Ross's brilliant score is complicit—taking bits and pieces of Wilson's original compositions but pushing them through a filter as to make them so ambient that they recess into the parts of the mind our protagonist grapples with. The overall result is deeply affecting.
Toggling between the Wilson of the Beach Boys' 1960s heyday and his worsening struggles with mental illness some two decades later, director Bill Pohlad cast two different actors as the tortured maestro. This deliberate juxtaposition, while jarring, serves Wilson's story well—he's played by two different people because, as scripted by Oren Moverman and Michael A. Lerner, he all but becomes another person.
Still the thread remains: All but deaf in one ear from a blow to the head by his abusive father, the young Wilson (an outstandingly nuanced Paul Dano) swaps one manipulative patriarchal figure for another as a middle-aged man (John Cusack steps in for Dano), when he gets gaslighted by his bankrolled pharmacologist Dr. Eugene Landy (Paul Giamatti). The occasional anxiety attack and stage fright suffered by a young Wilson, who asks his hit-making brothers to tour overseas without him while he focuses on new material, give way to full-blown isolation by the time he scrawls "lonely, scared, frightened" on a business card he gives to kindly Cadillac salesperson Melinda Ledbetter (Elizabeth Banks).
Wilson's retreat to the recording booth for what would be the bizarre arrangements of the landmark 1965 Pet Sounds sessions, captured here in alternate fits of mania and joy, provides a riveting glimpse of the creative process. Dano is tremendous in a performance that's at once external and internal; he's confident in his sonic vision even as he's petrified of everyone and everything else. His Wilson instructs seasoned studio players—all taken aback by this wunderkind who hears voices they couldn't possibly be aware of—to use their cellos and string basses to approximate the sound frequency of a guitar for the pocket symphony "Good Vibrations." Others aren't quite so receptive: Upon hearing a bare-bones version of "God Only Knows," his disapproving father calls it "wishy-washy," dismissing it as "a suicide note."
By the time we've settled years into Wilson's notorious recluse period, during which he's working his way down from 300 pounds, is confined to his bed, and addicted to a variety of substances, he has come under Landy's thumb. The resident psychotherapist/manager is a manipulative leech who's never far from Wilson, even when he goes on a first date with future-wife Ledbetter (Elizabeth Banks, very strong in an underwritten role). Cusack is a minor revelation in a role that suits his weary puppy dog features and measured delivery; his Wilson is a shell of a man, a blank-faced echo who's been so beaten down, misdiagnosed and overmedicated he doesn't know what's real anymore. For his part, Giamatti, sporting a bad wig, chews scenery and spits commands like a petulant clinger-on who knows he's in danger of losing his meal ticket to a genuine connection.
There is a curious, oft times transcendent harmony to the dissonance at the heart of Love & Mercy. In taking a page from his subject's life and music, Pohlad (best known for producing credits like 12 Years a Slave and Into the Wild) largely rejects sentimentality in chronicling a reluctant pop star who wants to craft something more than shiny, happy hooks (in one scene, Wilson argues the Beach Boys' true "surfer" cred with his bandmates, knowing better). Sure, that's kind of the story—at least on the surface—but his approach unearths the layers of Wilson's genius and torment. Seemingly straightforward classics like "In My Room" and "Wouldn't It Be Nice" take on new meaning as the extent of his struggles come into devastating focus.
So, too, does cinematographer Robert Yeoman render the conflict onscreen, from the glistening shores of 1960s California to the sterile palettes of the older Wilson's Malibu beach house. It's polished without feeling glossy. Editor Dino Jonsäter splices together this remix of physical and psychological textures with artful cohesiveness. And, aside from Cusack's and Dano's unique though eerily simpatico performances, what resonates long after the credits roll is the surreal soundtrack by Atticus Ross (The Social Network, Gone Girl). An aural journey through the voices in Wilson's head, Ross' atmospheric score is immediately familiar and comforting but far off, removed—a memory you can't touch yet won't leave you alone. The effect is… unsettling.
Perhaps that's the most admirable success of this biopic. Clichés, stock characters and selective history aside, Love & Mercy emerges from the darkest depths of its subject's pain on an undercurrent of sound and space, and emotion too. Both cerebral and compassionate, Love & Mercy is ultimately hopeful—even if you'll never hear those sunny summer jams the same way again.
Director: Bill Pohlad
Writers: Oren Moverman, Michael A. Lerner
Starring: Paul Dano, John Cusack, Paul Giamatti, Elizabeth Banks
Release Date: June 5, 2015
---
Amanda Schurr is Assistant Movies Editor at Paste and a Pac NW-based culture writer. You can follow her on Twitter.