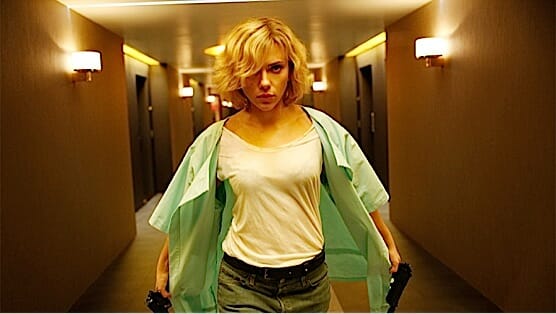 Who knew Luc Besson still had a movie like Lucy in him? The one-time maverick of international action cinema spent the '90s churning out celebrated cult favorites La Femme Nikita, The Professional and The Fifth Element. More recently, he's alternated between producing and writing dumb and dumber Eurotrash (the hit Taken franchise, non-hits like From Paris with Love and Three Days to Kill) and directing disposable duds (The Family, The Lady, Arthur and the Invisibles).
Lucy is an altogether different animal. It's a startling blast of cinematic zeal and philosophical provocation—the work of someone fully engaged by the medium.
That makes it easier to get past the widely debunked scientific myth central to the film's premise. The claim that humans only use 10% of their brain also inspired the instantly forgettable Bradley Cooper thriller Limitless, and while it's not remotely accurate, Besson is offering up such a wild ride that it would be churlish to get hung up on credibility.
After a brief but significant prehistoric prologue, we're introduced to college student Lucy (Scarlett Johansson) arguing with her shady boyfriend (Pilou Asbaek of TV's Borgen) outside a hotel in Taiwan. He wants her to deliver a briefcase to local crime boss Mr. Jang (Oldboy star Choi Min Sik). She refuses. He handcuffs her to the case, and the decision is made. It's a classic thriller set-up, but the heavy-handed way Besson intercuts Lucy's frightened expressions with footage of wild animals hunting their prey doesn't inspire much confidence for what's to come. As it turns out, there's a method to this madness.
Where Lucy really finds its footing is when Lucy herself begins to evolve. Through a series of events right out of any number of Asian gangster movies, she winds up absorbing a powerful drug into her system, allowing her to unlock increasing amounts of her "cerebral capacity" like levels in a video game. Lucy leaps from that bogus 10% figure to 20% in an instant, and percentages simply become markers for Besson to unleash a breathless mix of action set pieces and deranged sci-fi that refuses to be boxed into any conventions.
Does it really matter that the movie is built on a lie when the execution is such a blast? It's rare to see a film that feels utterly unpredictable—especially in an age of pro-forma sequels, remakes, adaptations and rip-offs. Lucy combines a fleet, twisty narrative with bold visual surprises in a way likely to leave audiences equally divided between bewilderment and awe.
In the wake of such spotty recent output, it's a relief to see Besson back on his A-game and working with equally energized collaborators. Everyone from longtime DP Thierry Arbogast to nimble editor Julien Rey and indispensable composer Eric Serra delivers in peak form, and it's a genuine thrill to see first-rate special effects and sound work used in way that enhances the storytelling instead representing a film's sole reason for existing.
While Besson appears to tip his hat to a number of sources here, ranging from The Matrix to 2001: A Space Odyssey to The Tree of Life (and straight up lifts footage from docs Baraka and Samsara among other pre-existing works), Lucy is far too singular to dismiss as derivative. Instead of feeling inspired by The Matrix, it's more like the movie you wish the Wachowskis had made as a follow-up.
Somewhat improbably, it's also an ideal culmination of a sci-fi trilogy Johansson may not have even realized she was making. In Her, Under the Skin and now Lucy, the 29-year-old veteran has not only delivered some of the finest work of her career, she's found a trio of characters in conversation about what it means to be human through the eyes of an outsider, be it artificial intelligence, alien or an accidental superhuman. In fact, it's near impossible to imagine Lucy without Johansson and her perfectly calibrated performance, a crucial component to investing in the story's inherent silliness.
Some may be disappointed that Besson doesn't develop a deeper mythology for Lucy, opting instead for a propulsive no-frills narrative constructed as a race against time. Lucy believes she only has 24 hours to live, resolves to meet with a renowned neuroscientist (a spot-on Morgan Freeman) in Paris and enlists the assistance of a French policeman (Amr Waked) to ward off Jang's advances. There's not much more story than that. Besson pulls it all off in less than 90 minutes, including credits.
The fun of Lucy doesn't depend on plotting; it's in the moments Besson layers in along the journey to ultimately unexpected destinations. Forget cerebral capacity—Lucy was made with 100% love of cinema.
Director: Luc Besson
Writer: Luc Besson
Starring: Scarlett Johansson, Morgan Freeman, Choi Min Sik, Amr Waked, Julian Rhind-Tutt, Pilou Asbaek, Analeigh Tipton
Release Date: July 25, 2014