This Trailer for Mary Magdalene Is Really Just About Joaquín Phoenix's White Jesus Christ
Image via Universal/YouTube
Movies
Video
Mary Magdalene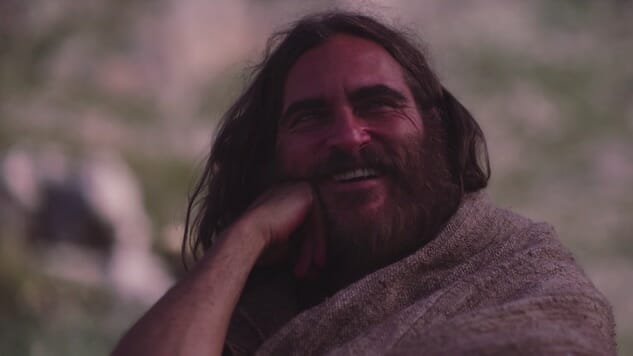 One of the last films that Harvey Weinstein produced with the express intention of winning Oscars was Lion, a film co-starring Rooney Mara and directed by Garth Davis. That same year, another Oscar contender was meant to be released by The Weinstein Company, co-starring Mara, directed by Davis. That film was delayed, and then Davis looked for another distributor once the allegations of decades-long sexual misconduct came out against Weinstein. That film was Mary Magdalene, and now we finally have the first trailer for it.
The first thing you'll likely notice is that while the film is purportedly focusing on Mary of Magdala, famous for following Jesus Christ after he cast demons out of her, the real focus seems to be the savior himself, played here by Joaquín Phoenix. While it may claim to be about Jesus' most famous female follower, Mary Magdalene looks like it's really just about Jesus.
The second thing you'll notice is that this Jesus doesn't quite fit in with his surroundings. Nearly every other character in the trailer seems to be doing a Middle Eastern accent, yet Phoenix appears to be playing Jesus as a white American man (which is what Phoenix is), with no accent at all. It's a bizarre juxtaposition, hearing Chiwetel Ejiofor (as Saint Peter) speak with a thick accent, then going back to Phoenix sounding like he did in Her.
It's unclear exactly what Davis and co. are going for here. If it was historical accuracy, then they wouldn't have coded Jesus to look and sound like a white American. If it was biblical accuracy, then they wouldn't have a scene where Jesus doesn't find any demons in Mary (she had seven in the Bible). All in all, this is kind of a puzzling trailer, and it makes you understand why studios might have been reluctant to release this film for awards season.
Mary Magdalene comes out in the U.S. and the U.K. March 30, 2018.