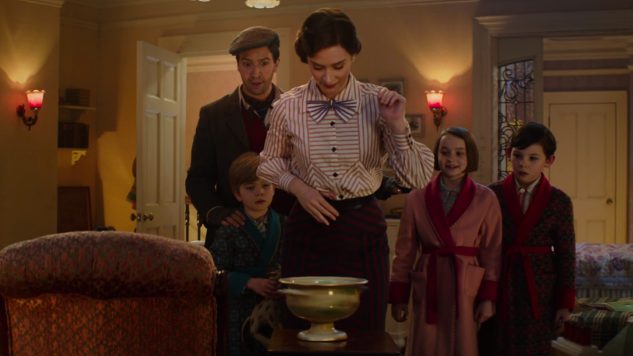 London's most magical nanny is back, over half a century since she first arrived on our screens, and by the looks of it, she hasn't aged a day since.
Emily Blunt takes over Julie Andrews' iconic titular role in the first full trailer for Mary Poppins Returns, a delightful and welcome throwback to the 1964 original.
Michael (Ben Whishaw) and Jane Banks (Emily Mortimer) have all grown up and had children of their own since Mary Poppins left their lives about 20 years ago, but after a personal loss, their nanny flies down with her magical umbrella to provide the family with some much-needed whimsy. While much has changed for the Banks children since they last bid her farewell, Blunt's Mary Poppins hasn't changed one bit in the meantime, greeting them with the nanny's perfect alchemy of stern authority and warmth.
The trailer also promises that the style of Mary Poppins Returns will be a strong throwback to the original, bringing back elements like musical numbers and 2-D animation that have fallen out of favor since the 1960s.
Mary Poppins Returns is directed by Chicago's Rob Marshall, from a screenplay by David Magee, and screen story by Magee & Marshall and John DeLuca, and is based upon The Mary Poppins Stories by PL Travers.
Hamilton founding father Lin-Manuel Miranda takes his best shot at an English accent playing Poppins' friend Jack in the trailer, an optimistic street lamplighter helping bring light and life into the streets of London. (Rest assured, he also gets the chance to do a little dancing, and Blunt the chance to sing a few bars, as this, like the original, is a musical.) Also starring are Angela Lansbury, Julie Walters, Colin Firth, a redheaded Meryl Streep and a returning Dick van Dyke.
Blunt hasn't yet missed a beat in her wide-ranging career, delivering strong performances in everything from The Devil Wears Prada to A Quiet Place, and it's impressive how confidently she assumes the role of Mary Poppins, which won Andrews the Best Actress Oscar for her feature debut in 1964. She certainly seemed to look the part when we got our first look at her as Poppins in the film's first teaser, released back in March, but here, we get a better sense of how Blunt will channel Andrews in the role without necessarily doing an impression of her. Probably a safe bet when you're playing so much on nostalgia.
Mary Poppins Returns arrives in theaters Dec. 19.
Watch the trailer below.