Saoirse Ronan and Margot Robbie Met Only Once While Shooting Mary Queen of Scots
The pair were kept apart throughout production, prior to shooting their sole scene together
Images via Focus Features
Movies
News
Mary Queen of Scots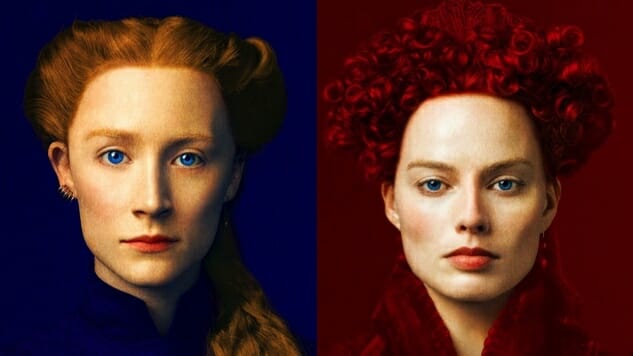 To say that Oscar-nominated actors Saoirse Ronan and Margot Robbie share the screen in Focus Features' forthcoming period epic Mary Queen of Scots is, uh, technically true. After all, the fraught royal relationship between Ronan's Mary Stuart and Robbie's Queen Elizabeth I is the driving force of the film. But as the pair revealed in a new interview with EW, Ronan and Robbie met a grand total of one time while shooting Mary Queen of Scots, and their sole scene together ended with the pair crying in each other's arms.
Prior to this particular day of shooting—Ronan's first and Robbie's last—the two actors had been kept apart at their own request, with Ronan shooting in Scotland and Robbie in England. "We really, really didn't want to see each other," Ronan told EW. "I love Margot and wanted to hang out, but we wanted [the meeting] to be this special thing."
When it finally came time for the regal duo to film their climactic confrontation, both actors were taken aback by the resulting catharsis: "We were blubbering like idiots," recalled Ronan. "We just held each other for ages, we wouldn't let go. We were like, 'Huohooouuughh.' [laughs] I've never experienced anything like that."
Robbie posits that their shared emotional outpouring was the result of both actors having unearthed their characters' tragic histories: Her Elizabeth's mother was beheaded by her father, while Mary was widowed before the age of 18, and both women were frequently set upon by opponents of all stripes, from political schemers to religious organizations. "I had underestimated how difficult their lives were, and how much pain was wrapped up in this power," said Robbie. "I think it just meant more."
Despite such common ground, the queens (and cousins) were fierce rivals, their blood connection curdling into something far more contentious. "They have this sisterhood, this love for each other, but the love is complicated by the fact that each one's survival threatens the other," Robbie explained. "It's a love story between these two characters. A very, very complicated love story."
It's surprising to learn that a film like this one, in which the opposing leads are arguably its most powerful draw, features only a single scene shared between them. But by adding even that one meeting, debut feature director Josie Rourke is taking a creative leap, inspired by Friedrich Schiller's early-1800s play Mary Stuart, in which Mary and Elizabeth speak one-on-one onstage, despite historians maintaining that the pair of rulers never actually met. "The whole conception of the film for me was around that meeting," said Rourke. "We really wanted to have our version of that famous scene, with these two women looking at each other and being confronted with their choices—their personal choices, their political choices. It's a moment that's deeply personal."
Mary Queen of Scots opens on Dec. 7. See a few precious seconds of Ronan and Robbie's key scene together in the trailer for the film here.