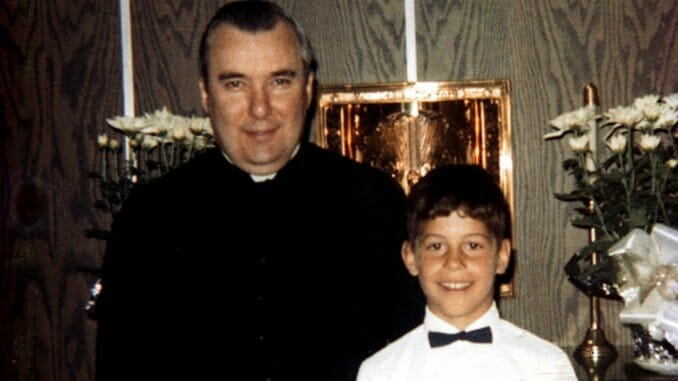 Mea Maxima Culpa: Silence in the House of God, the latest documentary from Oscar-winning filmmaker Alex Gibney, delves into the history of sexual molestation in the Catholic Church as cases began to emerge in the late '50s. While examining the scandals, cover ups and generally appalling abuse of power throughout the church on a global scale, the film also focuses on the story of Father Lawrence Murphy, a Milwaukee priest who sexually molested more than 200 deaf children and remained a free, unprosecuted man until the day of his death from natural causes. The story of the church's dark history is brought to light by interviews with four of the deaf men abused by Father Murphy as children. (The four went on to bring about the first known case of public protest against clerical sex abuse.) Although they were unsuccessful in bringing Murphy to justice, with the help of their lawyer, they're building a case that could one day take down the entire Vatican and expose decades of negligence in the face of an unquestionably intolerable act.
Mea Maxima Culpa is like a police procedural, breaking down the massive church sex scandal cases into their smaller, digestible components. Over the course of the documentary, Gibney builds his case, making connections that indict everyone from the local priests responsible for the sexual abuse all the way up to Pope Benedict himself, who has ignored and minimized this rampant problem in the Catholic community for twenty-plus years, first as the man in charge of the papal committee that investigates these reports, and then as the supposed holiest of men.
Even though Mea Maxima Culpa can be incredibly sad and frustrating, the film is able to go beyond the tragedy of these boys' lost childhoods, using that empathy to incite anger, impatience and action in its audience. The lack of answers or rectification for the victims and the church's attitude of omnipotence and turning a blind eye is enough to move even the most passive viewer to action. And it is exactly that persuasive power that makes Mea Maxima Culpa a great documentary. The film is able to tell these traumatic stories without limiting them to just the impotence of sadness and lack of resolution; it encourages its viewers through history and facts to participate in the same sense of rage and injustice underscored with retributive justice that this group of deaf men so eloquently embody in their stories and interviews.
Although not an easy topic, or a story that will ever have a satisfying ending, Mea Maxima Culpa handles the horrific history of pedophilia and sexual abuse in the Catholic Church with a deft, persuasive hand that ought to inspire decisive action against malfeasant "holy" men the world over.
Director: Alex Gibney
Writer: Alex Gibney
Starring: Jamey Sheridan, John Slattery, Chris Cooper
Release Date: Nov. 16, 2012