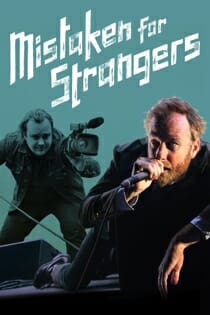 Over the course of several albums, the Brooklyn indie-rock quintet the National have perfected their aura of melancholy cool, their songs rich with cloudy-day introspection. (When you listen to the National's music, you can easily imagine front man Matt Berninger moaning his moony lyrics while looking out his bedroom window at the empty, rain-swept street below.) You might imagine that a documentary about the band would be equally mournful, which is why it's such a pleasant surprise how funny but also incisive Mistaken for Strangers is. Then again, it's not really about the band.
Mistaken for Strangers was directed by Tom Berninger, Matt's younger brother, and it appears that the movie was initially going to be your average life-on-the-road curio. Filmed during the group's European jaunt to promote 2010's High Violet, Mistaken for Strangers came about because Matt recruited Tom to be a band roadie, figuring it might be a good experience for his unfocused brother. (The band is something of a family affair: The other four members consist of two different sets of brothers.) But Tom, an aspiring filmmaker, decided to seize the opportunity and put together a documentary of the tour, even though nobody involved with the band or its tour operation really wanted one.
That description might make Mistaken for Strangers sound like a goofy romp or a cringe-inducing comedy as lovable-loser Tom keeps screwing up in increasingly embarrassing ways. But the film quickly veers into more intriguing territory when Tom begins to resent his lowly position on the tour's food chain, his perception that he's part of the band inconsistent with a reality where he's viewed as just another grunt. (Tom, for instance, is incensed when he isn't included in the band's photo op with Barack Obama.) And so the documentary turns darker and more inward, as Tom ponders why his brother became a success while his own aspirations have produced nothing.
No doubt Mistaken for Strangers will chiefly attract the National's fans, and we do get to see the band members' personalities emerge a little. But anyone hoping for a traditional concert film is going to be disappointed: The only pyrotechnics come from Tom crashing headfirst into his own insecurities, whether by arguing with his brother about his role on the tour or interviewing his parents to find out what they really think of him. Needy and floundering, Tom comes across as a mildly tragic figure, which puts the audience in the same position as Matt, sympathetic but also aware that this guy needs to grow up if he's ever going to make something of himself.
There are the usual behind-the-scenes moments where we see what a drag touring is when the band isn't on stage—lots of boring downtime and tedious logistical busywork—but Tom's accidental portrait of the National does manage to humanize the group in a refreshingly offhand way. Seemingly ordinary dudes with families, the band members have always leaned toward the quieter, moodier side of the indie-rock spectrum, and Mistaken for Strangers doesn't disabuse us of the impression we have of them. But it does capture Matt at a moment when the band's fame is on the upswing, observing how he's negotiating those new demands. And although Matt's preference for dapper three-piece suits and a bookish demeanor might paint him as a pretentious twerp, his warmth is most prominent in the film: Even when he's yelling at his brother for missing the tour bus, it comes shrouded in concern that he didn't know what had happened to Tom.
Mistaken for Strangers has plot twists and gentle observations about sibling rivalry—none that are particularly momentous but are nonetheless well-observed and poignant because of the individuals involved in this growing drama. A lot of rock documentaries are in service of selling a fan base something, but not this one. If anything, Mistaken for Strangers offers a new perspective not just on the National but in the way we think about the individuals within a rock band and its inner circle. This quintet's studied cool might drop a few notches in outsiders' eyes because of this sometimes painfully honest and heartfelt documentary. But speaking for myself, it was always the National's sincerity that was more attractive than their cool.
Tim Grierson is chief film critic for Paste and the vice president of the Los Angeles Film Critics Association. You can follow him on Twitter.
Director: Tom Berninger
Starring: Matt Berninger, Tom Berninger, Bryce Dessner, Aaron Dessner, Scott Devendorf, Bryan Devendorf
Release Date: Mar. 28, 2014