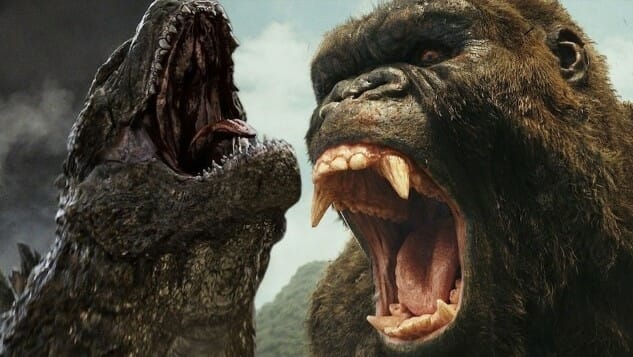 "Everything We Know about … " is Paste's series of deep dives into the forthcoming projects we're most excited about. Explore them all here.
You have to imagine that DC Comics and Universal probably both look at Legendary Entertainment's MonsterVerse with more than a little bit of envy. Here is a working example of exactly what DC and Universal have both tried to establish with limited success: a popular and moneymaking "cinematic universe" in the same mold as the insanely profitable Marvel Cinematic Universe. For Universal, it must be an especially bitter pill to swallow: They can't make a single well-received film drawing on their classic, beloved movie monsters for the "Dark Universe," but Legendary's Godzilla-centric MonsterVerse makes money hand over fist? That hurts.
But of course, in the end it comes down to film quality, and both 2014's Godzilla and 2017's Kong: Skull Island are objectively superior to the likes of The Mummy. The forthcoming entries in the series, Godzilla: King of the Monsters and Godzilla vs. Kong, will seek to keep that momentum going strong, but how much do we really know about what to expect in them, and beyond?
Therefore, let's lay out everything we know about the future of the MonsterVerse.
---
Godzilla: King of the Monsters
The mere fact that Godzilla: King of the Monsters will bring in more classic kaiju from the Godzilla mythos—check out our ranking of every single Godzilla monster while you're here—was enough to get fans plenty excited for the first sequel to Legendary's Godzilla. But then the studio dropped the following first trailer, and the internet pretty much lost its collective mind at the epic scale of this upcoming monster mash.
Well, when you release one of the more beautiful and effective film trailers of the last decade, that's going to turn anticipation up just a bit. In the case of King of the Monsters, the movie immediately became one of 2019's most anticipated. It hits theaters on May 31, 2019, distributed by Warner Bros. Here's what we know so far.
Godzilla: King of the Monsters is directed by Michael Dougherty, largely known for directing Krampus and Trick 'r Treat, a film we've called the ultimate Halloween night movie. Regardless, King of the Monsters is a much, much bigger film than anything Dougherty has directed before, and it represents an opportunity for him to step up into "major Hollywood director" status, much as Gareth Edwards did on the first Godzilla in 2014. He was then rewarded with Rogue One, so who knows—maybe Dougherty will be directing Star Wars entries three years from now.
The film stars Kyle Chandler, Vera Farmiga, Millie Bobby Brown, Ken Watanabe, Sally Hawkins, Bradley Whitford, Charles Dance, O'Shea Jackson Jr. and Thomas Middleditch in what has shaped up to be one heck of an ensemble cast. The plot is not entirely clear, but it seems to revolve around a desperate effort by the monster studying organization known as Monarch to find and "activate" the remaining "Titans"—monsters in the vein of Godzilla—as they are the key to preventing (or causing) some kind of global environmental catastrophe. Farmiga's character Dr. Emma Russell in particular seems to be the key to all this—in the trailer, she can be heard expounding on why the Titans are "the only guarantee that life will carry on." But will they have to destroy the human race for this to happen?
… Probably not, considering that Godzilla vs. Kong also stars some of the same human characters. But a whole lot of infrastructure is definitely going to get destroyed when Godzilla, Mothra, Rodan and King Ghidorah start to rumble.
Farmiga has offered some additional details on her character, saying that her and her daughter Madison (Millie Bobby Brown's character) are kidnapped by "a mysterious organization, with their own plans for the creatures." She's described the film as being about "saving the environment" and revealed that her character "has figured out a way to communicate with the creatures and potentially control them using their bioacoustics on a sonar level." Sounds like some classic Godzilla series sciencebabble, if you ask us.
UPDATE: Dougherty took to Twitter yesterday to offer the following update, implying that the final cut of King of the Monsters is now in the can.
It is done. With love and gratitude to the thousands of talented people all around the world who helped make this lifelong dream a reality. In Godzilla we trust. @GodzillaMoviepic.twitter.com/JnPoqFoXHY

— Mike Dougherty (@Mike_Dougherty) November 16, 2018
UPDATE: A second trailer for King of the Monsters has also dropped, giving us a much better look at both Mothra and King Ghidorah, as well as … a running Godzilla? That's not something you see every day.
---
Godzilla vs. Kong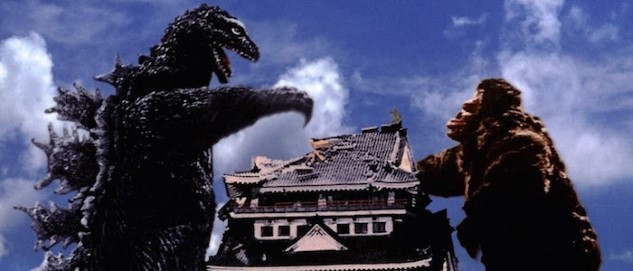 Immediately following King of the Monsters will be Godzilla vs. Kong, which will bring together the continuity of the Godzilla series with the current iteration of King Kong seen in Kong: Skull Island. Note: Because the events of Skull Island took place in 1973 and the modern Godzilla continuity is set in the present day, this will be a significantly older version of Kong—or possibly a different giant ape of the same species altogether. We've just been given a basic synopsis this week, so here it is:
In a time when monsters walk the Earth, humanity's fight for its future sets Godzilla and Kong on a collision course that will see the two most powerful forces of nature on the planet collide in a spectacular battle for the ages. As Monarch embarks on a perilous mission into uncharted terrain and unearths clues to the Titans' origins, a human conspiracy threatens to wipe the creatures, both good and bad, from the face of the earth forever.
There are a few things of interest here. First, "a human conspiracy" certainly sounds like it could involve the same "mysterious organization" mentioned by Farmiga, which is presumably a monster-related organization separate from Monarch, which employs our protagonists. Could this organization be the MonsterVerse's equivalent to SPECTRE from the James Bond series, a sort of overarching human antagonist?
Secondly, this film is certainly going to have its work cut out for it in justifying King Kong as one of "the two most powerful forces of nature on the planet," in a series that also includes the likes of Rodan, Mothra and especially King Ghidorah. The screenwriters will have to go out of their way to even justify Kong being large enough to conceivably pose a threat to Godzilla—according to Legendary themselves, the Kong of Skull Island is a mere 104 feet tall, while the 2014 incarnation of Godzilla stood a whopping 355 feet tall. Expect the script to either mention that "Kong has continued to grow" since 1973, or upscale him in some other way involving super science or monster growth hormones.
Like King of the Monsters, Godzilla vs. Kong will also feature a largely indie filmmaker making his big budget, big studio debut, in the form of Adam Wingard. The MonsterVerse in general seems to be serving as a launching pad for promising genre talent, and we can only hope that Wingard will bring some of the wit and verve of 2014's The Guest and 2011's You're Next to the project, rather than the step backward that was 2016's Blair Witch remake.
As for casting, Godzilla vs. Kong has been reported to star Alexander Skarsgard, Rebecca Hall, Brian Tyree Henry, Shun Oguri, Eiza Gonzalez, Jessica Hardwick, Julian Dennison, and a returning Kyle Chandler and Millie Bobby Brown. Notably not mentioned to date: Vera Farmiga. Make of that what you will.
---
The future of the MonsterVerse
If these films continue making bank at the box office, it's hard to believe that Legendary would consider killing off either Godzilla or Kong in a film like Godzilla vs. Kong, title be damned. In fact, we wouldn't be at all surprised if the film went the expected Batman vs. Superman route of having the two initially fight one another, only to be forced to team up against a larger threat. At this point, a straight fight would almost be more surprising than a twist, because both Godzilla (and to a lesser extent Kong) are potential cash cows.
Godzilla obviously remains the crown jewel, just because there's so much from his Toho mythology that could be exploited in future film entries. The list of potential kaiju that could be adapted in American films is long and varied—from Gigan to Anguirus, Biollante to Destoroyah, it would take a long time to run out of monsters. The trick would be in making any single "Godzilla vs. ____" movie into more of a spectacle than King of the Monsters, which is going the Destroy All Monsters route of throwing a bunch of them into a battle royale against Ghidorah.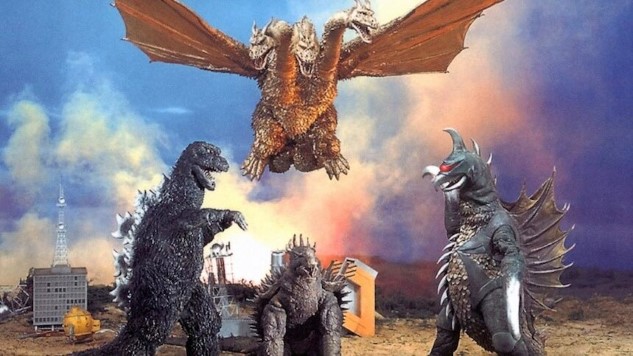 Give me Gigan and the absurd, spinning saw blade in his chest, please.
Perhaps, then, future entries in the MonsterVerse might embrace some of the kookier sci-fi elements of the Godzilla series? Many of his films involve alien invaders, often accompanied by kaiju of their own. A notable inclusion would be MechaGodzilla, the only other kaiju besides King Ghidorah who could be considered a Godzilla "arch enemy." Would a fully realized MechaGodzilla be enough for the next MonsterVerse entry after Godzilla vs. Kong?
Other possibilities could include quite a few one-off pictures that could go deeper into the stories of individual kaiju, such as a solo Mothra or Rodan film. Legendary could even decide to roll the dice on some original monsters here, the way they did for the MUTOS in 2014's Godzilla.
Regardless of what happens, one thing is certain: The MonsterVerse has no shortage of material to drawn from. We're hoping to see FX-driven blockbusters continue rolling out of Legendary/Warner Bros. for most of the next decade.