Jared Leto Becomes Morbius in Sony Spider-Man Spinoff's First Teaser Trailer
Image courtesy of Sony Pictures
Movies
News
morbius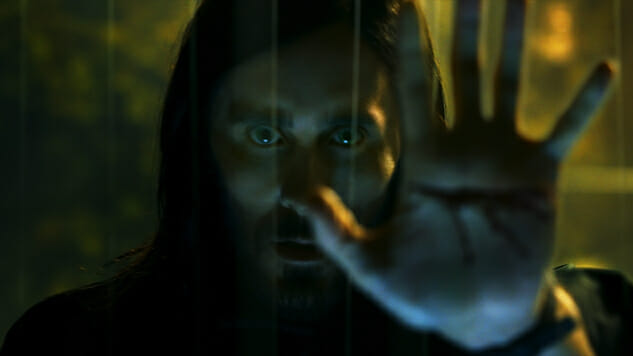 Sony Pictures' burgeoning Spider-verse continues to burgeon with today's first substantive look at Morbius, starring Jared Leto as the Spider-Man offshoot's titular Marvel antihero. The Oscar winner, whose distinctly "damaged" portrayal of the Joker—unlike Joaquin Phoenix's Oscar-nominated iteration—went over like a lead balloon, here gets another shot at entering a superheroic cinematic universe, as it appears his Morbius may cross over with Tom Holland's Spider-Man in meaningful ways.
Sony clearly learned from its disastrous first teaser for Venom, succeeding where that trailer failed by showing us Leto in full-blown Morbius mode. But first, we get the usual origin story set-up: Desperate to find a cure for the rare blood disease from which he suffers, Dr. Michael Morbius bets his life on a radical remedy that, at first, appears to be a resounding success. "I went from dying to feeling more alive than ever," he says in voiceover as we see Leto's character, once sickly, now shredded and shirtless. He then inventories his newfound superpowers, which grow increasingly concerning: "Increased strength and speed, the ability to use echolocation, an overpowering urge to consume blood." "How far are we allowed to go to fix something that's broken?" Dr. Morbius wonders—"Until the remedy is worse than the disease," Jared Harris' character portentously replies.
Matt Smith, Adria Arjona, Al Madrigal (a long way from The Daily Show) and Tyrese Gibson also star alongside the Jareds, and also appearing is Michael Keaton, aka The Vulture, the memorable antagonist of 2017's Spider-Man: Homecoming. His cameo makes for quite an end-of-trailer kicker, indicating some kind of crossover between Sony's Spider-verse and the MCU. Hopefully further promos for the film will bring a bit more clarity to this particular point.
Morbius opens July 31, 2020. Watch the first teaser below.