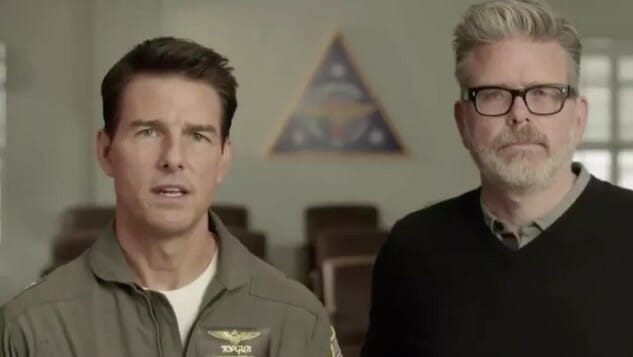 The scourge of motion smoothing on modern HD TV's has found itself yet another high-profile foe, in the form of Tom Cruise. This morning, the actor appeared in a quickly viral PSA video via Twitter, flanked by Mission Impossible — Fallout director Chris McQuarrie—himself an outspoken critic of motion smoothing—to urge viewers to adjust the settings on their own TV's. Watch the entire PSA immediately below.
I'm taking a quick break from filming to tell you the best way to watch Mission: Impossible Fallout (or any movie you love) at home. pic.twitter.com/oW2eTm1IUA

— Tom Cruise (@TomCruise) December 4, 2018
As Cruise observes, motion smoothing or "interpolation" is casually referred to as the "soap opera effect" in the film and TV industries, and is automatically enabled on many modern TV's. The intended effect is to create artificial frames that "smooth out" the action in fast-moving images such as live sports, but the setting has the unintended effect of giving Hollywood films a distinctive aura of unreality. Remember when you saw The Hobbit in theaters and were confounded by the faster frame rate Peter Jackson employed? This is the same deal, except on your TV screen. As Cruise puts it, "the unfortunate side effect" of motion smoothing makes films look like they were "shot on high-speed video rather than film."
The main problem, according to Cruise and McQuarrie, is that oftentimes these settings aren't at all obvious to adjust. The option to turn off motion smoothing is often not clearly labeled, or it's buried many menus deep. The easiest way to figure things out is often to Google specific instructions for your own TV brand.
Prominent critics of motion smoothing have included McQuarrie and other famed directors such as Rian Johnson, Christopher Nolan, Paul Thomas Anderson and Edgar Wright—all creators who are known for their visually dynamic films. It stands to reason that these guys are the most touchy about their work being "soap opera'd" to unsuspecting viewers watching them from the comfort of their couches. Nolan and Anderson even sent a letter to television manufacturers, via the DGA, asking for changes in TV manufacture that either disable motion smoothing by default or make it easier for the average consumer to do so.
"Many of you have seen your work appear on television screens looking different from the way you actually finished it," says the letter. "Modern televisions have extraordinary technical capabilities, and it is important that we harness these new technologies to ensure that the home viewer sees our work presented as closely as possible to our original creative intentions."
Here's hoping that Cruise, McQuarrie and everyone else is able to make some progress by bringing attention to the issue. In the meantime, this might be the time to check out your TV settings.