Andy Serkis' Mowgli Gets Grim First Trailer
For some reason, The Jungle Book is getting a dark and gritty reboot
Images via Warner Bros. Pictures
Movies
News
Mowgli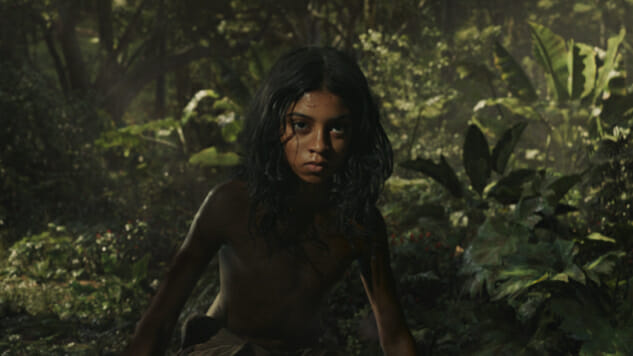 After reading Rudyard Kipling's The Jungle Book, one's natural conclusion is to wish that it was darker, grittier and more violent. Right? No, not really, given that Kipling's work is already surprisingly violent and deals with some of the harder-to-grasp realities of life and mortality. Yet, it should be even darker than that, right? Well, that seems to be the inclination Andy Serkis and Warner Brothers had when crafting the newest adaptation of such an ever-adapted work in 2018's Mowgli. One could argue that it is unnecessary from the get-go, even more so in the wake of Jon Favreau and Disney's stellar 2016 adaptation, which held onto the morality and sense of danger that makes Kipling's work so imaginative and special whilst balancing the whimsy of the original animated adaptation. A new take on a well-trodden work is by no means a bad thing but, judging from this trailer, this new take may not be as good as any of us want or hope it to be.
The trailer opens with narration by Christian Bale (the voice of the black panther, Bagheera) that sets the ominous tone for what is to come. Next, we see a caged Mowgli (Rohan Chand, The Hundred-Foot Journey) lashing out at his confines in the same way that a caged wild animal would—deep, isn't it? Kipling's original work, in many ways, is an allegory for certain societal norms and political movements that were present in 1896. Problematic and openly imperialistic, Kipling's work reflects his ethics in some ways but, unlike the Mowgli trailer, his metaphorical acumen is far more subtle. Also, lets hope the movie grasps the problematic origins of the classical text. From there, we catch glimpses at all of the titular animals from the book: Baloo (played by Serkis himself), Kaa (played by Cate Blanchett) and Shere Khan (played by Benedict Cumberbatch) make their just appearances as darker, scarier versions of their former selves, and each give a line or two to show how much more serious they are. A darker, more serious tone is not always a bad thing, but every property does not need a gritty reboot.
With such a stellar cast and creative team, one can only hope that Serkis and his team's vision is pulled off with some purpose as to why a darker lens on the tale seems necessary, rather than it just being a way to differentiate it from previous adaptations of the original text. Knowing that Serkis is helming the project and heavily involved, the CGI and motion capture is expected to be stellar, and the best part of the trailer seems to be the motion and facial capture work (pictured above). It is utterly captivating in parts and equally beautiful in others. The film is set to release on Oct. 19 and one can only hope that the final product is far, far better than this initial showing.
It is not all bad, but one must remain cautious as it does look unexpectedly shaky; having faith in Serkis as a filmmaker and storyteller may pay off positively, though. That being said, the trailer literally opens with "witness the darkest telling," as if to scream its tone directly into the viewer's face.
See the Mowgli trailer for yourself below.