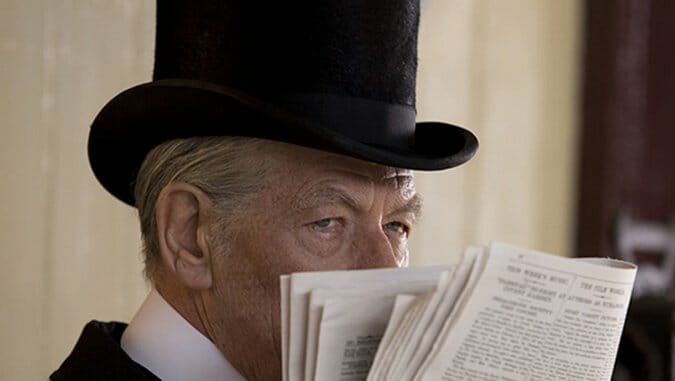 Though Sherlock Holmes may be one of the most-portrayed literary characters in film and television history, the actors best known for playing the British detective—from Basil Rathbone and Robert Downey Jr. on one kind of (generally) larger screen to Benedict Cumberbatch and Jonny Lee Miller on the (probably) smaller—have managed to put an individual spin on Sir Arthur Conan Doyle's creation. The latest to take on the iconic role is Sir Ian McKellen, who has crafted a cinematic Sherlock that's nothing like his predecessors: We find a retired detective who's vincible—past his prime and struggling with both failing health and memory.
Mr. Holmes reteams McKellen and director Bill Condon, who previously worked together on 1998's Gods and Monsters, a film that earned Condon an Academy Award for Best Adapted Screenplay and McKellen a nomination for Lead Actor. Adapted by screenwriter and playwright Jeffrey Hatcher (Stage Beauty, The Duchess) from Mitch Cullin's novel A Slight Trick of the Mind, Mr. Holmes proves to be a worthy follow-up 17 years later, an admirable juggling of three distinct storylines—each with its own twist—that somehow can keep an audience rapt until its mysteries are unraveled and resolved in a number of surprising ways.
Condon carries Mr. Holmes forward from the late 19th/early 20th century to 1947. We first glimpse the aging detective as he returns home to England from a visit to post-war Japan, where he was searching for the prickly ash, a plant which supposedly has curative properties. There he was guided by a botanist (Hiroyuki Sanada) with ulterior motives for bringing Holmes to Japan. The two find the prickly ash growing among the ruins of Hiroshima's vast wasteland, which not-so-subtly reflects what Holmes's own life has become, but the presence of the plant amongst such destruction gives the detective hope that it could possibly restore some of his waning faculties.
Back home, Holmes tends to his papers and his beloved bees. His small circle of friends—Dr. Watson, his brother Mycroft and Inspector Lestrade—have all died, and his only company is his housekeeper Mrs. Munro (Laura Linney) and her young son Roger (Milo Parker). Tension exists between the widow Munro and Holmes: She doesn't see the great mind that once was, only a curmudgeonly man in her care. Their relationship seems transactional at best, with Linney expertly playing a woman on the edge, worn down by the loss of her husband to war and wary of her employer. It doesn't help that Holmes remains aloof, decidedly stubborn and lacking basic social graces. (In one harrowing scene, Roger is seriously injured and Holmes rushes past Mrs. Munro to call an ambulance, without bothering to tell her that her son could be mortally wounded.)
Munro's dynamic with Holmes contrasts starkly with the genuine friendship and mentorship that quickly develops between the old man and Roger, represented wonderfully and precociously by Parker. Holmes takes the boy under his wing, teaching him the ways of such arts as beekeeping and deduction. Roger is predictably in awe of the detective, and encourages Holmes to finish writing the story of his last case, a narrative he first attempted to chronicle before his trip to Japan. The problem is that Holmes only remembers bits and pieces of the case, one which ironically is memorable because it forced him into retirement. In very un-Holmesian ways, the detective now writes a person's name on his sleeve so he can discreetly glance down to retrieve it when his mind fails, or he attends the local movie theater to watch a "Sherlock Holmes" mystery based on Watson's version of events in the case, hoping it will jog his own recollections. He is simply struggling with the all-too-real problems that belong to any 93-year-old.
Though the sadness of aging permeates the film, moments of levity throughout Mr. Holmes come via Hatcher's smart script, which plays with the widely accepted Sherlock canon, evidenced when Holmes reveals that he prefers a cigar to a pipe, has never worn a deerstalker cap, and lives on Baker Street, though not 221B. He chalks up the disparities between fact and fiction to Watson's "elevated prose style."
Eventually, Condon deftly shifts the action from 1947 to 1919 and Holmes's last case, wherein Thomas Kelmot (Patrick Kennedy) hires the detective to follow his wife Ann (Hattie Morahan), who suffers from depression after two miscarriages. She has developed an obsession with playing the glass harmonica, and Thomas wants to know what she's really doing during her lessons. Although their interaction is brief, Ann's words and actions leave a lasting impression on Holmes; she proves to be a haunting figure throughout his life.
McKellen gives a masterful performance as a superman who must slowly come to terms with his own mortality. A number of shots go close up on McKellen's face, the camera lingering over his wrinkles and the wariness in his eyes, and at 73, McKellen is wholly believable as a nonagenarian who can't accept he's losing the sharpness and skills that made him—defined him as—the icon he once was. When the film jumps back to scenes from 1919, McKellen's Holmes is still near the top of his game, his demeanor, replete with a hint of cockiness and smugness in his encounter with Mrs. Kelmot, jarring in light of the defeated Holmes of the late 1940s, a man still stubborn, pushing to get his affairs in order before he dies, even when his mind and body won't cooperate. But through Holmes's growing relationship with the Munros—in which they develop into a quasi-family—Condon makes a simple but beautiful point: There's something better than a life lived in isolation.
Director: Bill Condon
Writer: Jeffrey Hatcher (screenplay); Mitch Cullin (novel)
Starring: Ian McKellen, Laura Linney, Hiroyuki Sanada, Hattie Morahan, Patrick
Kennedy, Roger Allam, Frances de la Tour, Phil Davis, Milo Parker
Release Date: July 17, 2015
---
Christine N. Ziemba is a Los Angeles-based freelance pop culture writer and regular contributor to Paste. You can follow her on Twitter.