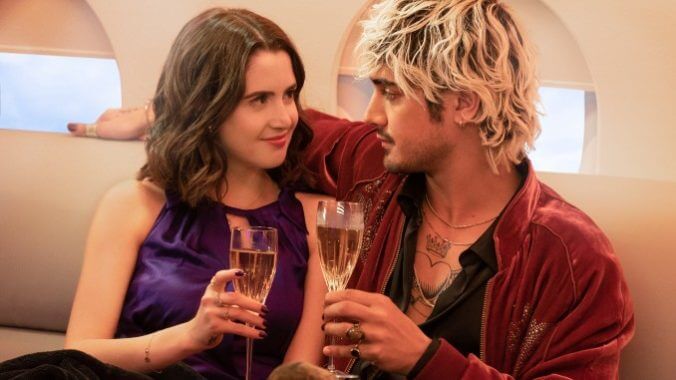 If you went to a school at a time when there were book fairs or those monthly Scholastic Book Club flyers, then you might remember Choose Your Own Adventure books. The ones that laid out a basic narrative but let the reader determine a unique ending based on their individual choices. They were kitschy but not entirely memorable. But what if you apply that formula to a rom-com?
With Hallmark and Lifetime making eleventy-billion rom-coms for every minor holiday these days, it's not easy standing out amongst the vanilla-grade romance churn that the genre is currently weathering. So, there's at least some creativity to Netflix's decision to take the aforementioned audience participation model and apply it to Choose Love. Depending on your overall ennui as a human being, this experiment lands somewhere on the scale between being a gleefully Machiavellian opportunity to ruin an average gal's love life via your remote, and a mildly entertaining visual pairing to go with your cheese plate and Two Buck Chuck. However, if you're Scorsese, forget Marvel—this is truly the death of cinema. 
The basic premise of Choose Love revolves around the love life of Los Angelino Cami Conway (Laura Marano, of Austin & Ally fame). A perky recording engineer, Cami has a good job mixing audio ads, has a nice apartment near her sister's family and a three-year relationship with her hot-but-kinda-boring boyfriend, Paul (Scott Michael Foster). He's a responsible lawyer, the perfect game night partner and the kind of guy who worries about her fire detector batteries. As sweet as all that is, it's clear Paul isn't buzzing Cami's buttons anymore. She's easily thrown off her contentment game when the love gods (in the form of a tarot card reader) throw her some horny curveballs: 1) Her high school first love, Jack (Jordi Webber), who suddenly appears back in her life, and 2) Some instant chemistry with surprise client / recording artist Rex Galier (Avan Jogia). 
As you might expect, Cami goes through a 24-hour period where she's tempted to make some big destiny-busting choices about all three men who suddenly make her question everything that seems settled in her nicely appointed life. Paul represents a life of love and stability; Rex is a return to her dream of making and producing music; Jack is the one who got away. He's an activist and artist out there making change—that looks pretty hot from behind her boring sound board. 
Despite being a genre that revels in its tropes, a rom-com can easily shift into greatness by investing you in the lives of its characters and by sparking a lot of chemistry amongst the actors playing their besotted parts. On both counts, Choose Love doesn't exactly give its cast much to work with. Cami's life is given the most context, and Marano does her chipper best to give the character some sass and self-reflection, even meta-chastising herself (and the premise) as she breaks the fourth wall, addressing how super shallow this all feels during particularly fraught choices. But there's no depth for Cami's suitors, who are essentially lined up like the basic bitch choices on a human charcuterie board. Listen, some reverse reduction of male characters in a rom-com is not going to set cinema or the planet back, but Paul, Jake and Rex are 100% "what if" fantasy tropes—and that's it. All of them are equally into Cami, they aren't surprise creeps looking to use her and they tick boxes that safely range from comfortable to horny(ish). None are going to really challenge her status quo, much less leave her wistfully smiling, thinking about them while buying groceries someday.
Unfortunately, the attractive fantasy of Choose Love's world is pretty bargain basement too. Initially, there's a heavy reliance on stock photography aerials of L.A. landmarks to set a sexy landscape…that quickly reverts to bland and generic locations with a lot of the action taking place in interior sets, making the movie feel small and sitcom-ish. There's a visual flatness that seems intentional, so as not to distract from the on-screen choice prompts throughout, but the production design is in keeping with the overall lack of ambition to rise to the gimmick of the technology hook. 
But the biggest problem with Choose Love is that Marano is directed to play all of Cami's choices with such earnest niceness that even when she engages in a very public dumping, the worst consequence is receiving a tepid hug from the dumpee. In fact, there's nary a raised voice aimed towards her once in the whole movie, when she's basically playing a shell game with three men, right in their faces. Wouldn't at least one of them be perturbed? But writer Josann McGibbon's script plays it safe from beginning to end. The potential cleverness of the format is never tested or pushed to explore any truly weird choices for Cami. Even when the viewer seeks the worst case scenarios by backtracking to choose an array of different decisions for Cami—which I did—the most progressive outcome for her is when she chooses herself. That's certainly feminist, but it's not fun. And if you're not going to have fun with this weirdo format, what's the point? It's also extra disappointing because director Stuart McDonald and actor Scott Michael Foster both came from a series that set the new bar for rom-com subversion, Crazy Ex-Girlfriend. None of that show's bite is present here, which is a real shame. If you're brave enough to tromp on how a rom-com is delivered, it should be just as strident in disrupting the scenarios and suitors for the heroine. 
Director: Stuart McDonald
Writers:  Josann McGibbon
Starring: Laura Marano, Avan Jogia, Jordi Webber, Scott Michael Foster
Release Date: August 31, 2023
---
Tara Bennett is a Los Angeles-based writer covering film, television and pop culture for publications such as SFX Magazine, Total Film, SYFY Wire and more. She's also written books on Sons of Anarchy, Outlander, Fringe, The Story of Marvel Studios and The Art of Avatar: The Way of Water. You can follow her on Twitter @TaraDBennett or Instagram @TaraDBen.