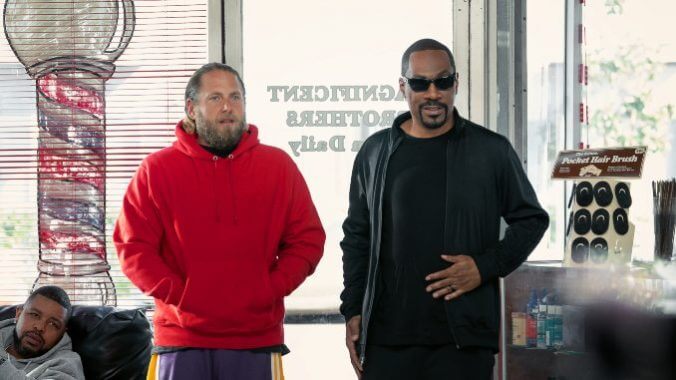 Ezra Cohen (Jonah Hill), the hopeless romantic co-host of a podcast about Black culture, spends his days wondering when it's his turn to find love. He has nearly given up on this pursuit when, lo and behold, Amira (Lauren London), a beautiful Black fashion designer, falls seemingly straight from heaven and into his life. The young lovebirds proceed to fall head over heels for one another, and their budding relationship might as well have been snagged straight out of a fairytale—that is, until Ezra decides to pop the question, and seeks to secure the approval of Amira's parents.
Of course, this noble quest proves to be anything but smooth. Ezra quickly clashes with Amira's parents: Stern, devout Muslims Akbar (Eddie Murphy) and Fatima (Nia Long). And from painfully awkward family dinners to one particularly difficult to watch bachelorette party, hilarity swiftly ensues.
It's always a riot to watch two families clash, but the added element of race in You People dials the film's stakes up even higher. Where "meet the parents"-style films tend to put only the central relationship on the line, this one posits that, if everything goes right, some of the characters' worldviews will be totally altered. If it goes wrong, relationships will crumble.
Director Kenya Barris, who co-wrote the script, injects an energetic, kinetic flavor into the film, shrewdly maintaining a buoyant energy through quick cuts and pump-up music that makes laughs come easily. But Hill steals the show. In his first leading comedic role since 2014's 22 Jump Street, the actor wastes no time reminding the audience that he is the crème de la crème of his craft, rolling out laugh-out-loud joke after laugh-out-loud joke in the film's opening scene like he could do it in his sleep.
Hill's unique talent for playing a character who incessantly talks himself into a hole carries much of You People's comedic success. Following closely behind is Julia Louis-Dreyfus, who plays Ezra's upper-class, wannabe progressive mother with a queasy, Selina Meyer-esque disposition, plastering her trademark uncomfortable smile across her face every time she compliments Amira's hair or rants about police brutality.
But not every performance in You People is as effective as these two. Murphy is tragically underutilized as a serious character afforded little to no laughs. (I mean, really—who puts Eddie freaking Murphy in their film and doesn't reserve at least one punchline for him?) Similarly, London shines as the free-spirited, uncompromising Amira, but the chemistry between her and Hill leaves something to be desired. From the get go, Ezra and Amira aren't given much in common, despite the film only really working if you are unequivocally rooting for their relationship. That their first date is brushed over in montage form doesn't help the cause, as it leaves us wondering what it is they actually bonded over during this crucial moment.
With their meet-cute rooted in conflict, this is quite a gap to ask us to fill on our own. This is especially frustrating given that other elements of You People are exhaustively hammered home. The third act screeches to a halt and loses almost all of the subtlety it had painstakingly assembled, as the characters talk at length about their conflicts and say the things that had previously been lingering artfully between the lines.
Despite being overly didactic, however, You People produces enough laughs to remain a compelling watch through the end, and, perhaps most exciting of all, suggests that a Jonah Hill comedic renaissance may be on the horizon.
Director: Kenya Barris
Writers: Kenya Barris, Jonah Hill
Stars: Jonah Hill, Lauren London, Eddie Murphy, Julia Louis-Dreyfus, Nia Long, David Duchovny, Molly Gordon, Sam Jay
Release Date: January 27, 2023 (Netflix)
---
Aurora Amidon is a film journalist and passionate defender of Hostel: Part II. Follow her on Twitter for her latest questionable culture takes.