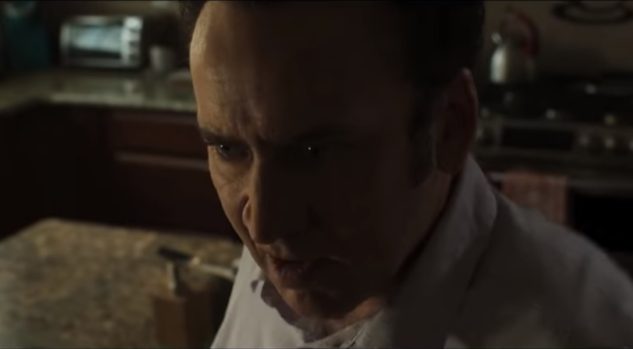 Nicolas Cage has had a weird, wild relationship with superhero cinema, has he not? Besides playing Ghost Rider in a few pre-MCU Marvel Comics movies, as well as his turn as the sadistic "Big Daddy" in Kick-Ass, he famously was in line to portray Superman himself in Kevin Smith and Tim Burton's never-filmed Superman Lives. Years later, the failure of that film has become such an entrenched part of the DC lore that Cage is being offered the opportunity to finally "play Superman" when he voices the character later this year in the animated Teen Titans Go! to the Movies feature film.
But meanwhile, that's not the only superhero he'll be voicing in the near future, as news comes today that Cage will also lend his unique screen presence (or voice, at least) to Spider-Man: Into the Spider-Verse. And get this: He'll be playing yet another incarnation of Spider-Man, in addition to the "classic" Peter Parker of Earth-616 (the main Marvel continuity) and Hispanic-Black teen Miles Morales, who resides in a parallel reality. Cage, meanwhile? He'll be appearing as a version of the web-slinger who is literally "darker"—a character called Spider-Man Noir, who is an alternate version of Spider-Man who gained his powers in the 1930s. This is how the character is described:
In this reality, Peter Parker is an inexperienced yet idealistic apprentice of a respected yet troubled reporter, who is accidentally bitten by a illegally imported and highly venomous spider, while secretly investigating a smuggling ring of ancient spider statues, but instead of killing him, the incident imbues him with super-human abilities, similar to that of a spider. Using advantage of his new abilities, Parker begins to wage a one-man war against the criminal underworld in New York City as a brutal and feared vigilante, known as the "Spider-Man", partly to avenge the death of his uncle: Ben Parker, at the hands of the city's major crime lord: Norman Osborn.
Sounds like an intriguing mashup of the Spider-Man mythos that still retains classic villains such as Osborn, better known as the original Green Goblin. It's not quite clear how all of these versions of Spider-Man will be meeting each other, but it does raise the question of how many more Spider-Men we can expect before Into the Spider-Verse arrives. Are we going full Spider-Man clone saga here? Can we get some of the versions of Peter Parker that actually have thoraxes and eight legs and whatnot?
Spider-Man: Into the Spider-Verse is directed by LEGO Movie and fired Solo directors Phil Lord and Christopher Miller, and arrives Dec. 14, 2018. Other cast members include Jake Johnson portraying Peter Parker, as well as Hailee Steinfeld, Mahershala Ali, Liev Schreiber, Brian Tyree Henry, Luna Lauren Velez and Lily Tomlin.