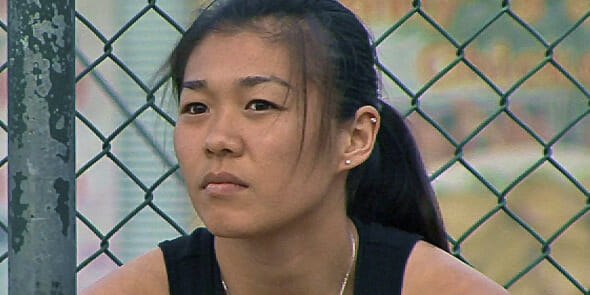 In recent years, it can sometimes seem as if the sports world is racking up the number of fallen idols faster than new ones can replace them. Doping, drugs, violence, and murder charges have taken down a number of big-name athletes and their legacies. So when fresh-faced Emily "Etay" Tay, a young college athlete, graces the screen as the subject of Melissa Johnson's documentary,No Look Pass, it's a breath of fresh air to see the unadulterated hopes and non-tarnished dreams of a promising talent.
The film follows basketball point guard Tay, a then-Harvard senior struggling with her sexuality, opponent's racism, and her parents' cultural reluctance to let her be herself. She shares her life easily to the camera, even as she keeps her defenses up around her teammates and girlfriend. But there's life after college, and Tay works hard to continue her dream to play professionally while traveling the world.
Through the emotional clash of cultures, sexuality and privilege is explored through Tay's experience in the microcosm of women's basketball. In college, opponents tease her about her skin color. At one point, Tay tells the camera dryly, "Sometimes I wish I was white." Later, she's faced with the economic reality of how little women athletes earn in comparison to their male counterparts. In her pursuit of travel, Tay and her best friend sign with a German league abroad. The experience is tough, and nothing is smoothed over, including one Mean Girls-esque sabotage from their German teammates that almost sent the American girls home.
While juggling on-court drama, Tay decides to hide her sexuality from her conservative parents. Having immigrated to the States from Burma, only her father seems to have become comfortable in English, the main language Emily and her brother know. The language barrier adds another strain to the distanced relationship between Emily and her mother, who interjects her disapproval throughout the movie.
Once abroad, Tay befriends a servicewoman on a nearby base. The audience was privy to Tay's previous short-lived college romance and how closed off she had been with her partner. But this one was different, and without voyeuristically intruding, Johnson captures sweet scenes of making Valentine's Day cards and the couple going to the fair together. These moments become more poignant as you learn this happened at the end of the controversial "Don't Ask Don't Tell" era.
Director Melissa Johnson does an admirable job keeping up with Tay's fast-paced life. While there are a lot of personal feelings shared, it seems therapeutic for Tay. Perhaps it is a cliché to say she comes across as a good kid, but it's just how the documentary frames her. She's talking to the camera because it's around, and her ease with it makes it seem as if we're in her dorm room chatting. The movie itself suffers from the aesthetic many independent docs do: the threat of light overexposure. Fortunately, a good portion of the movie takes place in windowless sport bunkers, so the intrusion is only occasionally jarring.
A documentary lives or dies by its subject, and Tay's determination to pursue her basketball career, to love freely, and to travel and experience other cultures is the compelling centerpiece of No Look Pass. It's a hopeful moment of transition in a young athlete's career, delicately captured for the world to see. The title card at the end of the movie isn't the end, but hopefully the beginning of what we'll hear of Emily Tay.
Director: Melissa Johnson
Writer: Melissa Johnson
Stars: Emily "Etay"Tay
Release Date: May 3, 2013