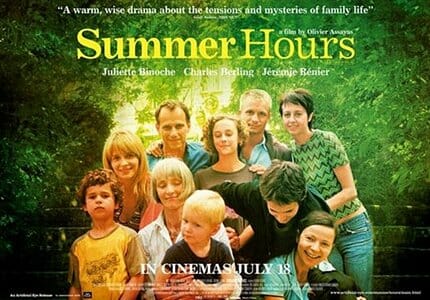 Release Date: May 15 (limited)
Director/Writer: Olivier Assayas
Cinematographer: Eric Gautier
Starring: Juliette Binoche, Charles Berling, Jérémie Renier, Edith Scob
Studio/Run Time: IFC Films, 103 mins.
Films about families often depict melancholy souls who reach under old beds for shoeboxes of curled photos and yellowing mash notes. Assayas has made an entire film around that moment—it's a meditation on how objects carry history, how they reflect our decaying bones, and how they sometimes outlive us. The film ends beautifully with a rockin' party thrown by Hélène's granddaughter on the sprawling estate. It's a last gasp for the family home but also a poignant glimpse of a new generation claiming old spaces.
A poignant family flick
After making several films about cat women who jet across the globe and slink through buildings of glass and steel, Olivier Assayas has returned to the lower-key interests of his earlier films with

Summer Hours

. When Hélène reunites with her grown, far-flung children at their old home in rural France, the siblings remember growing up on the estate. And when she dies shortly thereafter, they must decide what to do with the house and its contents now that they've all moved on.