Watch the First Trailer for Overlord, J.J. Abrams' World War II-Set Zombie Movie
Images via Paramount Pictures/YouTube
Movies
News
Overlord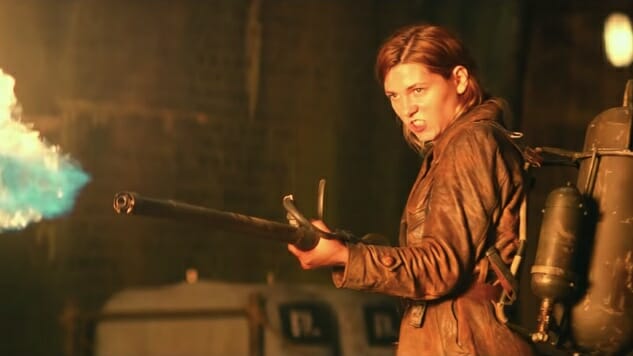 The first trailer for Paramount Pictures and J.J. Abrams' World War II-set thriller Overlord was released Wednesday and, wow, it's a real Nazi-and-zombie-induced doozy, as the old saying goes.
As the first R-rated film produced by Abrams' Bad Robot, the trailer doesn't skimp on the gore. Set 12 hours before D-Day, Overlord follows a group of paratroopers who find themselves behind enemy lines, only to discover a Nazi experiment with supernatural forces designed to fight the Allies. "It's batshit crazy," Abrams as said, and from the looks of this trailer, we couldn't agree more.
The trailer markets the film as half war movie, half zombie flick, and it's packed with enough explosions, gunfire and horror gore—all set to the soothing sounds of AC/DC's "Hell's Bells"—to help the film stand out from anything we've seen from Abrams previously. Pilou Asbæk (Game of Thrones) takes strong jawline to a new level as he still manages to grin with a face that's half ripped away, and from the looks of it, Jovan Adepo (The Leftovers) got a whole lot more than he bargained for when he got drafted.
As previously reported, the film was initially thought to be part of the Cloverfield franchise, in which different interdimensional creatures attack Earth across various decades. While Overlord looks like it has all the necessary components, Abrams recently stated that the film is unattached to the previous three Cloverfield films and that Bad Robot is "actually developing a true, dedicated Cloverfield sequel." The fourth, as-yet-untitled installment will be released in theaters, after the third movie The Cloverfield Paradox was surprise-released on Netflix (and not well received) after this year's Super Bowl.
Overlord hits theaters on Nov. 9, just in time to make a post-Halloween killing. Watch the trailer below.