Watch Giant Robots Fight Even Giant-er Aliens in First Trailer for Pacific Rim Uprising
Image via Legendary/YouTube
Movies
Video
pacific rim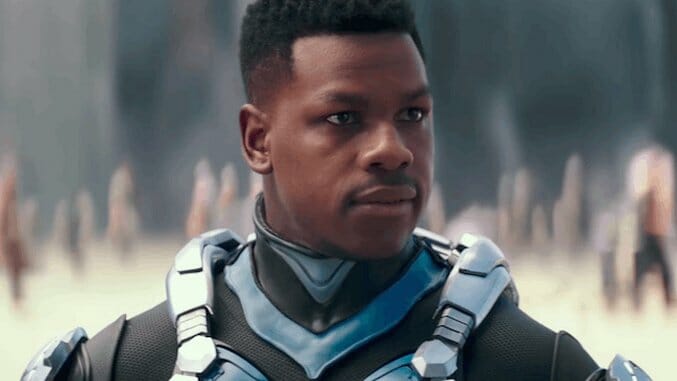 Wake up, everybody, it's time to cancel the apocalypse again.
The first full trailer for Pacific Rim Uprising dropped today, and it might actually contain more giant robots fighting other giant things than you'd expect. We say "other giant things" because this time around, it's not just giant aliens the heroic giant robots are fighting: The trailer shows evil giant robots, too.
John Boyega features prominently in the trailer, as one would expect. He plays Jack Pentecost, the son of Stacker Pentecost (Idris Elba's character in the first film), and he seems to be doing an excellent job. You can also see Cailee Spaney playing a character named Mara, as well as Charlie Day and Burn Gorman reprising their roles from the first film.
"That's all well and good," we hear you shout, "but get back to the stuff about giant robots." Well, aside from the revelation that there will be bad guy robots, there's also a nice shot that shows that the Kaiju are even bigger this time around. And they were pretty big the first time!
This film is directed by Steven DeKnight, not Guillermo Del Toro, and the trailer seems to miss some of GDT's visual panache. Our one complaint is that the visuals so far look more inspired by a Transformers movie than a true Kaiju film.
That being said, we are still incredibly hyped for this. Pacific Rim Uprising opens March 23, 2018. You can read our review of the first film here.