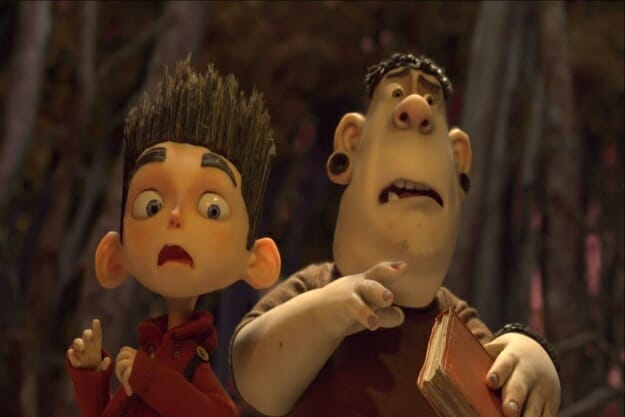 The beautifully crafted new stop-motion film ParaNorman opens with two important pieces of information. First, we observe our young hero as he watches a B-zombie flick, complete with choppy edits and a boom mic that creeps its way into the frame. This lets us know that the filmmakers approach the upcoming story with tongues firmly planted in cheeks. Second, Norman carries on a conversation with his grandmother. This part of the scene is only significant once we learn that grandma is quite dead.
The tale that follows is part Something Wicked This Way Comes, part The Goonies. The town of Blithe Hollow, once a colonial village, now a struggling tourist trap, has lived under the threat of a witch's curse for 300 years—long enough for fear to transmogrify into camp. Norman (voiced by Kodi Smit-McPhee) can see and talk with ghosts, an ability that might make him quite popular with the dead set, but one that does little to improve his social standing with his living schoolmates… or his immediate family. Older sister Courtney (Anna Kendrick) and his parents (Leslie Mann and Jeff Garlin) have little patience for Norman's conversations with grandma (Elaine Stritch), or any of the other ghosts he interacts with, from roadkill to treed aviators. Only his uncle Mr. Prenderghast (John Goodman) believes him, and it is no coincidence that he is also the family pariah.
At school, Norman is subject to bullying from students and teachers alike, and we quickly come to care for this small, tough, sweet boy as he patiently cleans the word "freak" from his locker. Another social outcast, the rotund Neil (Tucker Albrizzi) latches on to Norman, becoming his new best friend (whether Norman wants one or not). The arrival of Neil also indicates the arrival of the true heart of this endearing film, which is its humor. The small team at the core of the story—Norman, Neil, his dense older brother Mitch (Casey Affleck), Courtney and even the local bully Alvin (Christopher Mintz-Plasse) are put together by circumstance to battle evils greater than lunchroom insults, and they prove to be a winning and very funny group of protagonists.
Zombies burst forth from the ground, ghosts shoot out of toilets like geysers, mobs cut a swath through town like Sherman through Atlanta. Norman and his team fight off sentient arms and disapproving authority figures to save everyone, living and undead alike.
ParaNorman took two years to animate, and it shows in the exquisite craftsmanship of its design and execution. The artistic direction illustrates such a love for detail and texture that every bit of scenic design, from the town hall to a plastic bag caught in a fence, creates a perfect world for this story. Heidi Smith's character design is spot-on, and each character, whether it's the hulking Prenderghast and the stuffing bulging from his vest or Tim with his protruding ears backlit by the setting sun, is both archetypal and subtly individual. Even the zombies have distinct personalities – a detail of importance as the story unfolds.
The film is co-directed by Sam Fell (The Tale of Despereaux, Flushed Away) and writer Chris Butler (storyboard supervisor on Coraline), and the duo exhibits a clarity of vision that reaches from design to storytelling. Lead Animator Travis Knight and his sprawling team of animators, designers, and fabricators execute the vision with great flair. The result is a clear-headed and touching film about finding your own purpose, accepting others as they are and, most importantly, forgiveness.
Director: Sam Fell, Chris Butler
Writer: Chris Butler
Starring: Kodi Smit-McPhee, Tucker Albrizzi, Anna Kendrick, Casey Affleck, John Goodman
Release Date: Aug. 17, 2012