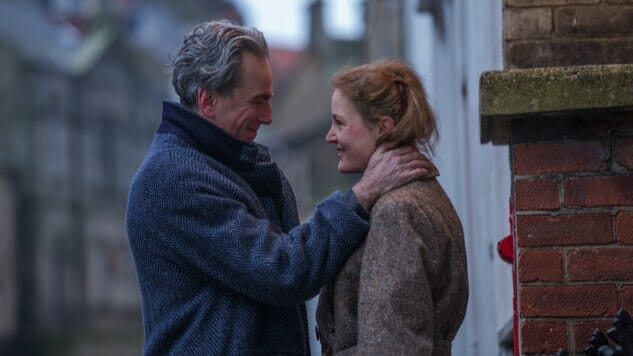 Today is Dec. 1, 2017, and that means many things: The rent is due, Christmas music is now technically acceptable, it's the last month of this godforsaken year and so on. Most importantly of all, it means that we've reached the month in which Paul Thomas Anderson's Phantom Thread opens in theaters. The final film of Daniel Day-Lewis' career received a trailer in October, and in odd order, now has quite a striking and evocative poster.
Day-Lewis, who stars as renowned dressmaker Reynolds Woodcock, in his second collaboration with Anderson, looms large on the film's poster, as you'll see below. His singular visage appears ghostly, almost transparent, in the background of the image, while Vicky Krieps' Alma—Woodcock's muse and lover, who turns his world upside-down—poses forlornly in the foreground, her gaze on Woodcock, who does not meet it. Alma's figure is quite literally taking up space inside Woodcock's head, her skin opaque, but her garments, whose design is Woodcock's life's work, tapering off into transparency. It's a rich visual work that was clearly composed by a visionary artist—much like, we imagine, Phantom Thread itself.
Anticipation for Phantom Thread has been slowly but surely building for quite some time now. The film was picked up by Focus Features for $35 million last fall, began shooting in the U.K. last winter and received an awards-friendly release date in spring. Most recently, Day-Lewis revealed in an interview that the emotional process of filming Phantom Thread inspired his unexpected retirement from acting. "Before making [Phantom Thread], I didn't know I was going to stop acting. I do know that Paul and I laughed a lot before we made the movie," Day-Lewis recalled. "And then we stopped laughing because we were both overwhelmed by a sense of sadness. That took us by surprise: We didn't realize what we had given birth to. It was hard to live with. And still is." If that doesn't pique your curiosity about Phantom Thread, we don't know what will.
Phantom Thread opens in select theaters on Dec. 25. See its poster and trailer below, find out more about the film here and read Day-Lewis' comments on its making here.