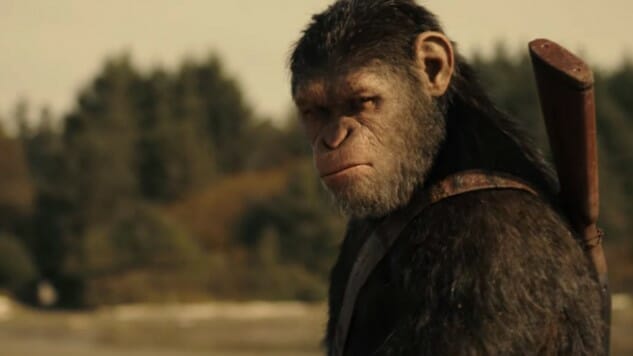 There's a new trailer for War of the Planet of the Apes, and it's every bit as intense and chill-inducing as you might think. And things aren't looking good for Caesar, you guys.
Pitted against the ruthless Colonel (Woody Harrelson, featured here in some terrifying war paint), Caesar is forced to fight for the lives of his fellow apes against an army of humans. This is a continuation of the story introduced in the pretty great Rise and followed up with the most excellent Dawn, wherein we get to follow the mythic Caesar in an operatic tragedy. Andy Serkis is truly in the role of a lifetime, and he really packs some emotional punch here. Also, if this is any indication as to what Matt Reeves' The Batman will be like, then we're in good hands.
War for the Planet of the Apes comes pounding into theaters on July 14. Check out the great trailer embedded above, and revisit the first trailer here.