Quentin Tarantino's New Movie Adds Burt Reynolds, Multiple Tarantino Regulars
Photos by Noam Galai/Getty, Mark Davis/Getty, Charley Gallay/Getty, Kevin Winter/Getty
Movies
News
Quentin Tarantino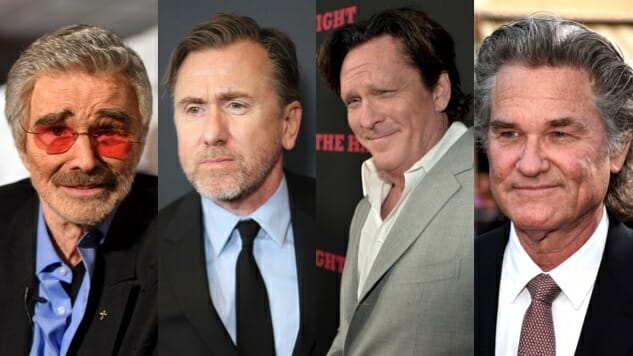 Quentin Tarantino's ninth film continues to flesh out its cast, as the singular writer-director is in talks with Burt Reynolds to star in Once Upon a Time in Hollywood alongside Leonardo DiCaprio and Brad Pitt. Tarantino is also in the early stages of recruiting Tim Roth, Kurt Russell and Michael Madsen—all three of whom have appeared in numerous Tarantino projects—for smaller roles in the fact-based, L.A.-set Manson murders film, due in theaters on Aug. 9, 2019.
Reynolds is circling the role of George Spahn, a near-blind octogenarian who rented out his L.A. ranch as a shooting location for Westerns. Charles Manson convinced Spahn to let him and his followers live on the ranch, just months before they murdered Sharon Tate and numerous others in 1969. Rather than paying rent, Manson coerced his female followers into bedding Spahn and serving as his "seeing-eye guides," per Deadline. Given his sleazy performance in Paul Thomas Anderson's Boogie Nights, Reynolds seems an excellent fit for this role. And in case you were wondering, Spahn was 80 at the time of the events described above, while Reynolds is now 82.
According to Sony Pictures' synopsis, Once Upon a Time in Hollywood, set in hippy Hollywood during the summer of '69, centers on Rick Dalton (DiCaprio), the former star of a Western TV series, and his longtime stunt double Cliff Booth (Pitt), both of whom are struggling to make it in a Hollywood they no longer recognize. Complicating matters is Rick's very famous next-door neighbor: Sharon Tate. The film's focus was originally thought to be the Manson murders, but while those are clearly key to the plot—as evidenced by Reynolds' involvement as Spahn—Tarantino has maintained that the film is "not Charles Manson, it's 1969."
It's currently unclear how Russell, Roth and Madsen are meant to fit into this picture, other than in "small" roles. From the sound of it, Once Upon a Time in Hollywood, a Pulp Fiction-style story that interweaves multiple plot lines, will offer plenty of opportunities for random film industry figures, hippies and the like to appear. Russell previously starred in Tarantino's The Hateful Eight and Death Proof, Roth in The Hateful Eight, Pulp Fiction and Reservoir Dogs, and Madsen in both Reservoir Dogs and the Kill Bill films, so these dudes know the drill.
And speaking of dudes, amidst this film's sea of them, Deadline's sources say that Tarantino is in ongoing talks with Margot Robbie for the key role of Sharon Tate. We'll be sure to update you once there are any official developments on that front.