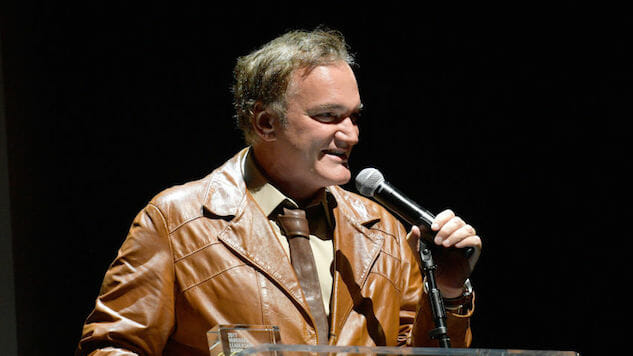 Quentin Tarantino has been saying his career would end after his 10th theatrically directed project for quite a while, but as we've gotten closer to that number, it's been easy to assume that the auteur would reconsider stepping away from the camera. Now, however, on the eve of the release of his ninth film, Once Upon a Time in Hollywood, Tarantino seems to be reaffirming that he perhaps only has one film left in him. Speaking with GQ, he said the following:
"I think when it comes to theatrical movies, I've come to the end of the road," Tarantino told the magazine. "I see myself writing books and starting to write theatre, so I'll still be creative. I just think I've given all I have to give to movies."
One certainly has to wonder what kind of stage shows Tarantino would like to direct, but you have to imagine that esteem for the director's filmography will only increase if he chooses to step away while still theoretically having more time to create films. Hell, perhaps that's been Tarantino's plan all along—to increase his status as an auteur by artificially (and dramatically) limiting his output with a self-imposed ban at the end of his career, leaving the audience hungry for more.
Indeed, if one counts the two entries in the Kill Bill series as separate films, then Once Upon a Time in Hollywood would actually be the director's 10th and final feature. Given that Tarantino has always seemed to refer to Kill Bill as a single work, though, we're assuming that there's at least one left to go. That could mean we see him finally direct that R-rated Star Trek installment before flying off into the sunset, to boldly go where no man has gone before.
One person who doesn't doubt Tarantino's desire to walk away? Once Upon a Time in Hollywood star Brad Pitt, who says he's discussed that very question with the director. In the same GQ piece, Pitt says the following: "No, I don't think he's bluffing at all. I think he's dead serious. And I kind of openly lament that to him, but he understands the math of when he feels like directors start falling off their game. But he has other plans and we're not going to have to say goodbye for a long time."