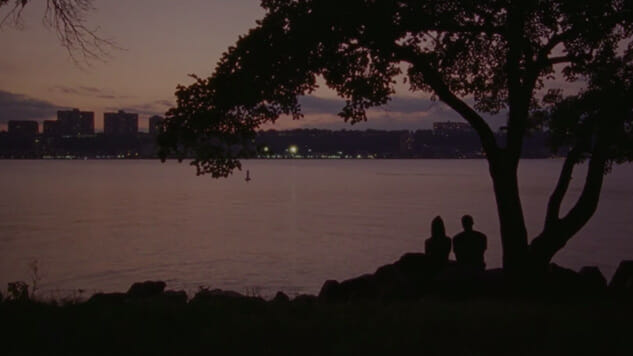 There's young love, and then there's love that blooms too young. Rashaad Ernesto Green's sophomore feature focuses on the latter, one that shapes futures and strains hearts. Premature is about love happening to two people before either is ready, about the euphoric high of their first kiss descending over the course of 90 minutes into the nearly cataclysmic low of decisions made on impulse and under duress. It's a gorgeous, shattering film. It's an unapologetically real film about a number of very real subjects, plot-agnostic but driven by character, consequence and compassion.
Green co-wrote Premature with his lead, Zora Howard. Her performance isn't effortless, it's effort-conscious: playing Ayanna, a 17-year-old woman balancing her college aspirations and an unexpected summer romance with 20-something NYC transplant Isaiah (Joshua Boone), demands soul-searching. Howard agonizes quietly and internally with the opportunities left for Ayanna to take or leave. What's made clear both on the page and on screen is that she isn't someone with whom anyone can easily contend. Isaiah woos her, she reacts without pulling her punches, he flies away like a stunned mosquito, returning moments later with more gentlemanly harangue. He's a pest, but he also might be perfect.
Premature shows cracks in the perfection. Ayanna's happy, but maintains a look in her eyes like she's sitting by a window, staring beyond, waiting for whatever's coming next. Green doesn't look for trouble—neither does Ayanna, nor Isaiah—but trouble finds them anyway. A three-month fling can't all be bliss: hot rooftop sex, lakeside chatter about music, philosophical discussions about art and activism, barbeques in the park to show him off to her friends and her mother, Sarita (Michelle Wilson). What Ayanna has with Isaiah is what everyone looks for in their own relationships, and they make it look easy. Maybe that's why she falls for an older man (even if "older," in the grand scheme, isn't a terribly meaningful distinction). It's nice to feel like you have a finished product.
But as much as Howard and Boone project maturity, and Green's filmmaking constructs an illusion of experience around them, they're still functionally kids. Premature does not begrudge them their youth or innocence. It doesn't hold their mistakes against them, not even Isaiah, who, while certainly imperfect, remains a good man—but just a man nonetheless, woefully unversed in navigating adulthood. Ayanna recites her poetry in voiceover at intervals throughout the film, each monologue demonstrating her gradual, painful growth. "Before the fall," she notes, "everything is still. This is how I will remember it all. The living flee to high ground. Time's lustful hands close in. I will make shelter where we stand. They will call my wait in vain; let them." Each line is proof of her growth, and while Isaiah is more grown to start, his self-actualization comes to a halt when he's needed most. Theirs is an excruciating dichotomy.
So Green and cinematographer Laura Valladao emphasize an aesthetic that tends toward the palliative. Premature's naturalism has the effect of sanding its edges; the film doesn't keep reality's creeping dread out of the picture entirely, but instead pushes it to the margins, where a shifting landscape in Harlem and Black American anxieties hover patiently. High stakes to put on first love, but first love doesn't happen in a vacuum. Still, Premature lets that love play out with tenderness, even at its harshest, when the air between Ayanna and Isaiah seems to grow still with everything they can't tell each other but wish they could. The visual beauty of Green and Valladao's craft, best demonstrated by a knack for finding soft splashes of color to warm up gelid moments or facilitate passion, positions Premature as a mournful ode to contemporary Black identity: Ayanna and Isaiah command most of the narrative, but by simply letting them live their lives, fraught as they become, the movie reflects cultural fears that outscale their own.
Director: Rashaad Ernesto Green
Writers: Rashaad Ernesto Green, Zora Howard
Starring: Zora Howard, Joshua Boone, Michelle Wilson, Alexis Marie Wint, Imani Lewis, Tashiana Washington
Release Date: February 21, 2020
---
Bostonian culture journalist Andy Crump covers the movies, beer, music, and being a dad for way too many outlets, perhaps even yours. He has contributed to Paste since 2013. You can follow him on Twitter and find his collected work at his personal blog. He's composed of roughly 65% craft beer.