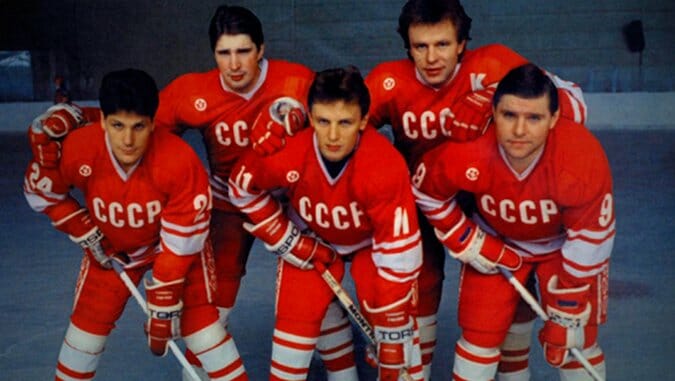 Anyone familiar with ESPN's acclaimed "30 for 30" series knows what to expect from the channel's proliferation of sports documentaries. In each, a memorable team, moment or athlete is celebrated, often with the participation of the subjects, who serve as talking heads guiding us through the film's breezy, informative regurgitation of important biographical details. Few "30 for 30" segments have been revelatory, but many of them have been great fun: catnip for nostalgic sports lovers and education for newbies who want a quick primer on some dusty corner of sports history.
In an era when "30 for 30" exists, a movie like Red Army feels a lot less novel or urgent. Well-made and entertaining, this chronicling of the Soviet Union's imposing hockey juggernaut, known as the Red Army, hits all the key points and provides sufficient background color on the individuals involved. But writer/director Gabe Polsky delivers his infotainment payload a little too anonymously; Red Army is slick and too superficially diverting to linger in one's memory.
For many Americans, Red Army will be a useful counter-narrative to the one we've been taught about international hockey. Cast as the villains during the 1980 Winter Olympics when the underdog U.S. team beat them in the semifinals—paving the way for broadcaster Al Michaels' infamous "Do you believe in miracles?" call and, later, the Kurt Russell vehicle Miracle—the Red Army is portrayed in Polsky's documentary as a proudly patriotic group of athletes who played their sport with balletic precision. In fact, what happened to the Americans after the stunning upset in '80 provides Red Army with one of its first dramatic twists. Prior to the loss, the Soviets had replaced the team's beloved coach, Anatoli Tarasov, for an aloof leader, Viktor Tikhonov. After they lost, though, the government dismantled the team and rebuilt with younger players, potentially ending a great run in hockey dominance.
The figure to lead the emotional story behind the film is Slava Fetisov, who explains that his love of hockey began at an early age when he tried desperately to be accepted into the Soviet hockey academy. (He was initially turned down, but he got in when he was a bit older.) Rather than the nameless enemies we've known them to be, Fetisov and his teammates were happy, enthusiastic young men who just wanted to win for their country.
Fetisov provides the perfect centerpiece for the film: team captain and a decorated hockey player who made the transition to the NHL—as we learn in Red Army, not all the great Soviet stars did—he's a willing hub for such a freewheeling documentary. Gregarious, arrogant, emotional, Fetisov both embodies the Western stereotype of the intimidatingly dour Russian athlete and explodes it, coming across as passionate when discussing his once-great team and the lifelong friendships that have been tested because of distance and politics (namely, the end of Communism). Polsky tries a little too hard to emphasize what a character Fetisov is—including moments where the retired star berates and mocks the director—but he's enjoyable company for Red Army's 85-minute running time.
Yet, this is indicative of what Polsky does throughout Red Army, tending as he does to go for easy emotional beats, through perhaps a piece of cutesy music or an ironic segment of archival footage. (Most irritatingly, one of his interview subjects is framed so that he's standing up while an unidentified older woman is sitting down in the background, her very presence in the shot mostly there to get a cheap laugh.) Red Army tells a smart story that's plenty engaging—touching on how individuals had to go up against a bureaucratic, faceless Communist government—but it's irritating that the filmmaker doesn't always trust his material. We have to be constantly "entertained" for fear that we might stop paying attention.
Polsky's interest in the Red Army team isn't purely out of love for a good story. A producer on Werner Herzog's Bad Lieutenant remake—Herzog executive-produced Red Army—Polsky grew up in the U.S. playing hockey, raised by parents who emigrated from the former Soviet Union. Consequently, Red Army could be seen as an act of cultural reclamation for Polsky—except, it doesn't quite play out that way. The documentary is too much of a highlight reel to really cut deeply, and while the people Polsky interviews are clearly still emotionally invested in events that happened decades ago, Red Army doesn't always feel equally engaged.
Director: Gabe Polsky
Writer: Gabe Polsky
Starring: Slava Fetisov, Mark Deakin, Scotty Bowman
Release Date: Nov. 14, 2014 (limited); January 23, 2015 (wide)
---
Tim Grierson is chief film critic for Paste and the vice president of the Los Angeles Film Critics Association. You can follow him on Twitter.