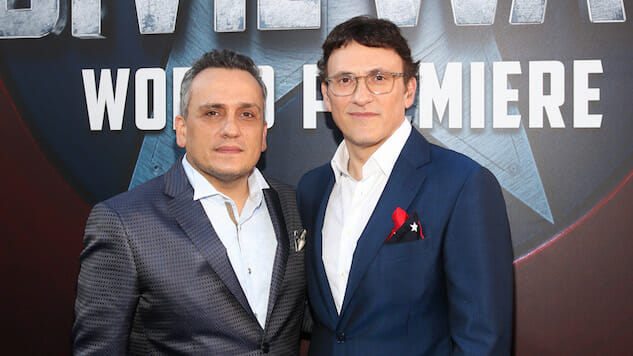 Marvel Cinematic Universe masterminds Joe and Anthony Russo have been making some rare public appearances lately, stirring hype for the just-wrapped follow-up to Avengers: Infinity War. There's been lots of non-news for the geeks to salivate over, like the brothers' decision not to reveal the film's actual title just yet, but some of the most interesting comments have been about the film industry itself. In particular, the Russos have been commenting about the standard conception of the "two-hour" Hollywood feature as one that is on its way out. To quote the comments published in Deadline:
"The two-hour film has had a great run over 100 years," said Joe Russo. "But it's become very difficult to work in. … I'm not sure that the generation that's coming up will see the two-hour film as the dominant form of storytelling." The issue, he said, is the lack of surprise — even young kids can often guess the ending of a movie within its opening five minutes. Studios' dogged allegiance to the feature, Russo joked, is akin to their executives saying, "Hey, we all love sonnets. Let's just write sonnets for 100 years."
The first impression from those quotes is to assume that Russo is talking about future MCU films such as the second part of Infinity War not being constrained by the idea that films more than two hours are too long for audiences. But the opposite could also be true—films that challenge the conception of "feature length" by being however short they need to be in order to tell a complete story. The Russo's new "production boutique" studio, AGBO, will be focused on making smaller budget (around $10 million) features that will use their freedom and lower stakes to explore these kinds of deviations from the expected Hollywood norm. As Joe Russo put it:
"AGBO is I guess what [Frances Ford] Coppola was trying to achieve" with The Directors Company, a short-lived outfit he formed in the 1970s with Peter Bogdanovich and William Friedkin. Russo described AGBO as "an artists collective to create content that excites us" and "a company built around material that my brother and I are interested in."
Russo certainly knows that the references to '70s independent film are probably the right way to get movie geeks salivating at the possibilities in play here. Upcoming AGBO films include the likes of Cherry, based on the memoirs of an Iraq War veteran who was imprisoned due to crimes linked to heroin addiction. In other words: This studio won't be attempting to produce blockbusters connected to extremely profitable franchises such as Marvel Comics.
Could it be only a few years until the Russo Brothers names are appearing as "executive producer" above a slew of Oscar nominees, even as they continue to direct some of the most popular blockbusters in recent memory? We'll see if the AGBO experiment pans out.