Sacha Baron Cohen Is Going Back to School … with Donald Trump
The comedian teased a mysterious, Trump University-related project on the Fourth of July
Photos by Alberto E. Rodriguez/Getty, Neilson Barnard/Getty
Movies
News
Sacha Baron Cohen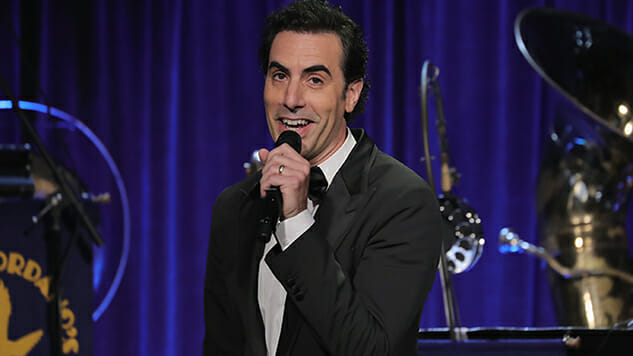 In 2012, Donald Trump told Sacha Baron Cohen to "go to school and learn about being funny." The comment was just one part of the pair's long and contentious history, highlighted by a 2003 interview in which Cohen, in character as Ali G, tried to sell Trump on an "ice cream glove" to keep melted ice cream from getting all over his hands. The comedian interviewed our now-president on Da Ali G Show, a satire that saw Cohen make his interview subjects extremely uncomfortable, as you can see below.
Well, it seems like Cohen is taking Trump's advice and going back to school—Trump University, to be specific. To celebrate the birth of our great nation, Cohen took to Twitter Wednesday to tease a new project centered on the failed educational effort that cost Trump millions of dollars in a class-action lawsuit he settled out of court.
The video features footage of Trump attacking the Borat star. "This third-rate character named Sacha Baron Cohen, I only wish that he would have been punched in the face so many times, right now he'd be in a hospital," Trump says. "It was disgraceful. He ought to be fired immediately."
The clip closes out with with the text "Sacha graduates … SOON" and a logo for the now-defunct Trump University. The nature of the project has yet to be announced, but if we're sure of one thing, it's that Trump definitely will not like it.
A message from your President @realDonaldTrump on Independence Day pic.twitter.com/O2PwZqO0cs

— Sacha Baron Cohen (@SachaBaronCohen) July 4, 2018