Sam Rockwell Cast as George W. Bush in Adam McKay's Cheney Biopic
Photos by Sonia Recchia/Getty, Alex Wong/Getty
Movies
News
Sam Rockwell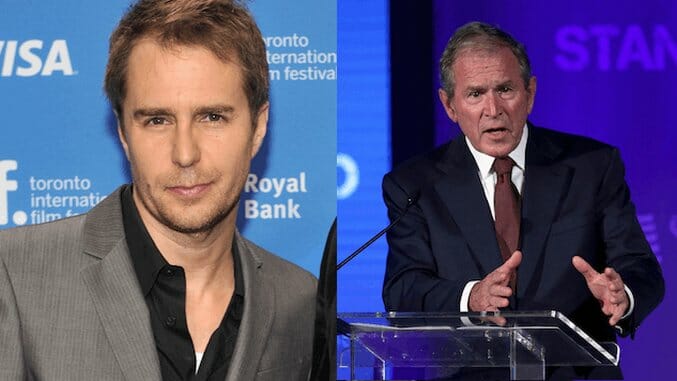 Cheney has found its Dubya. Sam Rockwell is joining Adam McKay's Dick Cheney biopic, taking the role of former U.S. President and famous shoe-dodger George W. Bush, per THR. McKay has already found his Cheney in Oscar-winning actor Christian Bale.
McKay is coming off of a Best Adapted Screenplay win for his comedy-drama The Big Short, skewering the events that led to the 2000s financial crisis. Previously, McKay worked on Saturday Night Live and a number of collaborations with Will Ferrell, including the Funny or Die website, and films like Anchorman and Step Brothers.
Despite McKay's background in comedy, he has put out some politically charged work—even his buddy-cop comedy The Other Guys came out very strongly against the bankers and financial institutions that led the country into a financial mess, using detailed statistics and graphics during the credits. It is unclear what kind of tone Cheney will strike. McKay is fascinated by Cheney as a figure and influence, but judging from his work in The Big Short, one could expect some satirical bite when tackling the unavoidable task of addressing any controversies related to the former Vice President.
Steve Carell will join his Big Short co-star Bale as former Secretary of Defense Donald Rumsfeld, with Amy Adams on board to portray Lynne Cheney. The film will follow Cheney's life journey, from avoiding the Vietnam draft to his position of power at Halliburton, until finally becoming what Joe Biden once called "the most dangerous vice president we've had probably in American history." With all of the behind-the-scenes influence that Cheney had in the Bush Administration, it is fair to expect an interesting character dynamic between Cheney and Dubya in this forthcoming film.
Cheney is expected to begin production this September.