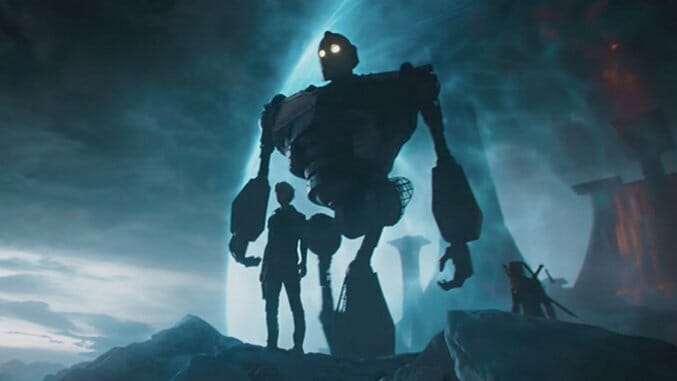 The first reveal care of the Warner Bros. panel at Comic-Con Saturday, moderated by Chris Hardwick, brought out director Steven Spielberg and author Ernest Cline to premiere the first trailer from Ready Player One.
Yup: The Iron Giant, Freddy Krueger, a DeLorean, the Tron lightbikes are all mushed together in this "Holy Grail" (yeah…sigh, I know) of pop culture.
Joined on stage by Tye Sheridan, Olivia Cooke, TJ Miler (decked out in an E.T. shirt and ready to fawn over Spielberg), Ben Mendelsohn (bless him) and screenwriter Zak Penn, Cline, to his credit, answered an audience question about just how prescient his "Holy Grail" of a novel really is:
It makes me feel a little bit like Arthur C. Clarke, y'know, making the satellite before it was actually invented, but when I wrote Ready Player One I was standing on the shoulders of a lot of science fiction giants, like William Gibson who wrote Neuromancer and Neal Stephenson who wrote Snowcrash, so I was not the first person to predict virtual reality. I feel very fortunate though that I wrote a book predicting the potential of virtual reality right at a time when it was about to come about. And that's the most amazing thing to me, like companies like Oculus and HTC Vive, they give copies of Ready Player One out to all their employees to help inspire them to show them the potential of virtual reality. It's such a huge honor. It would be the second biggest honor of my life.
"There's no film more accurate than Lawnmower Man," Miller added.
When asked about how he prepared for the film, Spielberg just answered as you'd expect anyone with his experience to.
"Well, they let me get away with putting some of my own movies in this movie," Spielberg said, "and that could be identified as some sort of grand act of larceny or vanity or something like that, because so many of the iconic moments that were chosen by Ernie happened in the era of the '80s that I was very much involved in."
But for me the thing that made me want to tell the story more than anyone else was the amount of the kind of the world that 2045-44 gives people, which is so dystopic so much—people are leaving the country and all of the sudden virtual reality gives you a choice, gives you another world to exist in, and you can do anything in that world, anything you could possibly imagine… And so that interaction between real life and virtual life, by the third act of this movie is almost non-existent, and that in the book is what made me want to do the movie.
Cline then regaled the audience with a story about how he brought the glove box to his DeLorean—"Well, I own a DeLorean," Cline humblebragged—to his first meeting with Spielberg, and so now he's the only person on Earth who owns a DeLorean signed by Steven Spielberg.
Cool story, bro.
The best moment of the panel came when Spielberg noted, right before leaving stage, that "the Iron Giant is a major player in this story."
Yeah OK, I'm ready.
Ready Player One comes out in March 2018.