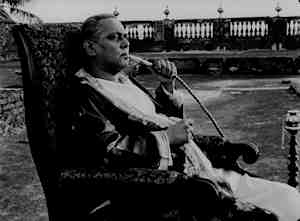 Indian films are notorious for their music sequences, where for no apparent reason the story comes to a complete stop so that the cast can go into a lengthy dance number. Unsurprisingly, this aesthetic didn't appeal to Satyajit Ray, whose previous works (the first two chapters of the Apu Trilogy) were slow, considered films inflected with neo-realism. But the lack of box office success for Aparajito led him to questioning whether he could create a picture that tapped into the Indian audience's love for musicals without compromising the depth of its story and characters.
The Music Room centers around an aging aristocrat whose greatest love in life is classical Indian music. Even when it means selling his wife's jewelery, he's willing to pay for Bengal's finest musicians to play performances at his estate. This comes to an end, though, when his directive that his wife and son must head home to see one of these masters perform leads to their deaths, and the second half of the film centers around how he copes with this loss and ultimately succumbs to his grief.
By centering the story around a music aficionado, Ray solves the problem of music sequences by having each of them motivated by the protagonist and his neighbor's desires to one-up each other, creating a space for them in the plot in the same way that Robert Altman would with Nashville 20 years later. The sequences themselves are stunning. Classical Indian music can be difficult for Western ears, but Ray chose musicians so virtuosic and films them so lovingly it's nearly impossible to dislike the performances.
They don't upstage the rest of the film, however, because The Music Room is so pitch-perfect in its depiction of a declining aristocracy. For the first time Ray allowed himself to be truly expressionistic, dropping the neo-realism of his Apu films for a more personal mode of filmmaking. From the haunting chandelier to the deserted estate, it's a picture that has a mood, one defined by its swooping camera and slightly exaggerated performances. It's a full-on Shakespearean tragedy that manages to be both critical of and sympathetic to its main character.