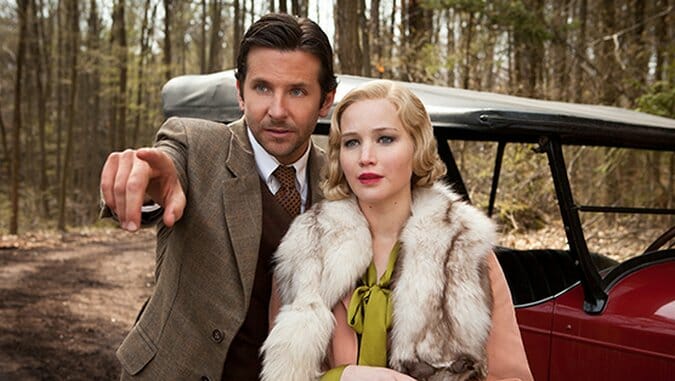 Within the opening minutes of Serena, director Susanne Bier warns us about what's to come over the next two hours. While working on the land in which he runs his lumber empire, George Pemberton (Bradley Cooper) witnesses a series of events in which a loose wire snaps, causing the death of one man and the injuring of another, which in turn risks a train potentially going off the rails or, even worse, smashing into another train and killing the injured man. Luckily, Permberton is able to stop the train before it causes a larger incident, yet Cooper and co-star Jennifer Lawrence, despite their considerable chemistry, aren't able to stop the film itself from becoming a full-blown train wreck.
Adapted from Ron Rash's 2008 novel of the same name, Serena joins Pemberton as he's trying to keep his struggling North Carolina business from going under following the recent Depression. While in the city to negotiate a loan in order to do so, he meets the troubled Serena Shaw (Lawrence), the only survivor of a fire at her family's timber camp years earlier. After Pemberton simply rides up to Shaw on a horse and suggests they get married, the two quickly wed and return to Pemberton's land.
Upon arriving, Shaw becomes a partner in her husband's business, much to the chagrin of Pemberton's right-hand-man Buchanan (Tinker Tailor Soldier Spy's David Dencik), who may be harboring romantic tendencies toward his boss. Buchanan's jealousy is only one problem caused by Shaw's newfound position in both Pemberton's business and life—he must also face jealousy over a baby he fathered with a nearby woman (Ana Ularu), as well as difficulties in trying to keep the local sheriff (Toby Jones) from taking over his land and transforming the whole area into a national park.
More than the absurd machinations of plot or the rekindling of the dynamic between its two leads, history will likely remember Serena for the many struggles it took to complete. Filmed after Cooper and Lawrence's first collaboration on Silver Lining's Playbook (2012) and before their Oscar nominated American Hustle (2013), Serena required 18 months of editing, shifting hands between distributors after years of languishing in purgatory without seeing the light of day. What remains in 2015 is a strangely edited, weirdly paced and increasingly odd story that feels so removed from its origins it's practically absent of any real purpose.
Cooper and Lawrence do their best to stay afloat throughout Serena, navigating Bier's schmaltzy sensibilities and Alexander screenwriter Christopher Kyle's flair for the ludicrous, but end up flailing for dear life. After the chops the two have shown together in their David O. Russell films, it's clear that there is only so much they can do with such tonally jarring material. When tragedy befalls Shaw and Pemberton, there are wonderful moments of heartbreak and pain between these two that allow Cooper and Lawrence to shine, but these moments are also scattered between bouts of insanity: hands severed by axes, attempted child murders and a fate for one of Serena's main characters that is so laughable, it's hard to take it even remotely seriously.
Most frustratingly, Kyle's screenplay seems compelled to throw as many unusual plot points as it possibly can between the two leads, attempting to strengthen the relationship at the core of this story but instead just distracting from it. With this lack of focus, Serena feels almost episodic; scene after scene of escalating melodrama encourages characters to change to fit the mood of each, rather than the overall central relationship between Shaw and Pemberton steering the film with any consistency.
At the very least, cinematographer Morton Søborg is able to turn the Czech Republic into gorgeous Carolinian landscapes, even if what's happening in his beautifully realized shots is mostly self-serious and dourly bland. In all, Serena is a jumbled mess, from the spastic screenplay to the kind of direction that seems to have no idea what the movie is actually about. Thankfully for Cooper, Lawrence and even Bier, their reputations will outlast Serena's legacy—because no one will see it.
Director: Susanne Bier
Writer: Christopher Kyle, based on the novel by Ron Rash
Starring: Bradley Cooper, Jennifer Lawrence, David Dencik, Rhys Ifans, Ana Ularu, Toby Jones
Release Date: March 27, 2015
---
Ross Bonaime is a D.C.-based freelance writer and regular contributor to Paste. You can follow him on Twitter.