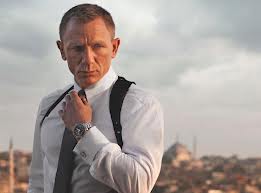 James Bond is the elder statesman of action movies, celebrating his 50th anniversary in film this year with the release of his twenty-third(!) feature, Skyfall. It goes without saying that adaptations of characters with such longevity should reflect the prevailing styles of entertainment and tastes of contemporary audiences … or does it?
Skyfall opens with a spectacular chase scene through Istanbul that is pure action and vintage Bond, with multiple vehicles and crazy stunts, which segues seamlessly into the animated opening credits and the beautiful, haunting strains of Adele.
Daniel Craig is unsurprisingly excellent as Bond. This time 007 has to follow the trail of a stolen list of undercover NATO operatives—dangerous information in the wrong hands. Those wrong hands belong to Mr. Silva (Javier Bardem), a nasty cyber-terrorist with a mad-on for MI6 in general and for its director, M, in particular, once again played with firm, effortless command by Judi Dench. Bardem's Silva is a throwback to a more traditional Bond villain, with equal parts creepy sensuality, intelligence, and psychopathy, and a touch of physical deformity for good measure.
Having finally stopped moping over the Eva Green character from Casino Royale, Bond is able to once again play the charming lothario, trading cheesy innuendos with MI6 agent Eve (Naomie Harris) and Sévérine (Bérénice Marlohe), a moll of Silva's as stunningly beautiful as she is inconsequential. Director Sam Mendes keeps the action moving well, and special mention should go to veteran cinematographer Roger Deakins and the art design team, who stage some beautiful sequences like a smackdown in a Shanghai office building silhouetted against a huge, changing blue-and-white neon sign. Skyfall has several fan-service nods to touchstones of the series, such as Monty Norman's original theme, and the classic Aston Martin.
So many of the important elements are in place, but the pieces still don't fully add up to a Bond-ian whole. You may remember that Casino Royale, Daniel Craig's first outing, was a complete reboot of the character and mythology. Quantum of Solace and now Skyfall continue what is essentially a multi-film origin story, ever so slowly putting together the familiar pieces of MI6 and conferring on our little James the field experience and skills necessary to become the world's greatest spy. The custodians of the franchise are playing the long game, so for these three movies we get a rawer, more vulnerable Bond; a man whose emotional attachments and brushes with death undermine his confidence and affect his abilities; a man whose resolve is decidedly shaken, not stirred. While this may be in line with the "darker" and "grittier" fare Hollywood seems to think the kids want these days, what worked so well for Batman doesn't necessarily for Bond. It makes the Daniel Craig movies less distinguishable from other action franchises like the Bourne series, or the Liam-Neeson-playing-different-characters-kicking-ass series.
The climax, while exciting and surprisingly revealing, doesn't help the issue. Without giving anything away, it represents almost a complete shift to a different action genre altogether. From a structural standpoint, neither it nor the rest of the film compares in thrills to those first 10 minutes in Istanbul.
Overall, Skyfall has spot-on performances, some fantastic action, exotic locations, you name it. It's definitely the best of the Daniel Craig installments. But it's still bogged down by having to rebuild an infrastructure, offering the tantalizing promise of a bright future when everything is in place rather than delivering it now. In other words, Skyfall is a great movie, but it's not quite a great Bond movie. Take heart, though, for as any true fan knows, "James Bond will return."
Director: Sam Mendes
Writers: Neal Purvis, Robert Wade, John Logan
Starring: Daniel Craig, Judi Dench, Javier Bardem, Ralph Fiennes, Naomie Harris, Bérénice Marlohe, Ben Whishaw, Albert Finney
Release Date: Nov. 9, 2012