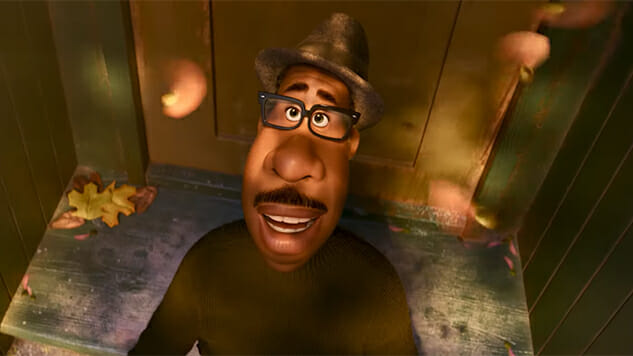 "What do you want to be known for on Earth?" Joe Gardner (Jamie Foxx) asks in the opening of the trailer for Disney & Pixar's Soul, the latest film directed by two-time Academy Award winner Peter Docter (Up, Inside Out) and co-director Kemp Powers. The existential musings continue as the trailer progresses with fittingly soulful piano chords and a cheery sax spouting from Joe, the middle school band teacher with jazz in his heart. The music will lead Joe down an inspiring and fateful path he may not have planned, and judging from this lovely and captivating trailer, the audience will surely be right there with him for the journey.
Docter says in a statement that Soul first began as a seed of an idea when his son was born 23 years ago. "The instant he was born, he already had a personality. Where did that come from? I thought your personality developed through your interaction with the world. And yet it was pretty clear that we're all born with a very unique, specific sense of who we are."
Pixar is where the philosophical is channeled through the animated, so Docter's concept has found its home. Ironically, home is exactly what Joe is looking for in the story of Soul, after one step sends him to an unfamiliar and fantastical place where he must contemplate what it means to have a soul. In this otherworld, Joe meets 22, a soul who is skeptical of Joe's attachment to life on Earth. With Tina Fey voicing 22, producer and Academy Award nominee Dana Murray says in a statement that "the comedy comes naturally, but the subtle emotion that reveals the truth to the characters is really something special."
Stock up on tissues now—Soul will be in theaters June 19, 2020. Watch the teaser below, and check out Pixar's replies to the tweet beneath it—they're a wonderfully nostalgic surprise.
Next summer, Joe Gardner will discover his brilliant, passionate self. Watch the new trailer for Disney & Pixar's Soul. #PixarSoulpic.twitter.com/6agWMa2dC5

— Pixar (@Pixar) November 7, 2019