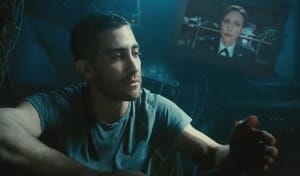 Director: Duncan Jones
Writer: Ben Ripley
Cinematographer: Don Burgess
Stars: Jake Gyllenhaal, Michelle Monaghan, Vera Farmiga, Jeffrey Wright
Studio/Run Time: Summit Entertainment, 93 min.
While having the signs of being another soulless, time-travelling, sci-fi dud, Source Code takes off with some intense performances and an inventive story that pulls you in and makes you work for the payoff.
A man awakens to find himself on a train he didn't know he was on with an unknown girl (Michelle Monaghan) who knows him well. His confusion is also our confusion. Within minutes the train explodes and he finds himself in a small chamber with an open video link to another woman (Vera Farmiga) who insistently asks what he saw while on the train. That is how Source Code begins, and continues, as we learn that Capt. Colter Stevens (Jake Gyllenhaal) is on a mission to discover who bombed the train. The mind stretching idea of inserting Stevens' presence into the body of a man is how they plan to do it—an eight-minute investigation that will continuously be repeated. But as he learns more about the people on the train, Stevens begins to form a mission of his own.
Being in every scene can be an intimidating challenge for an actor. But Gyllenhaal's ability to breach the barrier of sameness allows him to explore and expound on Stevens' emotions so that we see the full breadth of this soldier who wants to do his duty, wants to do what's right.
First with Moon (absolutely the most underrated film of 2009) and now with Source Code, director Duncan Jones clearly knows how to put the heart and soul into science fiction. What Frank Darabont did with Stephen King's Shawshank Redemption and The Green Mile, Jones does with sci-fi. Stevens is tortured by his mission—confused, scared and totally dependent on the face in the monitor before he slams back into the train. Farmiga, as Capt. Goodwin, is a stern taskmaster but softens as Stevens pleads for more information. The relationship between the two leads to a surprising but wonderfully satisfying conclusion.
If you can keep yourself from getting bogged down into the fuzzy science of the film, enjoy the solving of this sci-fi thriller that provides what The Adjustment Bureau couldn't: life.