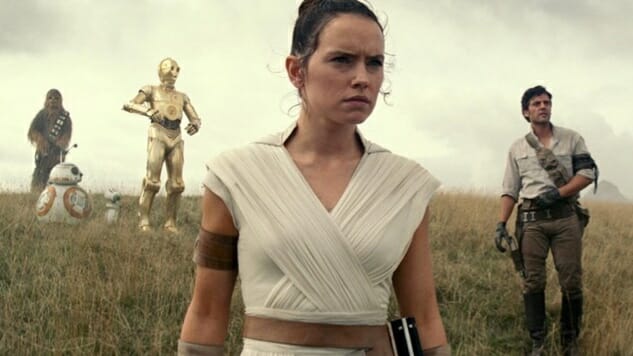 Disney shelled out several hundred million bucks producing, shooting and marketing Star Wars: The Rise of Skywalker. All they got was a lousy mixtape of the series' greatest hits because money, contrary to popular belief, can't buy everything, especially ingenuity. The movie's journey to the screen hasn't been smooth: Fan reaction to Rian Johnson's The Last Jedi could be disgruntled and toxic, while Johnson's successor, Colin Trevorrow, unwisely butted heads with Kathleen Kennedy and lost, which led to J.J. Abrams' return to the director's chair four years after The Force Awakens. The ups and downs left The Rise of Skywalker a project in need of repair. Abrams obliged, but forgot to bring the scaffolding.
The Rise of Skywalker is a stew of ideas in need of an overarching recipe because apparently having an idea is insufficient compared to having all of them. Some are his own. Some are clear responses to Johnson's take on the Star Wars mythos, as if Abrams thinks appeasing Johnson's critics equates to making a fully formed movie. But none of his designs enjoy thorough development. They're presented, then left hanging over the scenes and set pieces to follow. The parentage of Rey (Daisy Ridley), seemingly put to rest in The Last Jedi but hinted at anew in promotional material, supplies the driving plot. The battle for the soul of Kylo Ren (Adam Driver)—the struggle to turn him to the light or lose him forever to the dark—continues. Finn (John Boyega), Poe (Oscar Isaac), Chewie (Joonas Suatomo) and BB-8 (puppeteer Brian Herring) bumble about and trade sitcom banter while looking for purpose in Star Wars' grand scheme. So it goes.
The Resistance, those scrappy ragtag rebels, continue fighting the good but hopeless fight against the First Order, now characterized with 100% more Nazi energy. As they wage their respective campaigns against one another, Rey searches her spirit and looks for answers about her past, and in her search is joined by the rest of the primary cast. "I really want to see all the friends together," Abrams recently opined. He does just that before separating them, as Star Wars movies have done since 1977. Whatever schemes he has for salvaging the wreck left in the wake of Trevorrow's departure, he never commits to any one of them. Instead, Abrams ping pongs from the first to the last while superimposing that indecision on a blueprint of Star Wars' past.
Maybe Abrams knows how well the original trilogy functions as a collected whole (even if The Return of the Jedi does end with teddy bears bringing down the Empire). Maybe, like so many loyalists of the franchise's fan base, he's nostalgic for George Lucas' magic and enthusiastically believes he can tap that well to achieve similar results. That's the trouble with blockbustering by numbers while juggling the many demands of franchise maintenance: Nobody has enough hands to keep every ball aloft and please everyone in the audience. (The emphasis is on "everyone" because of course The Rise of Skywalker, being the event picture of the winter movie season, will do quadrillions in ticket sales regardless of critical opinion.)
That's not to say the film is all dropped balls. When Rey and Kylo first cross lightsabers, they're in different locations, she on his Star Destroyer, he on the planetoid she's just fled from under his aquiline nose. As the Force lets people communicate across the stars and inhabit each other's thoughts, so too now does it allow them to interact physically, and so they duel, each swing of their laser swords leading to cuts between spaces. One moment they're on the ship. Moments later they're on the ground. It's a clever invention, the kind of nifty fantasy flourish that makes these movies worth going to in the first place. But The Rise of Skywalker suffers a dreadful shortage of beats like this, where wizardry and sharp craftsmanship cohere; for the most part it's hyperactive cacophony, an unprincipled sugar rush through years of planning and pop culture terraforming, where emotions come and go and none stick.
Rushing is what these movies do: They rush to check off the boxes of modern franchise filmmaking, each intended to satisfy both general audience and the core demographic at the same time, and they rush to claim the brand for Disney. Why else label The Rise of Skywalker as the capper to "the Skywalker saga," a term coined in the last couple of years to unite the sequel trilogy to the actual trilogy to the prequel trilogy under the same umbrella? This is a film erected on a preexisting structure with no structure of its own. Slowly, agonizingly, over the course of two-and-a-half hours, the house collapses in a stream of Star Wars free association. At best, The Rise of Skywalker solidifies Ridley and Driver as movie stars. At worst, it ends this narrative not with a bang but with a recycled image from a better movie. If that isn't proof that Disney considers this property more product than art, nothing is.
Director: J.J. Abrams
Writers: J. J. Abrams, Chris Terrio; Derek Connolly, Colin Trevorrow, J. J. Abrams, Chris Terrio (story)
Starring: Daisy Ridley, Adam Driver, John Boyega, Oscar Isaac, Mark Hamill, Carrie Fisher, Ian McDiarmid, Joonas Suatomo, Richard E. Grant, Domhnall Gleeson, Naomi Ackie, Keri Russell, Kelly Marie Tran, Billy Dee Williams, Anthony Daniels
Release Date: December 20, 2019
---
Bostonian culture journalist Andy Crump covers the movies, beer, music, and being a dad for way too many outlets, perhaps even yours. He has contributed to Paste since 2013. You can follow him on Twitter and find his collected work at his personal blog. He's composed of roughly 65% craft beer.