Solo Is the First Star Wars Film to Flop at the Box Office
Images via Lucasfilm
Movies
News
Star Wars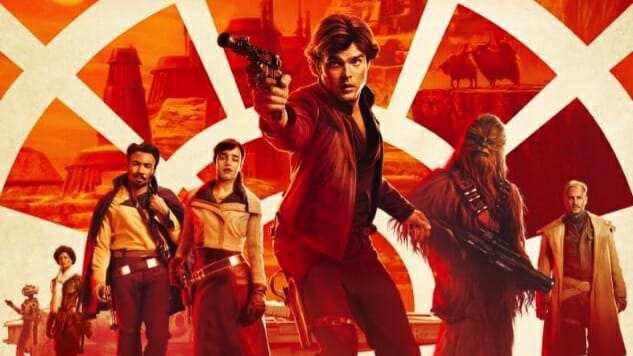 Just as the Millenium Falcon sat vacant for so long, gathering dust until its hijacking in Star Wars: Episode VII – The Force Awakens, the newest chapter of the Star Wars franchise is wasting away at the box office.
Solo: A Star Wars Story, which premiered May 24, has become the first-ever Star Wars film to lose money at the box office in its first two weeks, per NME, capping its second weekend total at an estimated $29.3 million domestic. That's a 65-percent drop from opening weekend's already-lame return of $84.4 million, according to Box Office Mojo. It's accumulated another $115.3 million internationally, but when stacked against its massive reported budget of $250 million, those numbers aren't much to brag about.
To put that in perspective, 2016's Rogue One, the other stand-alone Star Wars story, pulled in $155 million for its domestic opening weekend, according to Variety. It went on to earn over $1 billion globally. The Force Awakens, which reignited the Star Wars franchise for this Disney-driven decade, earned $2 billion, and its sequel, 2017's divisive The Last Jedi, has also earned more than $1 billion, according to the Washington Post. While we don't yet know Solo's final tally, it might be safe to assume it won't challenge the capital success of its predecessors. BuzzFeed's Adam B. Vary tweeted two nifty charts comparing Solo's stats to those of the last three Star Wars movies, which you can study below.
Box office estimates put #SoloAStarWarsStory's 2nd domestic weekend at just $29.3M, a massive drop of 65.3%. Internationally, the film has made only $115.3M to date. With a reported budget of over $250M, it is officially the first Star Wars movie to flop. pic.twitter.com/hYPShuwsMD

— Adam B. Vary (@adambvary) June 3, 2018
Even the other Star Wars prequels, which many fans would like to forget about, fared well compared to Solo: 2002's Attack of the Clones made $47.9 million domestically in its second weekend to Solo's $29.3 million, per Box Office Mojo.
Though many projected Solo's economic destiny would be boosted by stars like Donald Glover, Emilia Clarke and Woody Harrelson, perhaps its suffering so far has stemmed from directorial changes, lukewarm reviews or maybe even the question of whether its existence was really necessary in the first place. It's unclear, but the fate of the galaxy now rests with the next film in the franchise: Episode IX, which comes out in 2019.