The Last Jedi Is off to a Historic Start at the Box Office
Image via Disney/Lucasfilm
Movies
News
Star Wars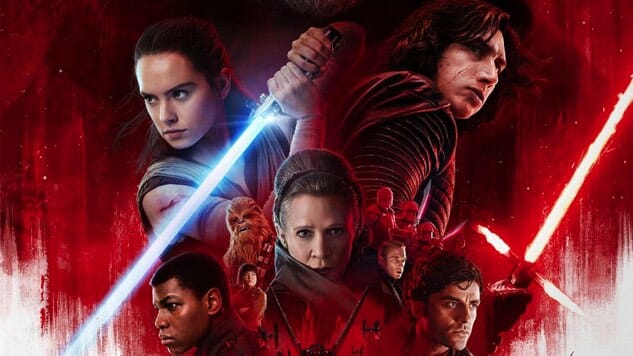 Surprise, surprise: The little indie film that could, Rian Johnson's Star Wars: The Last Jedi, is barely out and already making box-office history.
According to early estimates (per THR), the Disney and Lucasfilm blockbuster has made $45 million in Thursday previews, good for the second-best preview total of all time behind only … Star Wars: The Force Awakens, of course. A final count, expected to come in sometime Friday, could put The Last Jedi's preview total even higher. Episode VIII knocks the final Harry Potter film out of its second-best preview spot, which it held with $43.5 million.
Thursday night previews are only the beginning, of course. The Last Jedi is expected to make its domestic debut somewhere in the ballpark of $200 million, which would make it 2017's biggest theatrical opening, and its global projections are equally astronomical: $425 million, putting it in the top five worldwide openings of all time (without factoring in inflation).
These numbers line up nicely with the latest films in the Star Wars franchise. J.J. Abrams' The Force Awakens made $57 million in previews back in December of 2015, earning $247.9 million in its opening weekend and becoming the top-grossing film of all time in the U.S. with $936.7 million domestic. In 2016, Gareth Edwards' Rogue One: A Star Wars Story made $29 million in previews, $155.1 million in its opening weekend and $532.1 million domestic. Those two films made $2.1 billion and $1.1 billion, respectively, worldwide.
The Last Jedi returns the cast of The Force Awakens, including Daisy Ridley, Mark Hamill, Adam Driver, John Boyega, Oscar Isaac, Gwendoline Christie, Domhnall Gleeson, Andy Serkis and Lupita Nyong'o, as well as the late Carrie Fisher, to whom the film is dedicated. Newcomers to the franchise include Kelly Marie Tran, Laura Dern and Benicio del Toro.
It's not just critics and audiences who are gaga over The Last Jedi, either—the folks over at Disney and Lucasfilm seem to love it, too. Exhibit A: The studios recently announced that Episode VIII writer-director Johnson will create a brand-new trilogy all his own. Exhibit B: Johnson revealed Wednesday that Lucasfilm brass signed off on his trilogy pitch without so much as a story idea. Clearly, they found the Looper filmmaker's work on The Last Jedi to be at least halfway decent.
Any news of The Last Jedi's success is dwarfed, of course, by the fact that Disney and Fox announced a massive merger on Thursday that has the potential to irrevocably change the entire entertainment landscape. That said, that deal will likely be tied up by anti-trust regulators for quite some time, so for now, its impact remains purely theoretical.
The Last Jedi is now playing, and even being in outer space is no excuse not to see it. Read our review of the film here and watch the trailer right here.