New on Starz: All the Movies and TV Coming in June
Photo by Glen Wilson/Sony Pictures Entertainment
Movies
Features
Starz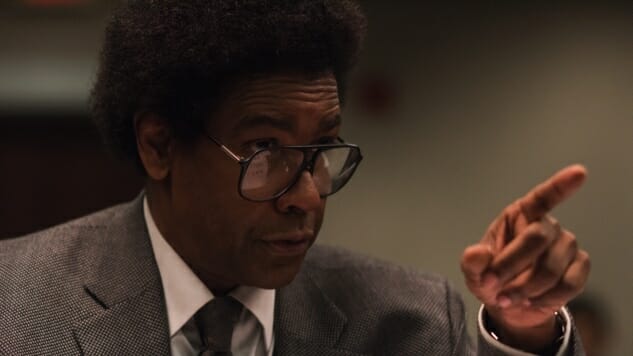 June is nearly upon us, and we wouldn't want you blundering into it without an encyclopedic knowledge of what's streaming on Starz next month, now would we? The streaming service is adding a few noteworthy feature films and TV episodes, and if you're interested in which, you've come to the right place.
We'll begin with movies, where the Oscar-nominated Roman J. Israel, Esq., arriving on Starz on June 30, is arguably the most notable addition. The dramatic thriller from writer-director Dan Gilroy (Nightcrawler) stars Denzel Washington as its eponymous protagonist, an idealistic and driven defense attorney whose life is upended by the death of his mentor, civil rights icon William Henry Jackson. Roman is recruited to join a firm led by one of Jackson's former students, ambitious lawyer George Pierce (Colin Farrell), and strikes up a friendship with a young equal rights champion, Maya (Carmen Ejogo), beginning a turbulent series of events that put Roman's career-defining activism to the test. Though the film itself received middling reviews, Washington was nominated for an Oscar in recognition of what Paste contributor Andy Crump called a "mesmerizing performance," singlehandedly propelling Roman J. Israel, Esq. into intriguing streaming feature film territory. Also joining Starz on June 1 are SNL-inspired sci-fi comedy Coneheads and Terrence Malick's Oscar-winning Days of Heaven—damn right we mentioned those two films in the same sentence—as well as mid-'90s blockbuster Independence Day, 1969 Best Picture-winning drama Midnight Cowboy, chilling Robin Williams thriller One Hour Photo and Ben Stiller's high-fashion farce Zoolander, among others. Following those films later in the month are three Behind Enemy Lines titles (June 8), 1974's Oscar-winning The Great Gatsby (June 15), late-'80s Bret Easton Ellis adaptation Less Than Zero (June 15), Randall Wallace's 2002 Vietnam War epic We Were Soldiers (June 15) and 2006's Curious George (June 16).
Moving now to next month's small-screen offerings, two Starz original shows will air season finales in June, while a new original docuseries will make its debut. Six-episode restaurant business drama Sweetbitter airs its season finale on Sunday, June 10, as does six-episode family drama Vida. This would-be one-two punch has been something of a mixed bag for Starz—while we, like many critics, weren't crazy about Sweetbitter, finding it to be "tediously boring, lacking flavor, seasoning or spice," Vida has earned a far more favorable critical reception, with Paste contributor Whitney Friedlander dubbing it "the anti-Roseanne." Prior to those shows wrapping up their current runs, six-part docuseries Wrong Man, from Oscar-nominated nonfiction filmmaker Joe Berlinger (Paradise Lost Trilogy), debuts on Sunday, June 3. Berlinger's docuseries follows an esteemed team of experts as they re-investigate the cases of three inmates who have maintained their innocence during decades of imprisonment. Wrong Man's investigators visit prisons and crime scenes alike, hunting for new evidence, tracking witnesses and seeking answers from oft-reticent law-enforcement officials as they look beyond guilt and innocence, endeavoring instead to expose our criminal justice system's flaws. Four of the docuseries' six parts will air in June before it wraps in July.
Lastly, we turn, as we must, to what's leaving Starz next month: a staggering amount of movies. Seriously, the majority of the list below consists of just titles coming off the service. A couple of films depart Starz before the end of June, including iconic 1994 sci-fi flick Stargate (June 2), Kevin James comedy Paul Blart: Mall Cop (June 3), Wesley Snipes-starring vampire slayer actioner Blade (June 7), Blake Lively-led shark attack thriller The Shallows (June 10), Oscar-nominated crime dramedy In Bruges (June 15) and 2016's Ghostbusters rework (June 25). However, the real mass exodus falls on June 30, when dozens and dozens of films (we stopped counting at 59) leave Starz—these include the Friday The 13th sequels, Kevin Smith's Jay And Silent Bob Strike Back, Oscar-winning dramedy Little Miss Sunshine, Martin Scorsese's legendary Raging Bull, what appears to be a huge collection of 1960s Westerns and much more.
Find Starz's complete June slate below.
WHAT'S NEW ON THE STARZ APP – JUNE 2018
AVAILABLE JUNE 1
Brown Sugar (2002)
Coneheads (1993)
CQ (2001)
Days Of Heaven (1978)
El Pampero (2017)
Fantastic Four: Rise Of The Silver Surfer (2007)
The Glass House (2001)
Gridiron Gang (2006)
Independence Day (1996)
Kingpin (1996)
La Guitarra Vuela (2016)
La Larga Noche De Francisco Sanctis (2016)
Midnight Cowboy (1969)
Niñas Araña (2017)
One Hour Photo (2002)
Passengers (2008)
The Pistol Shrimps (2016)
Poltergeist II: The Other Side (1986)
Poltergeist III (1988)
Ragtime (1981)
Revenge Of The Nerds II: Nerds In Paradise (1987)
River Of No Return (1954)
The Secret Of Nimh (1982)
Shaquille O'neal Presents: All Star Comedy Jam – Live From Atlanta
She's Funny That Way (2014)
Untraceable (2008)
The Virginian (1945)
Zoolander (2001)
En tierra de nadie (2017)
Control Animal (2017)
El Balneario (2017)
Insomnio (2017)
La Lluvia (2017
El mal necesario (2017)
Pérdida accidental de refrigerante (2017)
El ultimo lobo (2017)
No Man's Land (2017)
Animal Control (2017)
Wellness Resort (2017)
Insomnia (2017)
Rain (2017)
A Necessary Evil (2017)
Loss Of Coolant Accident (2017)
The Last Wolf (2017)
"Maximilian" Ep 101-106 (2016)
AVAILABLE JUNE 2
Assassination Tango (2002)
Only The Brave (2017)
AVAILABLE JUNE 3
"Sweetbitter": Episode 105 (2018)
"Vida": Episode 105 (2018)
"Wrong Man": Episode 101 **PREMIERE**
AVAILABLE JUNE 8
Behind Enemy Lines (2001)
Behind Enemy Lines II: Axis Of Evil (2006)
Behind Enemy Lines: Colombia (2008)
Buffalo Bill And The Indians (1976)
Car Wash (1976)
Cotton Comes To Harlem (1970)
Dragonslayer (1981)
Inferno (1980)
Jason X (2000)
Lonesome Dove Church (2014)
Midway (1976)
Thunderbolt And Lightfoot (1974)
AVAILABLE JUNE 9
Damsels In Distress (2011)
AVAILABLE JUNE 10
"Sweetbitter": Episode 106 (2018) **FINALE**
"Vida": Episode 106 (2018) **FINALE**
"Wrong Man": Episode 102 (2018)
AVAILABLE JUNE 15
Focus (2001)
Fort Defiance (1951)
The Four Seasons (1981)
Grand Canyon (1991)
The Great Gatsby (1974)
The Hills Run Red (1966)
Less Than Zero (1987)
Mustang Country (1976)
Stuart Saves His Family (1995)
We Were Soldiers (2002)
AVAILABLE JUNE 16
Curious George (2006)
AVAILABLE JUNE 17
"Wrong Man": Episode 103
AVAILABLE JUNE 18
Stranger Fruit (2017)
AVAILABLE JUNE 21
Novitiate (2017)
AVAILABLE JUNE 22
The Appaloosa (1966)
AVAILABLE JUNE 24
"Wrong Man": Episode 104
AVAILABLE JUNE 30
Roman J. Israel, Esq. (2017)
WHAT'S LEAVING THE STARZ APP – JUNE 2018
LEAVING JUNE 2
Stargate (1994)
LEAVING JUNE 3
Paul Blart: Mall Cop (2009)
LEAVING JUNE 7
Blade (1998)
LEAVING JUNE 8
Monkeybone (2001)
Say It Isn't So (2001)
LEAVING JUNE 10
Eat That Question: Frank Zappa In His Own Words (2016)
The Shallows (2016)
LEAVING JUNE 15
Flaming Star (1960)
In Bruges (2008)
The Marine (2006)
LEAVING JUNE 18
The Blackout Experiments (2016)
LEAVING JUNE 22
Vital Signs (1990)
LEAVING JUNE 25
Ghostbusters (2016)
LEAVING JUNE 30
Ace High (1969)
The Adventures Of Buckaroo Banzai Across The 8th Dimension (1984)
The Adventures Of Priscilla, Queen Of The Desert (1994)
The Agony And The Ecstacy (1965)
Ali G Indahouse (2003)
All Roads Lead To Rome (2015)
Andron (2015)
Angela's Ashes (1999)
The Angriest Man In Brooklyn (2014)
Bandidas (2006)
Black Christmas (2006)
Bling (2016)
Boots And Saddles (1937)
Boss Of Lonely Valley (1937)
Chasing Amy (1997)
Cheaper By The Dozen (2003)
Chocolat (2000)
Colorado Sunset (1939)
Daddy And Them (2001)
Dark Girls (2011)
The Day Of The Jackal (1973)
Deep Impact (1998)
Down Mexico Way (1941)
Down To You (2000)
Escort West (1958)
The Evening Star (1996)
Five Fingers (2006)
Frank & Jesse (1995)
Friday The 13th , Part II (1981)
Friday The 13th , Part III (1982)
Friday The 13th , Part IV: The Final Chapter (1984)
Friday The 13th , Part V: A New Beginning (1985)
Friday The 13th , Part VI: Jason Lives (1986)
Friday The 13th , Part VII: The New Blood (1988)
Friday The 13th , Part VIII: Jason Takes Manhattan (1989)
Ghost Story (1981)
Git Along Little Dogies (1937)
Go (1999)
A Good Man (2014)
A Good Year (2006)
The Guardian (1990)
Hellbound: Hellraiser II (1988)
Hellraiser (1987)
Hot Shots! (1991)
The Hound Of The Baskervilles (2000)
Hustle (1975)
Impostor (2002)
In Old Monterey (1939)
In The Spider's Web (2006)
Indian Territory (1950)
Intruders (2015)
Invasion Of The Body Snatchers (1978)
The Invisible Woman (2013)
Jay And Silent Bob Strike Back (2001)
Jayne Mansfield's Car (2012)
Jet Li's Fearless (2006)
Joe Dakota (1957)
La Tierra Y La Sombra (2015)
The Lady Vanishes (1938)
The Last Temptation Of Christ (1988)
Little Miss Sunshine (2006)
Little Richard (2000)
Lovely And Amazing (2022)
The Man Who Wasn't There (2001)
Mimic (1997)
Mimic 2 (2002)
Mimic 3: Sentinel (2003)
Mr. Brooks (2007)
Mrs. Doubtfire (1993)
Nightwatch (1997)
Nothing Left To Fear (2013)
Once (2007)
One Direction: This Is Us (2013)
Patriot Games (1992)
Planet Of The Apes (2001)
Played (2006)
Raging Bull (1980)
The Relic (1997)
Rising Sun (1993)
The Rolling Stones Havana Moon (2016)
The Rolling Stones Ole, Ole, Ole!: A Trip Across Latin America (2016)
Rough Night In Jericho (1967)
Saddle Pals (1947)
Sierra Sue (1941)
Six Black Horses (1961)
Sneakers (1992)
The Spoilers (1955)
Stagecoach (1986)
State Property (2002)
Switchback (1997)
Things Never Said (2012)
The Three Amigos (2003)
Tomahawk Trail (1956)
Top Gun (1955)
Twilight On The Rio Grande (1947)
The Voices (2015)
The Von Trapp Family: A Life Of Music (2015)
Walking Trail (1973)
Wanda Nevada (1979)
Warren Miller's…Like There's No Tomorrow (2011)
We Own The Night (2007)
Winchester '73 (1966)
Wind Chill (2007)
The Woman In Red (1984)
Wyatt Earp's Revenge (2012)
The Yellow Tomahawk (1953)
Zoot Suit (1981)
Stage Stop (1959)
Glory Road (1959)
Circle Of Fire (1959)
Fugitive Road (1959)
The Star Trail (1959)
The Lawbreakers (1959)
The Iron Captain (1959)
General Delivery (1959)
The Run To Tumavaca (1959)
The General Must Die (1959)
Dark Verdict (1959)
Man Of God (1959)
Bare Knuckles (1959)
The Lonesome Gun (1959)
Night Of The Quiet Man (1959)
The Pass (1959)
Trail Drive (1959)
Day Of Vengence (1960)
The Legend Of Lily (1960)
Death Wind (1960)
Company Man (1960)
Rope Of Steel (1960)
Duel At Alta Mesa (1960)
Street Of Hate (1960)
Ride Or Die (1960)
Hour After Dawn (1960)
The Protectors (1960)
Saddle And Spur (1960)
Midnight Rebellion (1960)
Cemetery Road (1960)
Men Of Defiance (1960)
Queen Of Diamonds (1960)
The Track Of The Jackal (1960)
Three Roads West (1960)
Ride The Wild Wind (1960)
Ride Into Darkness (1960)
The Long Riders (1960)
The Dark Trail (1960)
.45 Caliber (1960)
License To Kill (1960)
Drifter's Gold (1960)
No Second Chance (1960)
Duel At Parkison Town (1960)
A Sound Of Bells (1960)
The Passing OF Kuba Smith (1960)
Man From Kansas (1960)
Killer Without Cause (1960)
Stolen Tribute (1960)
The Lost Dutchman (1960)
Cactus Lady (1960)
Riders Of The Night (1961)
Mark Of The Manhunters (1961)
Rimrock (1961)
Run Of The Hunted (1961)
Two For The Gallows (1961)
The Debt (1961)
Killer Odds (1961)
Bitter Glory (1961)
The Tumbleweed Wagon (1961)
Trigger Point (1961)
Badge Of The Outsider (1961)
Men In The Shadows (1961)
Strange Company (1961)
Widow In White (1961)
Dragon At The Door (1961)
Ladies Day (1961)
Siege At Jubilee (1961)
The Mountain Men (1961)
The Fatal Step (1961)
The Last Journey (1961)
Deadly Is The Night (1961)
The Accusers (1961)
Wolf Cub (1961)
Handful Of Fire (1961)
The Killer Legend (1961)
The Jailbreakers (1961)
The Lawless Seven (1961)
The Perfect Gift (1961)
The Barefoot Kid (1961)
Shadows In The Dust (1961)
The Runaway (1961)
The Confederate Express (1961)
The High Country (1961)
A Grave For Cully Brown (1961)
The Runt (1961)
The Dynamiters (1962)
The Day Of The Savage (1962)
Justice In A Hurry (1962)
The Replacement (1962)
The Turn Of The Wheel (1962)
Trial By Fire (1962)
Fall Into Darkness (1962)
Among The Missing (1962)
War Hero (1962)
The Fortune Hunter (1962)
Shadow Of The Past (1962)
The Long Road Back (1962)
Lost Allegiance (1962)
The Sunday Shoot (1962)
Double Eagles (1962)
Beyond Justice (1962)
Bad Blood (1962)
Time Of The Traitor (1962)
Gun Duel (1962)
Naked Steel (1962)
Vengeance (1962)
Protective Custody (1962)
The Betrayers (1962)
The Wedding Party (1962)
No Place To Run (1963)
The Fugitives (1963)
The Dispossessed (1963)
The Violent Ones (1963)
The Unvanquished (1963)
The Sometimes Gambler (1962)
Edge Of Evil (1962)
Broken Horror (1963)
The Last Battleground (1963)
The Stranger (1963)
The Marshals (1963)
Badge Of Glory (1963)
Trapped (1963)
The Road To Helena (1963)
The Kid (1989)
Gunfighter (1989)
Home Of The Brave (1989)
Speak No Evil (1989)
Bad Blood (1989)
Black Ulysses (1989)
Ten-Cent Hero (1989)
False Colors (1989)
A Good Day To Die (1989)
The End Of Innocence (1989)
Blind Love (1989)
The Keepsake (1989)
Fall From Grace (1990)
Hard Time (1990)
Lady For A Night (1990)
Unfinished Business (1990)
Decoy (1990)
Daddy's Girl (1990)
Bulldog (1990)
Matched Pair (1990)
The Man Behind The Badge (1990)
Then There Was One (1990)
Gathering Clouds: Pt 1 (1990)
Gathering Clouds: Pt 2 (1990)
Born To Hang (1990)
Ghosts (1990)
Dead Ringer (1990)
Blood Moon (1990)
Pride And Prejudice (1990)
The Littlest Cowboy (1990)
Blood Money (1990)
Requiem For A Hero (1990)
Bad Company (1990)
Star Light, Star Bright (1990)
Judgement Day (1990)
Kansas (1991)
The Peacemakers (1991)
Daisy (1991)
Color Blind (1991)
Old Scores (1991)
The Talisman (1991)
A Noble Chase (1991)
Face Of The Enemy (1991)
The Exchange (1991)
A House Divided (1991)
Jesse (1991)
The Blood Of Others (1991)
Between Rock Creek And A Hard Place (1991)
The Presence Of Mine Enemies (1991)
Survivors (1991)
Initiation (1991)
Just Like Old Times (1991)
Spirits (1991)
A Tiger's Tale (1991)
Good Night, Sweet Charlotte (1992)
Song Of Isaiah (1992)
Spies (1992)
Shadowmen (1992)
Mask Of Fear (1992)
Dark Brother (1992)
The Road Not Takent (1992)
The Sacrifice (1992)
Lessons Learned (1992)
The Debt (1992)
'til Death Do Us: Pt 1 (1992)
'til Death Do Us: Pt 2 (1992)