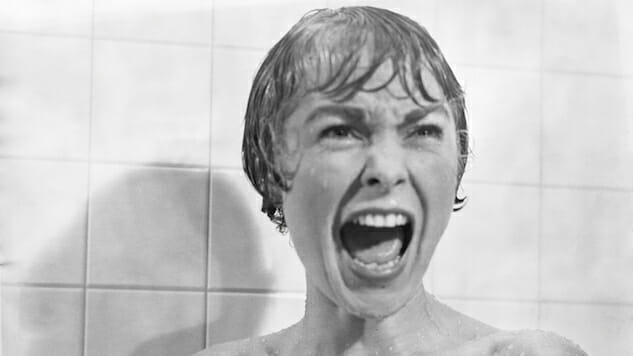 October is almost upon us, and with it, a new slate of additions (and subtractions) from the Starz catalogue. Childhood ghost stories and classics of mystery and suspense await just in time for Halloween, as do a slew of romantic dramas, Westerns and Adam Sandler comedies that nobody asked for.
Starz will have you ready for Halloween from the first day of October with not one, but four Casper installments. In case the beloved 1995 original starring Christina Ricci wasn't enough to quench your thirst for spooky '90s nostalgia, you will have at your fingertips Casper and Wendy's Ghostly Adventure, a collection of 1950s cartoons; the computer-animated, made-for-TV Casper's Scare School; and Casper's 1997 sequel, Casper: A Spirited Beginning, which has a 0% rating on Rotten Tomatoes. A wealth of riches! But if Casper isn't quite your style, you'll be able to get in the Halloween spirit with something a little more sophisticated starting Oct. 11, when Starz introduces 15 of Alfred Hitchcock's feature films. The Starz selection includes his best-known classics of suspense The Birds, Rear Window, Psycho and Vertigo, as well as The Man Who Knew Too Much, Marnie, Rope, Saboteur, Shadow of a Doubt, Topaz, Torn Curtain, Frenzy, The Trouble with Harry, The Lady Vanishes and his final film released in 1976, Family Plot.
Other film standouts for the month, all available beginning Oct. 1, include the '80s classic Fast Times at Ridgemont High; an array of comedies ranging from Adam Sandler's Billy Madison to Monty Python's The Meaning of Life; an assortment of star-studded romantic dramas including William Shakespeare's Romeo & Juliet; the 2003 Scarlett Johansson vehicle Girl with a Pearl Earring; Julia Roberts classic Mystic Pizza; and 2005's Prime, starring Meryl Streep and Uma Thurman. If nothing else, you can spite Mel Gibson by watching the production disaster The Professor and the Madman (Oct. 5): Gibson was so dissatisfied with the film he tried and failed to block it from release, and director Farhad Sarfinia opted to be credited under a pseudonym.
On the television side, Starz will be serving up new episodes of Power as its sixth season continues. Oct. 20 marks the premiere of a true-crime docuseries, Leavenworth, which follows Clint Lorance, a former lieutenant who ordered fire on three civilians while stationed in Afghanistan and is attempting to overturn his life sentence for murder. Starz series aside, the first four seasons of the crime drama Luther, which features Idris Elba as a disturbed detective and returned earlier this year for a fifth season on BBC, will hit the streaming service on Oct. 18.
As for what's leaving the service, there's not too much worth catching on its way out. You'll have to act fast if you want to see Brad Pitt age in reverse in The Curious Case of Benjamin Button (Oct. 3), watch Emma Stone's breakthrough with the Scarlet Letter-influenced high school comedy Easy A (Oct. 4), or catch The Karate Kid reboot starring Jaden Smith and Jackie Chan (Oct. 16), but there's not much else worth worrying about.
Check out the complete listing of what's coming and leaving below.
WHAT'S NEW ON THE STARZ APP – OCTOBER 2019
AVAILABLE OCTOBER 1
"Mary & Mike" – Episodes 101-106
10 To Midnight (1983)
Adventures Of Rocky & Bullwinkle, The (2000)
Amistad (1997)
Amityville Murders, The (2018)
Apostle, The (1997)
Balls Of Fury (2007)
Best Defense (1984)
Best Man, The (1999)
Billy Madison (1995)
Casper (1995)
Casper And Wendy's Ghostly Adventure (2002)
Casper, A Spirited Beginning (1997)
Casper's Scare School (2006)
Divorce Party, The (2019)
Fast Times At Ridgemont High (1982)
Flight Of The Intruder (1991)
Girl With A Pearl Earring (2003)
Great Man's Lady, The (1942)
Happy Gilmore (1996)
Hours (2013)
I Spy (2002)
Just Before I Go (2014)
Miami Vice (2006)
Monty Python's The Meaning Of Life (1983)
Mystic Pizza (1988)
Oscar Nominated Short Films 2019: Live Action, The (2019)
Prime (2005)
Quigley Down Under (1990)
Robots (2005)
Run For Cover (1955)
Ruta Madre (2019)
Scorpion King 2: Rise Of A Warrior (2008)
Scorpion King 3: Battle for Redemption, The (2012)
Silicone Soul (2018)
Skeleton Key, The (2005)
Stigmata (1999)
Sword Of The Valiant: The Legend of Sir Gawain and the Green Knight (1983)
Ulzana's Raid (1972)
Unfinished Life, An (2004)
Up In Smoke (1978)
Vince Vaughn's Wild West Comedy Show (2008)
Warren Miller's Face of Winter (2018)
William Shakespeare's Romeo & Juliet (1996)
AVAILABLE OCTOBER 5
Professor and the Madman, The (2019)
AVAILABLE OCTOBER 6
"Power" – Episode 607
"Power Confidential" – Episode 107
AVAILABLE OCTOBER 10
Sunset (2019)
AVAILABLE OCTOBER 11
Babies (2009)
Birds, The (1963)
Crimson Trail, The (1935)
Deep In The Heart Of Texas (1942)
Destry Rides Again (1939)
Dirty Rotten Scoundrels (1988)
Family Plot (1975)
Field Of Dreams (1989)
Frenzy (1972)
Hart's War (2002)
Home Of The Brave (2006)
Ice Age The Meltdown (2006)
Lady Vanishes, The (1938)
Man Who Knew Too Much, The (1956)
Man's Best Friend (1993)
Marnie (1964)
Money, Women And Guns (1958)
Psycho (1960)
Rear Window (1954)
Rope (1948)
Saboteur (1942)
Seminole (1953)
Shadow Of A Doubt (1942)
Topaz (1969)
Torn Curtain (1966)
Trouble With Harry, The (1954)
Vertigo (1958)
AVAILABLE OCTOBER 13
"Power" – Episode 608
"Power Confidential" – Episode 108
AVAILABLE OCTOBER 16
Baby Mama (2008)
Duplicity (2009)
Green Zone (2010)
Wolfman, The (2010)
AVAILABLE OCTOBER 18
"Luther" – Episodes 101-106; 201-204; 301-304; 401-402
Courageous (2011)
K-911 (1999)
Kindergarten Cop (1990)
Step Up 3 (2010)
Untouchables, The (1987)
AVAILABLE OCTOBER 19
Burn Your Maps (2015)
AVAILABLE OCTOBER 20
"Leavenworth" – Episode 101
AVAILABLE OCTOBER 21
River and the Wall, The (2019)
AVAILABLE OCTOBER 23
McFarland, USA (2014)
AVAILABLE OCTOBER 25
Best Of Times, The (1986)
Round Up, The (1950)
Showdown (1963)
Taza, Son Of Cochise (1953)
AVAILABLE OCTOBER 27
"Power" – Episode 609
"Power Confidential" – Episode 109
"Leavenworth" – Episode 102
AVAILABLE OCTOBER 31
Barbershop (2002)
Barbershop 2: Back In Business (2004)
WHAT'S LEAVING ON THE STARZ APP – OCTOBER 2019
LEAVING OCTOBER 1
Jeepers Creepers (2001)
LEAVING OCTOBER 3
Curious Case Of Benjamin Button, The (2008)
Scales: Mermaids Are Real (2016)
LEAVING OCTOBER 4
Easy A (2010)
LEAVING OCTOBER 12
Mark Felt: The Man Who Brought Down the White House (2017)
LEAVING OCTOBER 14
Dark Crimes (2016)
LEAVING OCTOBER 15
Debt, The (2011)
LEAVING OCTOBER 16
Karate Kid, The (2010)
LEAVING OCTOBER 18
Bebe's Kids (1992)
Eve Of Destruction (1991)
Hunter, The (1980)
Misconduct (2015)
Salt (2010)
LEAVING OCTOBER 23
Grown Ups (2010)
LEAVING OCTOBER 31
28 Weeks Later (2007)
400 Days (2015)
All Monsters Attack (1969)
Backlash (1956)
Bad Girls From Valley High (2000)
Better Life, A (2011)
Black Beauty (1971)
Black Horse Canyon (1954)
Blown Away (1994)
Bob Roberts (1992)
"Robotboy" – Episodes 201-251
"Skatoony" – Episodes 101-226
"Snapshots" – Episodes 101-106