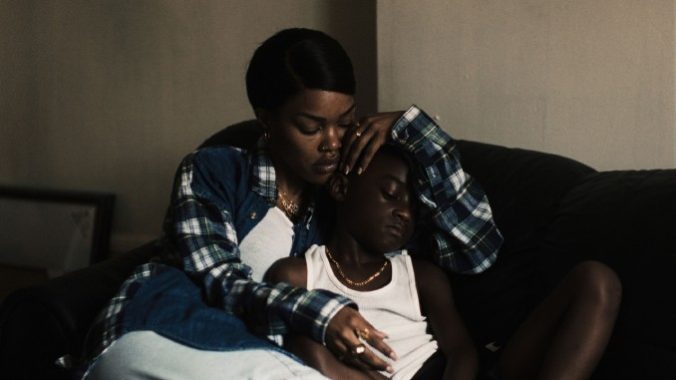 Showcasing a jagged character's friction-laden life through the city and nation that sharpened her edges, A Thousand and One's series of time-hopping vignettes sits atop a suspenseless time bomb. Inez (a bold, magnetic Teyana Taylor) is fresh out of Rikers for a bit of harmless "boosting," looking to get back into the hairdressing business and back to mothering six-year-old Terry (Aaron Kingsley Adetola)–even if that means boosting him from his foster family. The kidnapping is understated, with the uncanny near-innocuousness of an event happening just over a child's head, and the response from law enforcement and the community (almost nothing) is well-observed. It's a blip on the news in '90s Harlem, and it'd only last a bit longer today. A.V. Rockwell begins juxtaposing Inez's growing family with the evolution of New York early on in her feature debut, just one of the half-linked preoccupations loosely hanging from A Thousand and One's family drama. As the film moves further and further from its inciting secret, watching Inez and her son age, it fades beneath their countless tone-shifting hardships—revealing a film stronger when its close-shot realism is echoed in the script.
For every scene of honest, quiet heartbreak, one of melodrama ignores characterization and performance to spice up the plot. For every nuanced bedroom conversation between Inez and her boyfriend Lucky (Will Catlett), where the implications of silence are as intimate and lingering as the film's rumpled images of love, a gaudy speech montage from Rudy Giuliani or Michael Bloomberg bops us on the nose with the city's political parallels. The reality of stop-and-frisk becomes a name-check, amid so many other shallow images of a changing New York. It's all the more jarring because Rockwell clearly understands how to translate these thematic gestures into effective drama; a scene in which the family's new white landlord slowly reveals his ulterior motives moves with a precise, deeply defeating logic.
But when the film jumps along its timeline—to 2001, removed from what most people think of when anything's set in 2001 New York, where Terry's got the chance to attend a selective high school; then to 2005, where Terry's on the cusp of college—it relies on the broad strokes. What begins as an unapologetic portrait of survival, centered on Taylor's winningly edgy (and impeccably styled) performance, blurs its focus as its narrative lens shifts to the next generation. Terry's not much more than the sum of his parents' traumas. Quiet, unassuming, yearning to fit in, he's presented to us as a stifled product of his upbringing. That doesn't feel false (and Josiah Cross, who plays the oldest Terry, is capably morose), but turning entirely towards a character defined by what he lacks saps the movie of power when it needs it most.
Its dramatic deflation undermines the stiff-lipped, steely-gazed pride Taylor exudes as A Thousand and One's volatile center. Combined with Catlett—who makes the most of a lightly sketched father figure, able to softly project the complexity-quashing love he shows Terry—the older performers embody the family's imperfect success, one that Rockwell insists can only defy the odds of America for so long. Terry's passivity leaves us longing for the performances that enlivened the timid script: The intensity of Taylor's justified defensiveness, literally pushing back on insults; the tenderness of Catlett's assumption of parental responsibility, hefted up like a child on piggyback. A wandering narrative eye keeps the film's riveting parts from coalescing into a compelling whole. Its uneven two hours drag their feet like a kid tagging along at the grocery store.
A Thousand and One's persistent tragedy can be so hard-nosed that you almost forgive its dalliances with soapiness. Almost. It'd be less frustrating if Rockwell's domestic vision didn't have bolts of staggering clarity: Washed, bluish scenes of confrontation (courtesy of cinematographer Eric K. Yue) are as serious as a warmly sunny, ethereal afternoon spent with Power Rangers and daytime TV. But they strike—their naturally lit images overcoming tonal hiccups just like Taylor's authentically seething speeches overcome the inelegant words that compose them—only grazing us with their electricity. A Thousand and One exhausts its finite supply of that scrappy power, needing every vital surge to keep this triptych alive.
Director: A.V. Rockwell
Writer: A.V. Rockwell
Starring: Teyana Taylor, William Catlett, Josiah Cross, Aven Courtney, Aaron Kingsley Adetola
Release Date: March 31, 2023
---
Jacob Oller is Movies Editor at Paste Magazine. You can follow him on Twitter at @jacoboller.
For all the latest movie news, reviews, lists and features, follow @PasteMovies.