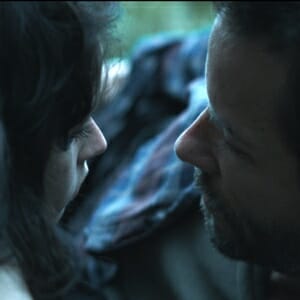 Director: Drake Doremus
Writers: Drake Doremus, Ben York Jones
Stars: Felicity Jones, Guy Pearce, Amy Ryan, Mackenzie Davis
Breathe In comes ever so close to pulling an emotionally satisfying romance from what is, at its core, a rather pervy story. The film is about a family in upstate New York that takes in a British foreign exchange student named Sophie (Felicity Jones) whose magnetic presence throws everyone into turmoil.
Guy Pearce plays the father, a music teacher who subs as a cellist for an orchestra and dreams of being either a rock star or a concert musician, depending on his mood. He keeps pushing his wife (Amy Ryan) to let them move back to the city and be bohemians, but she favors the comfortable life. When Sophie comes to live with them, she represents a level of hope and passion, and he doesn't do much to curtail his desire to get in her pants.
Returning to Sundance after winning the U.S. Dramatic Grand Jury Prize in 2011 with Like Crazy, director Drake Doremus again looks at human lives in an unfortunate situation with a fractured visual scheme that emphasizes personal details and strong performances. Pearce and Jones provide intense portrayals, but the plot works against them. The story points require the characters to move into situations before they're convincing, and the film never generates the doubt, agitation and guilt that should be plentiful. The goal of a grand, operatic melodrama ends up pushing the third act to a series of contrivances that sink what's intended to be a devastating finale.