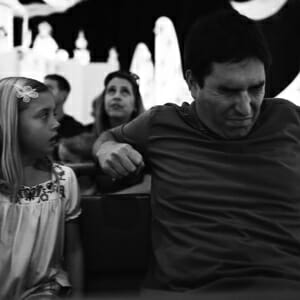 There was little debate about which movie at Sundance had the ballsiest production. It's one thing to steal some footage on the street without a permit, it's another to set a film almost entirely inside Disney World without Disney's permission. That's exactly what writer/director Randy Moore did to make Escape from Tomorrow. Shot secretly with DSLR cameras in Disneyland and Disney World, the surreal tale depicts a father's journey into madness during the last day of his family vacation.
There's a lot of appeal in the rogue behind-the-scenes story and the movie's surreal satire of childcare, sexual frustration and consumerism, so it's rather sad that the film doesn't quite come together. The black-and-white image and off use of familiar locations create a distinct mood, and there's humor in the crazy unravelling of events. David Lynch, Guy Maddin and Don Delillo come to mind as the film's hero spends his day stalking a pair of young, nubile French girls, being hypnotized by a woman with a mysterious pendant and generally failing as a father.
However, the film fails to find its rhythm as it meanders through poorly acted scenes and awkward tonal shifts. Just when it seems to be getting into a groove, it goes off in a strange direction with painfully forced broad comedy and scientific mumbo jumbo. Escape from Tomorrow isn't awful, but it's the kind of film that makes you wish it were better than it is. If you're gonna go toe-to-toe against The Mouse, the material should live up to the effort.