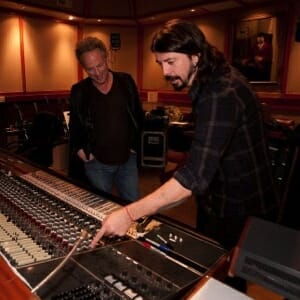 Director: Dave Grohl
Screenwriter: Mark Monroe
Stars: Dave Grohl, Tom Petty, Rick Springfield, Stevie Nicks, Neil Young, Paul McCartney
Recording Nevermind at Sound City changed Dave Grohl's life forever, according the Nirvana singer, Foo Fighters frontman and first-time director in this love letter to the Los Angeles studio that churned out hit records in the 1970s, '80s and '90s—and more particularly, to the sound board that made it so special. "It looks like something from the Enterprise on steroids from a long time ago," Neil Young says of the Neve board that Grohl eventually purchased from the studio when it closed. The first track recorded on the board was "Crying in the Night" by Buckingham Nicks.
Sound City is about more than a piece of recording equipment, though. It's the story of Fleetwood Mac. It's the story of Tom Petty and the Heartbreakers. It's the story of drum tones and '80s hair metal and Nevermind and Johnny Cash's recordings with Rick Rubin. It's a sprawling documentary that laments what's been lost in analog recording without ignoring the benefits of technology. And as the legendary board leaves its original home and lands in Grohl's studio, the documentary shifts to a celebration of studio magic. Grohl invites musicians like Rick Springfield, Stevie Nicks and Paul McCartney to join him in the studio and make new music. In one of the best moments of any film I saw at Sundance, Grohl and McCartney are in the midst of a particularly great jam, and Grohl turns to Sir Paul saying "Don't you wish it was always this easy?" Macca looks at him and says, "It is."