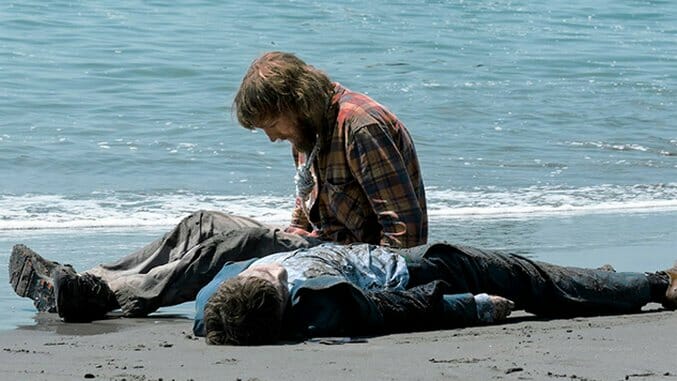 It should be ridiculous, this. A buddy comedy built atop the premise of a man lugging around, and bonding with, a flatulent talking corpse—but cinema is a medium in which miracles are possible, and one such miracle occurs in Swiss Army Man. A film with such a seemingly unpalatable concept becomes, against all odds, a near-profound existential meditation. That this is a debut feature makes it even more of a marvel.
Or maybe writer/directors Daniel Scheinert and Dan Kwan's success shouldn't be so surprising. In their 2013 music video for DJ Snake and Lil Jon's "Turn Down for What," Scheinert and Kwan—who collectively bill themselves as "Daniels"—turned the visual premises of rhythmically pulsating erections and breasts into a destructive yet celebratory spectacle of sexual liberation as various characters in a housing complex tapped into their inner, raging hedonists. Swiss Army Man finds liberation in a different but no less vulgar act: farting—a natural and perhaps even necessary occurrence that is nevertheless frowned upon in public. But the liberation the Daniels have in mind is more than just sexual this time around, it's personal and societal.
One of the major aspects of the relationship that develops between Hank (Paul Dano) and the corpse (Daniel Radcliffe)—given the name Manny—Hank discovers washed ashore on the deserted island on which he's been trapped for a long while, is that the latter finds himself in the position of trying not only to help Manny remember the past he has completely "forgotten," but also to teach him about life in all its joys and disappointments. To that end, Hank even goes so far as to create a custom-made universe on the island in order to help illustrate the finer points of the world to Manny. In this context, junk food and pop hits become precious emblems of the modern society to which both are trying to return: a bag of cheese puffs, John Williams's Jurassic Park theme, even lines from Rednex's "Cotton Eye Joe." Even more than such surface pop detritus, however, he also tries to reintroduce Manny to societal codes of behavior, some of which, in his pure innocence, Manny can't help but question. Naturally, sex inspires the most confusion: Why, for instance, is he not allowed to simply go up to a random attractive woman on a bus and talk to her? What's wrong with talking openly about all those boners men get when sexually aroused?
Hank, though, turns out to have a rather blinkered perspective that informs his life lessons. Introduced as he is about to hang himself, Hank, we gradually discover, is suffering from more than just despair over his dwindling hopes of ever being rescued from this deserted island. He's also a depressive who pulses with regret at choices he never made in his life: broken familial relationships he never tried to mend, and other relationships he wasn't brave enough to ever try to initiate. The woman (Mary Elizabeth Winstead) Hank initially convinces Manny that he once loved turns out to be a woman Hank himself was too shy to approach on a bus one day—a failure that continues to haunt his lonely self, and which, to some degree, he's desperately trying to exorcize through this revivified talking, farting corpse.
Granted, an obsession with romance and sex doesn't exactly span the broad width of humanity that the Daniels gesture toward addressing with the characters' frequent existential exchanges. And yet, even if Swiss Army Man's reach to some extent exceeds its proudly ribald grasp, there's something strangely moving about the filmmakers' sincerity. For all the increasingly absurd gags about the utilities of Manny's body—not just as a jet-ski propelled by bodily gas, but as a giver of fresh water through projectile vomiting and even as a compass through its erection—there's not one iota of distancing irony to be found in the film. Scheinert and Kwan are absolutely serious in their attempts to not only re-examine some of the most universal of human experiences, but also explore the idea of a life lived without limits, casting off the shackles of societal constraints and realizing one's best self. It's a freedom that the Daniels project exuberantly into the film itself: Swiss Army Man is a work that feels positively lawless. Witness with amazement what bizarrely heartfelt splendors its creators will come up with next.
Director: Daniel Scheinert, Dan Kwan
Starring: Paul Dano, Daniel Radcliffe, Mary Elizabeth Winstead
Release Date: June 24, 2016
---
Kenji Fujishima is a freelance film critic, contributing to Slant Magazine, Brooklyn Magazine, The Playlist and the Village Voice. He is also Deputy Editor of Movie Mezzanine and former editor-in-chief of In Review Online. When he's not watching movies and writing and editing film criticism, he's trying to absorb as much music, art, and literature as possible. He has not infrequently been called a "culture vulture" for that reason.