The SXSW film festival grows in size and importance every year. Paste's film editor Michael Dunaway landed in Austin last Thursday for the 2013 edition, and here, in alphabetical order, are the 21 films that has him most excited so far.
1. And Who Taught You To Drive?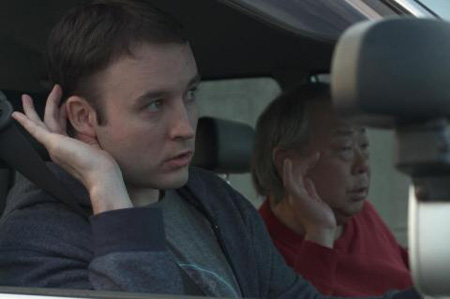 The Category: SXGlobal
The SXSW Synopsis: Driving through traffic at home is already stressful enough. Now imagine driving a car in a completely foreign country. Mirela, moving from Germany to India, Jake moving from the USA to Japan and South Korean Hye-Won living in Germany are facing the same problem. They are all forced to obtain a new local driver's license. Driving lessons soon become lessons of life when it starts to dawn on our protagonists that getting through the day will involve much more than just obeying the rules of the road in their host country. A cultural comedy about accepting that it's difficult but fun to be different from each other.
The Key Players: Director Andrea Thiele
The Draw: We've previewed this one, and it's absolutely hilarious in that dry, droll way. Sitting in a theater full of festivalgoers discovering an underdog comedy is a great experience. Highly recommended. —Michael Dunaway
2. Bayou Maharaja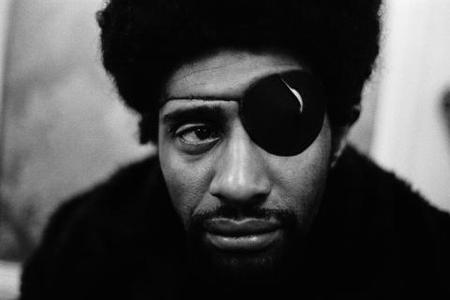 The Category: 24 Beats Per Second
The SXSW Synopsis: Bayou Maharajah: The Tragic Genius of James Booker explores the life, times and music of piano legend James Booker, who Dr. John described as "the best black, gay, one-eyed junkie piano genius New Orleans has ever produced." Booker was an unparalleled musician whose eccentricities and showmanship belied a life of struggle and isolation. Triply-marginalized by his race, sexuality, and physical disability, he still managed to excel as a musician in New Orleans and Europe in the turbulent 1960-70s, fusing secular, sacred, pop and classical traditions in breathtaking new ways. A brilliant stylist of soaring imagination, Booker personified the agony of genius in a time of paradigmatic change.
The Key Players: Director Lily Keber; Harry Connick Jr., Hugh Laurie, Dr. John, Allen Toussaint, Irma Thomas, Charles Neville, Douglas Brinkley
The Draw: If the title and the Dr. John quote alone don't draw you in, that collection of commenters should. Irma Thomas alone is worth the price of admission.—Michael Dunaway
3. Before Midnight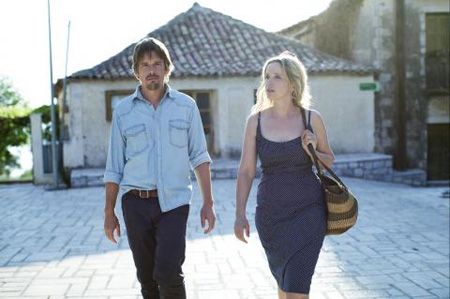 The Category: Festival Favorites
The SXSW Synopsis: We meet Celine and Jesse nine years after their last rendezvous. Almost two decades have passed since their first encounter on a train bound for Vienna, and we now find them in their early forties in Greece. Before the clock strikes midnight, we will again become part of their story.
The Key Players: Director Richard Linklater; Ethan Hawke, Julie Delpy
The Draw: Before Midnight concludes one of cinema's great trilogies—assuming it stays a trilogy. Director Richard Linklater and stars Julie Delpy and Ethan Hawke have built a beautiful study of life and love, each chapter of which stands on its own while adding emotional resonance to the other two. The series' trademark intense, thoughtful and personal conversations remain. An early scene holds on one perfectly acted two-shot in a car for 13 minutes. The discussions are often as hilarious as they are engaging. Hangups, regrets and doubts have have become a greater part of Jesse and Celine's lives, and the film reflects that. But it also reminds us what made the couple such a lovable pair that they could hold our interest for 20 years.—Jeremy Mathews
4. The Bounceback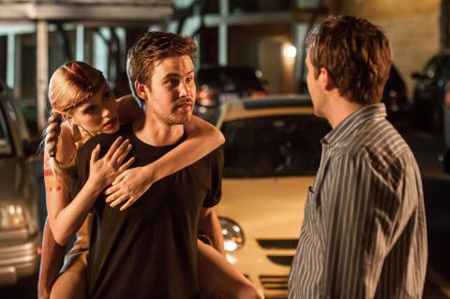 The Category: Narrative Feature
The SXSW Synopsis: Breaking up is hard to do. Desperate and lonely, Stan (Michael Stahl-David) learns that his ex, Cathy (Ashley Bell), will be in Austin for the weekend and hops on a flight to the Lone Star State in hopes of "accidentally" running into her. But, another breakup crisis greets him in Austin between his friends Jeff (Zach Cregger) and Kara (Sara Paxton), who are hell-bent on keeping Stan and Cathy apart. Cavorting through Austin's honkytonks, nightclubs, and a cutthroat air-sex competition, Stan and Cathy find bouncing back from their heartache to be unexpectedly complicated. An outrageous and heartfelt comedy, THE BOUNCEBACK is Bryan Poyser's follow-up to the hit Sundance film, LOVERS OF HATE.
The Key Players: Director Bryan Poyser; Ashley Bell, Marshall Allman
The Draw: Poyser's got a lot of heat right now after Lovers of Hate was so well received; it will be great to see if he continues to move forward in this follo-up. And we're big fans of Marshall Allman, who was so great in last year's surprise SXSW hit Blue Like Jazz. —Michael Dunaway
5. Coldwater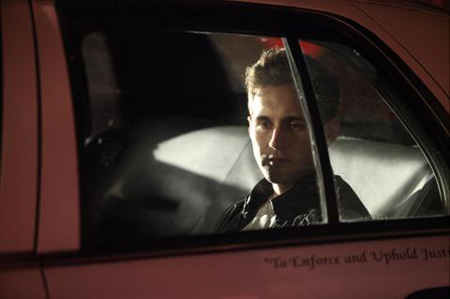 The Category: Narrative Spotlight
The SXSW Synopsis: Brad Lunders is a teenager forcefully taken from his home in the middle of the night by his parents consent, to a harsh wilderness reform facility. There is no contact with the outside world and the retired war colonel in charge prides himself on breaking an inmates spirit to correct delinquent behavior. As we learn of the tragic events that led to Brad's arrival, unforeseen circumstances also threaten to tear the reform facility apart…forcing Brad to confront not only his fellow inmates and the personnel in charge, but finally his own sense of what is right and what is wrong.
The Key Players: Director Vincent Grashaw
The Draw: Paste was on the train early for Bellflower, and people are still coming up to us to thank us for turning them on to the film. Writer/Director Evan Glodell hasn't given us a followup yet, but producer Vincent Grashaw is premiering his directorial debut Coldwater at SXSW this year. If the trailer is any indication, it'll have all the darkness and intensity of Bellflower. —Michael Dunaway
6. The Crash Reel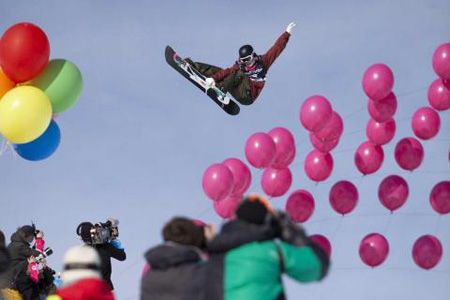 The Category: Festival Favorites
The SXSW Synopsis: This eye-popping film, stunningly edited from 20 years of verité footage, follows champion snowboarder Kevin Pearce and exposes the fatal allure of extreme sports. An escalating rivalry between Kevin and his nemesis Shaun White in the run-up to the 2010 Olympics culminates in Shaun winning Gold and Kevin in a coma following a training accident. Kevin's family help him rebuild his life as a brain injury survivor, but when he insists he wants to return to the sport he loves his eloquent brother David, who has Down syndrome, intervenes. As an elite athlete, Kevin was a professional risk-taker but now his skills are impaired and a small blow to the head will kill him. How much risk is too much?
The Key Players: Director Lucy Walker; Kevin Pearce, Shaun White
The Draw: Even for those of us who have no interest in snowboarding or winter sports, The Crash Reel provides a remarkable story about family. What could have easily been a by-the-numbers recovery story about a niche sport is constantly compelling in the hands of one of our most talented young documentarians—Oscar-nominee Lucy Walker. It's striking how different each of Walker's movies are in both subject matter and feel, yet she's remarkably consistent. She finds the right story and the right tone every single time.—Michael Dunaway
7. Don Jon's Addiction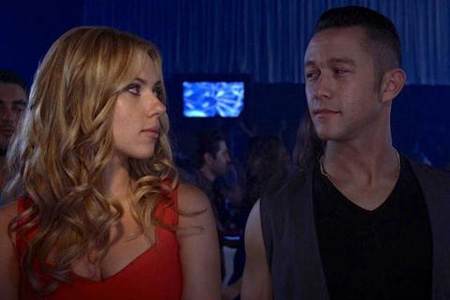 The Category: Festival Favorites
The SXSW Synopsis: Jon Martello (Joseph Gordon-Levitt) is a strong, handsome, good old fashioned guy. His buddies call him Don Jon due to his ability to "pull" a different woman every weekend, but even the finest fling doesn't compare to the bliss he finds alone in front of the computer watching pornography. Barbara Sugarman (Scarlett Johansson) is a bright, beautiful, good old fashioned girl. Raised on romantic Hollywood movies, she's determined to find her Prince Charming and ride off into the sunset. Wrestling with good old fashioned expectations of the opposite sex, Jon and Barbara struggle against a media culture full of false fantasies to try and find true intimacy in this unexpected comedy written and directed by Joseph Gordon-Levitt.
The Key Players: Screenwriter/Actor/Director Joseph Gordon-Levitt; Scarlett Johansson, Julianne Moore, Tony Danza
The Draw: Joseph Gordon-Levitt has come a very long way since Third Rock From the Sun (and a rich career as a child actor that preceded even that). He's shown an amazing range in films like Hesher, Mysterious Skin and his recent run of blockbusters. And he stretches himself further in his first directorial effort, Jon Don's Addiction, playing a New Jersey Don Juan whose routine involves his car, his gym, his club, his church, his women and his porn. It's an interesting—and hilarious—look at both how men objectify women and how women objectify men. His seemingly irredeemable character finds redemption in surprising ways.—Josh Jackson
8. The East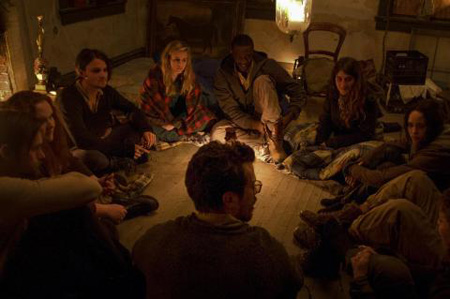 The Category: Festival Favorites
The SXSW Synopsis: In "The East", Sarah Moss (Brit Marling) is a brilliant operative for an elite private intelligence firm whose top objective is to ruthlessly protect the interests of their A-list corporate clientele. She is assigned to go undercover to infiltrate an anarchist collective known for executing covert attacks upon major corporations. Living amongst them in an effort to get closer to their members, Sarah finds herself unexpectedly torn between two worlds as she starts to fall in love with the group's charismatic leader, finding her life and her priorities irrevocably changed.
The Key Players: Screenwriter/Director Zal Batmanglij; Producer Ridley Scott; Screenwriter/Actor Brit Marling; Alexander Skarsgård, Ellen Page, Julia Ormond, Patricia Clarkson
The Draw: Director Zal Batmanglij and Actress Brit Marling join forces again as co-writers in their fast-moving followup to 2012's Sound of My Voice. The East is the story of a private-firm intelligence agent (Marling) looking to infiltrate a shadowy group of anticorporate terrorsists. Marling is wonderful as always, Alexander Skarsgaard is appropriately mysterious as the leader of the group, and Ellen Page turns in her best performance in years. The film was produced by Ridley Scott, and the Hollywood pedigree shows; Batmanglij seems to be making his bid for the brass ring here, and he should get it.—Michael Dunaway
9. Go For Sisters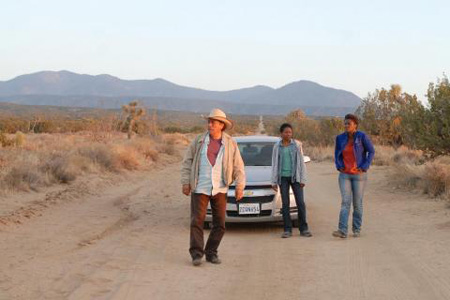 The Category: Narrative Spotlight
The SXSW Synopsis: Bernice Stokes and Fontayne Gamble grew up the closest of friends. After high school Bernice got into social services and corrections work, Fontayne just got into trouble. Twenty years later Bernice is assigned as parole officer for Fontayne- just released from prison and fighting a drug habit. But Bernice's son Rodney, has gone missing on the Mexican border, his shady partners in hiding or brutally murdered. Fontayne, through a prison girlfriend, enlists Freddy Suárez, a disgraced, near-blind ex-LAPD detective once known as 'the Terminator', to help them find Rodney. Outlaws on a noble quest, they are lured into a potentially deadly cat-and-mouse game with mysterious Chinese smugglers.
The Key Players: Director John Sayles; Edward James Olmos
The Draw: We're on board for pretty much anything John Sayles does. —Michael Dunaway
10. I Am Divine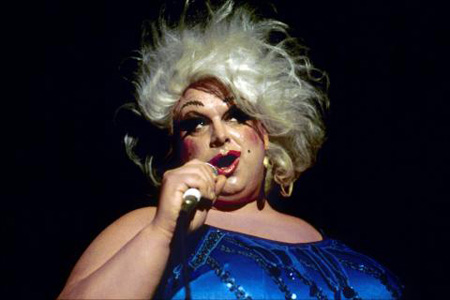 The Category: Documentary Spotlight
The SXSW Synopsis: "I Am Divine" is the story of Divine, aka Harris Glenn Milstead, from his humble beginnings as an overweight, teased Baltimore youth to internationally recognized drag superstar through his collaboration with filmmaker John Waters. Spitting in the face of the status quos of body image, gender identity, sexuality, and preconceived notions of beauty, Divine was the ultimate outsider turned underground royalty. With a completely committed in-your-face style, he blurred the line between performer and personality, and revolutionized pop culture. "I Am Divine" is a definitive biographical portrait that charts the legendary icon's rise to infamy and emotional complexities.
The Key Players: Director Jeffrey Schwarz; John Waters, Ricki Lake, Mink Stole
The Draw: The biggest personality of this year's SXSW is sure to be an actor who passed away far too soon. Divine was John Waters' friend and muse, as Waters puts it, and he was so over-the-top and entertaining that it would probably be fun just to watch him talk on camera for an hour and a half. —Michael Dunaway
The SXSW film festival grows in size and importance every year. Paste's film editor Michael Dunaway landed in Austin last Thursday for the 2013 edition, and here, in alphabetical order, are the 21 films that has him most excited so far.
11. Mud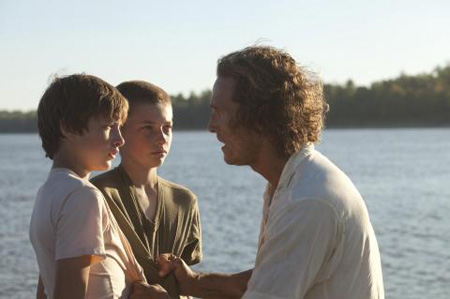 The Category: Festival Favorites
The SXSW Synopsis: "Mud" is an adventure about two boys, Ellis and his friend Neckbone, who find a man named Mud hiding out on an island in the Mississippi. Mud describes fantastic scenarios—he killed a man in Texas and vengeful bounty hunters are coming to get him. He says he is planning to meet and escape with the love of his life, Juniper, who is waiting for him in town. Skeptical but intrigued, Ellis and Neckbone agree to help him. It isn't long until Mud's visions come true and their small town is besieged by a beautiful girl with a line of bounty hunters in tow.
The Key Players: Director Jeff Nichols; Matthew McConaughey, Tye Sheridan, Reese Witherspoon, Sarah Paulson, Ray McKinnon, Sam Shepard, Michael Shannon
The Draw: Two years ago, Jeff Nichols turned heads at Sundance with his second film Take Shelter. He returned this year in the spotlight section, with Mud, a coming-of-age thriller about two young boys who encounter a man on the run in rural Arkansas. Ellis (Tye Sheridan from Tree of Life) lives on the river with his parents, who are on the brink of splitting up, when he and his friend Neckbone (Jacob Lofland) discover Mud (Matthew McConaughey) living alone on an island in the river. It's a sweet tale that displays plenty of faith in humanity without ever veering into sappiness and always keeping you on the edge of your seat—just the kind of thing you hope to find at a festival like Sundance. And Nichols once again coaxes amazing performances from his cast.—Josh Jackson
12. Muscle Shoals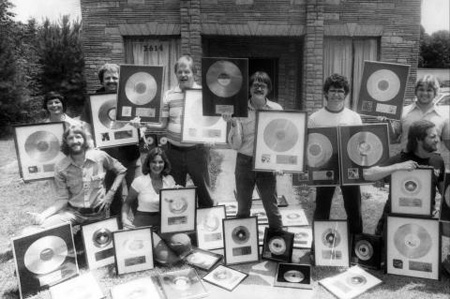 The Category: 24 Beats Per Second
The SXSW Synopsis: Located alongside the Tennessee River, Muscle Shoals, Alabama is the unlikely breeding ground for some of America's most creative and defiant music. The music of Muscle Shoals changed the world and sold millions of copies. At its heart is Rick Hall who founded FAME Studios. Overcoming poverty and personal tragedy, he brought black and white together in Alabama's cauldron of racial hostility to create music for the generations while giving birth to the Muscle Shoals Sound and The Swampers. Mick Jagger, Keith Richards, Percy Sledge, Gregg Allman, Clarence Carter, Alicia Keys, Bono, and others bear witness to Muscle Shoals' magnetism, mystery, and why it remains influential.
The Key Players: Director Freddy Camalier; Aretha Franklin, Mick Jagger, Alicia Keys, Bono, John Paul White, Gregg Allman, Keith Richards, Steve Winwood, Jimmy Cliff, Rick Hall
The Draw: By now there's a formula for the music-scene documentary, but Greg 'Freddy' Camalier wasn't content to follow. For starters, the cinematography is blockbuster-worthy, bringing to life not just the iconic studios but the landscape of this quiet Alabama town on the banks of the Tennessee River, which feels like a character in the film. Add to that impressive archival footage and memorable modern-day interviews with musicians who cut records there (Percy Sledge, Keith Richards, Aretha Franklin), the studio players who created that Muscle Shoals sound and the musicians they influenced (Bono, Alicia Keys), and you have the best documentary of the festival.—Josh Jackson
13. Reincarnated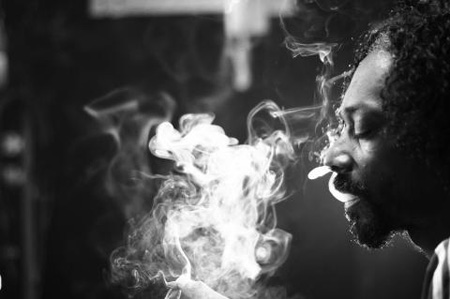 The Category: 24 Beats Per Second
The SXSW Synopsis: "Reincarnated" follows Snoop Dogg on a spiritual journey as he immerses himself in Rastafari, explores musical and religious histories deeply rooted in Jamaica, and reemerges from his experience as "Snoop Lion". Recording an album with world-renowned hitmaker Diplo and his Major Lazer production team, Snoop draws on recent personal experiences for lyrical inspiration. An exploration of modern Jamaica and meetings with the Nyabinghi Rasta and the family of urban legend Christopher Dudus among others also influence Snoop's new view of the world. He is leaving behind his days as a gangsta rapper and re-emerging as an avatar for peace, extolling the virtues of the Rasta lifestyle.
The Key Players: Director Andy Capper; Snoop Lion
The Draw: There are doubtless going to be a lot of people who will go to see this film on a lark — surely Snoop is just doing all this Rastafarianism as a way to smoke more weed, right? But we think it's just as likely this is going to be a surprisingly earnest story of a search for faith.
14. Short Term 12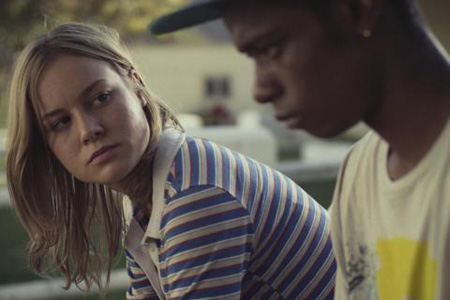 The Category: Narrative Competition
The SXSW Synopsis: "Short Term 12" is told through the eyes of Grace (Brie Larson), a twenty-something supervisor at a foster-care facility for at-risk teenagers. Passionate and tough, Grace is a formidable caretaker of the kids in her charge – and in love with her long-term boyfriend and co-worker, Mason (John Gallagher Jr). But Grace's own difficult past – and the surprising future that suddenly presents itself – throw her into unforeseen confusion, made all the sharper with the arrival of a new intake at the facility: a gifted but troubled teenage girl with whom Grace has a charged connection. While the subject matter is complex, this lovingly realized film finds truth – and humor – in unexpected places.
The Key Players: Director Destin Daniel Cretton; Brie Larson
The Draw: She's actually been an actor for more than a decade, but Brie Larson has been on an indie-cred hot streak in the last three years, with roles in Scott Pilgrim vs. the World, Rampart, a recurring role on The United States of Tara, and roles in this year's Sundance favorites The Spectacular Now and Don John's Addiction. This film looks to be a great chance for her to really spread her wings.
15. The Spectacular Now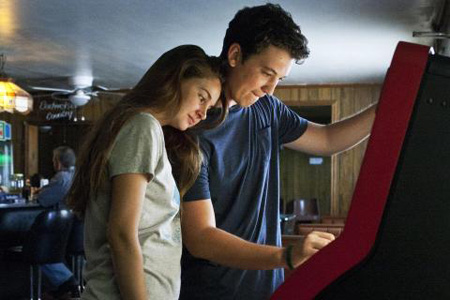 The Category: Festival Favorites
The SXSW Synopsis: This is the tale of Sutter Keely – high school senior, effortless charmer and would-be master of never worrying about the future – and of how he unexpectedly falls in love and also comes to terms with the fear, beauty and mystery of what comes next.
The Key Players: Director James Ponsoldt; Miles Teller, Shailene Woodley, Brie Larson, Jennifer Jason Leigh, Mary Elizabeth Winstead, Kyle Chandler
The Draw: Shailene Woodley gives a performance of such fragility and power in The Spectacular Now that the rest of the movie almost feels dull by comparison. Director James Ponsoldt (Smashed) adapted Tim Tharp's coming-of-age novel with heartfelt sincerity, and the result has wooed enthusiastic Sundance crowds. Miles Teller stars as Sutter, a high school senior with a great enthusiasm for human connection and partying, but little enthusiasm for classwork or future planning. Think Ferris Bueller with a concealed depression and an alcohol abuse problem. Woodley dominates every frame she's in with sweet hesitations and a nervous smile. She provides a mesmerizing portrayal of young love.—Jeremy Mathews
16. A Teacher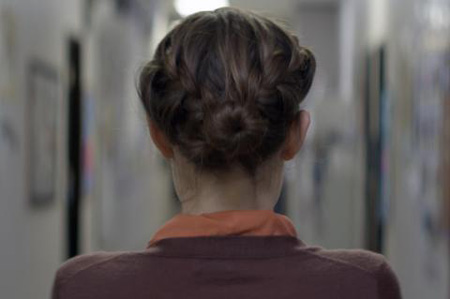 The Category: Festival Favorites
The SXSW Synopsis: Diana, a young, attractive teacher at a suburban Texas high school, is well-liked by her students and colleagues. Her life seems to be following the status quo, but in reality she's having a secret affair with her student Eric. She confides in no one but him, reveling in the teenage terrain of sexting and backseat quickies. Even when the risk of discovery looms over their relationship, her investment in the fantasy remains stronger than reality. Unable to control herself, she heads down a reckless path of self-destruction.
The Key Players: Director Hannah Fidell; Lindsay Burdge, Will Brittain, Jennifer Prediger
The Draw: A Teacher was one of the most buzzed-about films at Sundance, and Kim Sherman is an emerging indie producer powerhouse (A Horrible Way to Die, V/H/S, Sun Don't Shine). And it's always interesting when a director takes a Hollywood cliche and actually takes a thoughtful, non-cliched look at it.
17. Upstream Color


The Category: Festival Favorites
The SXSW Synopsis: A young woman is abducted and seemingly brainwashed via an organic material harvested from a specific orchid. She later meets a man and after the two fall for each other, they come to realize he may also have been subjected to the same process. The two search urgently for a place of safety within each other and struggle to assemble the fragments of their wrecked lives as they are unknowingly drawn into the life cycle of a presence that permeates the microscopic world, moving to nematodes, plant life, livestock, and back again.
The Key Players: Screenwriter/Actor/Director Shane Carruth; Amy Seimetz
The Draw: Shane Carruth's Upstream Color builds a stunning mosaic of lives overwhelmed by decisions outside their control, of people who don't understand the impulses that rule their lives. Told with stylistic bravado and minimal dialogue (none in the last 30 minutes), the film continually finds new ways to evoke unexpected feelings. The visuals combine with extraordinary sound design and rhythmic cross-cutting to create a hypnotic portrait of the story's intertwined lives. An elaborate, intellectual sci-fi concept fuels the film, but a rich sense of humanity gives it power.—Jeremy Mathews
18. V/H/S/2


The Category: Midnighters
The SXSW Synopsis: Searching for a missing student, two private investigators break into his abandoned house and find another collection of mysterious VHS tapes. In viewing the horrific contents of each cassette, they realize there may be terrifying motives behind the student's disappearance.
The Key Players: Directors Simon Barrett, Adam Wingard, Eduardo Sanchez, Gregg Hale, Timo Tjahjanto, Gareth Huw Evans, Jason Eisener
The Draw: V/H/S was one of the nice surprises of last year; a horror anthology that was uneven but outstanding in places. The followup doesn't boast as many big names, but sometimes that works out even better.
19. We Always Lie To Strangers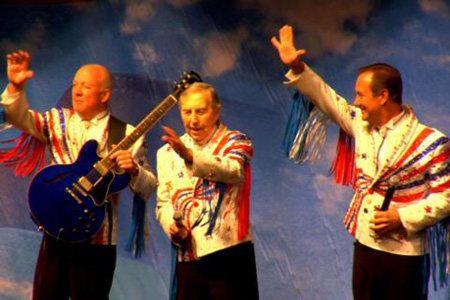 The Category: Documentary Competition
The SXSW Synopsis: "We Always Lie To Strangers" is a story of family, community, music and tradition set against the backdrop of Branson, Missouri, a remote Ozark Mountain town that is one of the biggest tourist destinations in the United States. Here, millions from around the country, and particularly from the American Midwest, flock for a return to "old fashioned, traditional values" and the family-style entertainment of Branson's 100+ staged music shows, many of which feature families performing together. As Branson faces economic uncertainty and changes in attitudes on social issues, the interwoven sagas of these performing families form a composite both of Branson and of contemporary America.
The Key Players: Directors AJ Schnack, David Wilson
The Draw: The premise of the film already sounds pretty fascinating. But then when we see that Schnack and Wilson are directing, our eyebrows really get raised. Wilson is one of the co-founders of Cinema Eye, these guys know documentary film.
20. When Angels Sing


The Category: Documentary Competition
The SXSW Synopsis:Michael despises Christmas. Now Christmas is getting even.
The Key Players: Director Tim Mccanlies; Harry Connick Jr., Connie Britton, Chandler Canterbury, Fionnula Flanagan, Lyle Lovett, Dana Wheeler-Nicholson, Eloise DeJoria, Willie Nelson, Kris Kristofferson
The Draw: As we preach all the time, it's important, during a film festival that features a lot of dark material, to find a fun comedy to see with a crowd, preferably right in the middle of the fest; the sense of group catharsis is truly wonderful. When Angels Sing sounds like it could fit the bill perfectly. First, the trailer looks hilarious. Second, there's great pedigree here in the producers (Elizabeth Avellan produced all Robert Rodriguez' films, for instance), director (Tim McCanlies wrote The Iron Giant), and in that wonderful cast. And how fun is it to watch a Christmas movie in March?